Ski season is officially upon us with the winter weather now providing the optimum conditions to have an amazing ski trip. Whilst many skiers head across Europe to ski, there are also some amazing ski resorts to take advantage of right here in the UK with the perfect slopes for both beginners and experts. However, you may not want to take your normal car. Whether your everyday car wasn't really designed to handle the snow or you'd like to make the most of a well-deserved break by driving something more luxurious, we have prestige cars for hire in Scotland and Northern England, home to some of the most beautiful natural landscapes in the world. Below, we look at the top six cars to hire for a ski trip in the UK, covering families who need more space, friends who want to have the best time or individuals who simply want to splurge.
The Best Small SUV to Hire for Skiing: Range Rover Evoque
Compact SUVs are brilliant hire cars for families looking to escape for some winter fun. The Range Rover Evoque is an excellent choice of small SUV to hire for a ski holiday thanks to its perfect combination of practicality, space and luxury. With a snow setting as standard and Terrain Response all-wheel drive system, at the click of a button the
Range Rover Evoque hire car
adjusts to the extreme conditions, making driving through snow and ice effortless. It also has large tyres and impressive ground clearance, making the journey even easier.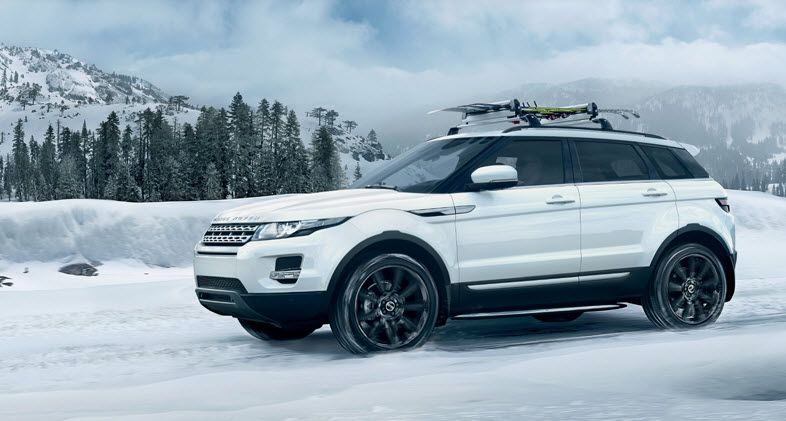 Inside, the spacious cabin can seat up to five adults, ensuring comfort through the use of high-quality materials and unbeatable design standards. There are plenty of options to create the perfect environment for your trip, whether you'd prefer a panoramic roof to take in the breath-taking views of the British countryside or you would prefer to make use of roof rails and extra storage, ideal for skis, snowboards and luggage. This compact SUV hire car has a five-star safety rating and comes packed with tons of safety features to ensure you don't get caught out in bad weather so you can focus on getting to the slopes while your family relax safely in the back.
The Best Large SUV to Hire for Skiing: Bentley Bentayga
The
Bentley Bentayga hire car
is undoubtably one of the most luxurious cars ever made to go off-road. With various configurations seating up to seven adults comfortably, the Bentayga is the best large luxury SUV to hire for a skiing trip. Up until very recently luxury like this simply wasn't able to be taken off-road, now with the new Bentley Bentayga you can travel in unrivalled luxury everywhere. The Snow & Grass driving mode provides additional grip on slippery services, always allowing you to stay in total control and additional sporting accessories can be chosen for you to store skiing equipment without compromising on space.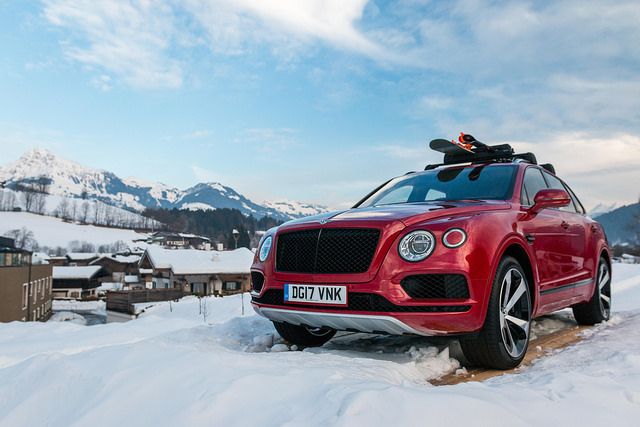 Inside, occupants can enjoy one of the most stylish and refined interiors to be found on any luxury car. Hand-finished elements, traditional quality materials and modern technology are combined to provide a relaxing environment for larger families or groups of friends. The driver can benefit from an intuitively designed infotainment system and enhanced driver assistance features whereas passengers can enjoy uninterrupted entertainment through rear screens, exquisite sound systems and numerous mobile connection points, perfect for a long drive to the Scottish slopes.
The Best Sports car to Hire for Skiing: Porsche 911
The
Porsche 911 hire car
is one of the best sports cars at dealing with snow and ice. So much so, the 911 is even the car of choice for Porsche themselves who run various ice driving training courses across the year. Of course, winter or spiked tires are a must here so if you are looking to hire a Porsche 911 for skiing please discuss with our expert team. It has all-wheel drive and Porsche Traction Management system, which effectively pushes torque between the front and rear wheels to ensure greater control and better handling.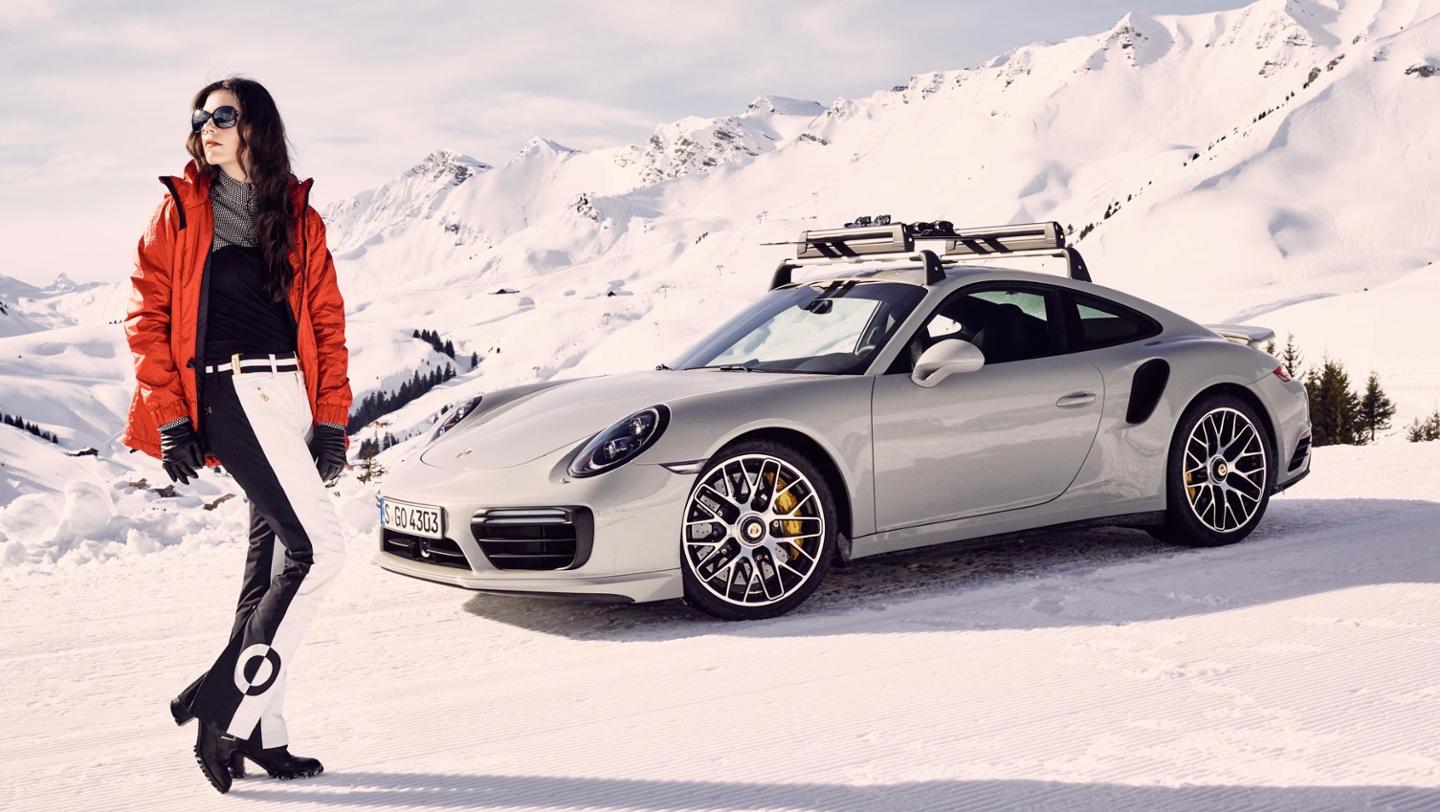 Most of our Porsche 911 hire cars are 2+2, making this the best luxury sports car to hire for a small group of friends or as a couple. This snow-friendly hire sportscar can also come with roof racks designed especially for skis or snowboards. Luggage space is a little limited but there's plenty of room if you plan to pack light. Inside, occupants can expect to sit in luxurious surroundings whilst the driver can benefit from a sports-inspired cockpit, with accessible controls to help you handle poorer weather conditions safely.
The Best Executive Saloon to Hire for Skiing: Tesla Model S
Considering the weight of the
Tesla Model S hire car
, it may actually surprise you that it's quite capable off-road. This isn't really something Tesla makes any claims about but as one of few all-electric vehicles to feature an all-wheel drive system the Model S is more than capable if you find yourself in unpredictable weather conditions. Due to its electric powertrain, torque is applied to or removed from the front or rear wheels instantly, much quicker than traditionally powered petrol cars, which enables it to boast unrivalled handling.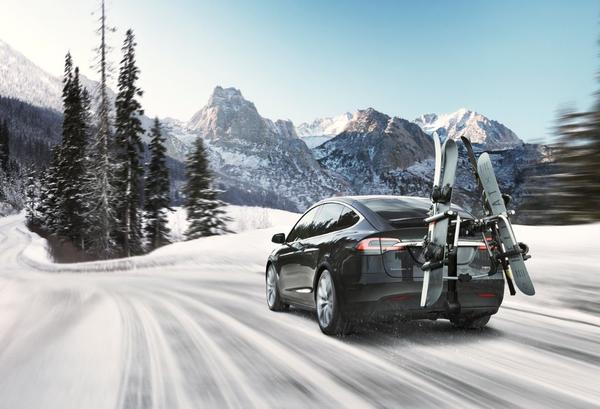 The Tesla Model S can seat up to five adults comfortably with plenty more space for luggage and belongings and features a large amount of modern technology and beautiful design elements. Heated seats, ambient lighting and its signature panoramic roof all come as standard, allowing you to enjoy the views of the beautiful snow-covered countryside during your journey. It has an impressive 409-mile range off a single charge, making it the ideal car to book for a skiing trip in the North of England or outskirts of Scotland, keeping a family or group of friends sumptuously comfortable throughout. Of course, Tesla also hold multiple safety awards for their car design, giving you peace of mind if you do unexpectedly need to drive on snow or ice.
The Best Grand Tourer to Hire for Skiing: Ferrari GTC4Lusso
We'll let you in on a little secret, the only Ferraris which Enzo Ferrari owned for himself were the grand tourers. And we can understand why. Ferraris are brilliant summer cars, but could you imagine driving one daily all year round, and even more impossible, trying to navigate one through the snow? The
Ferrari GTC4Lusso hire car
, however, is in a league of its own. It is truly a four-season grand tourer packed full of hidden technology which makes for excellent handling on almost any terrain. It has all-wheel drive, stability control and side slip control which all help should you come across any difficult weather conditions.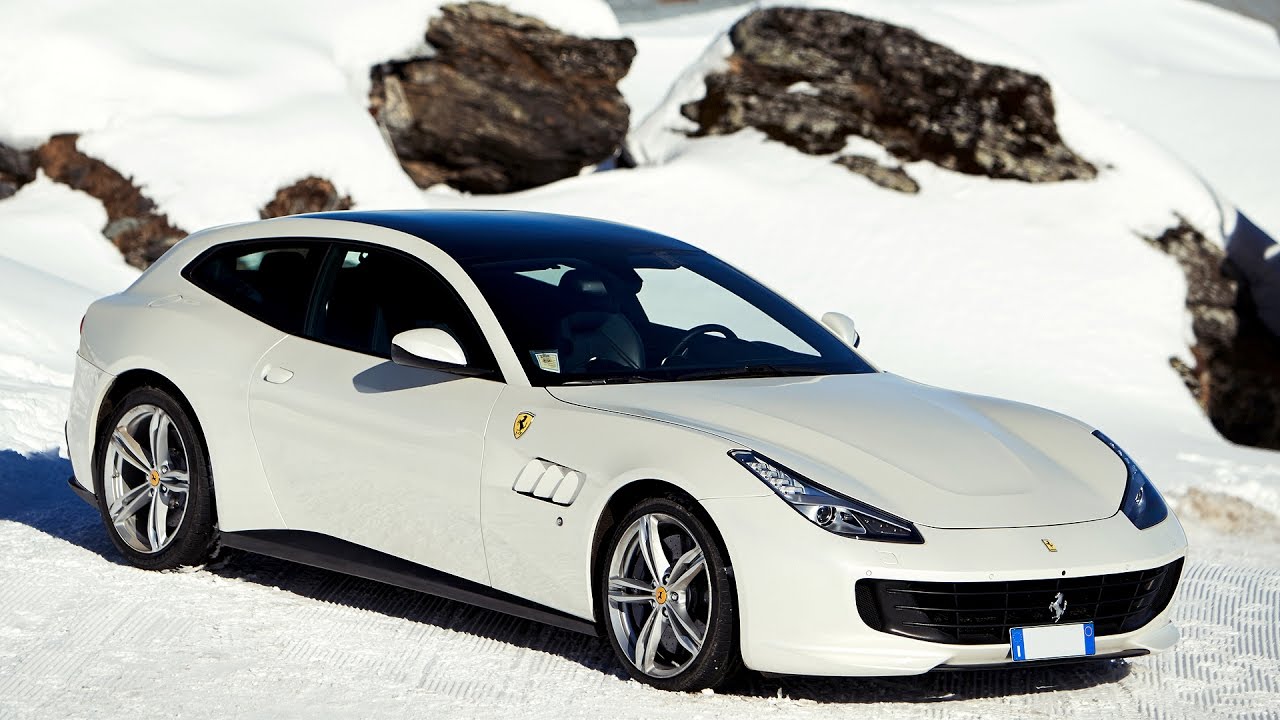 The Ferrari GTC4Lusso can seat up to four occupants and its stunning exterior design and refined interior make it an excellent choice for a couple or group of friends looking to book a luxury car, suitable for skiing. This grand tourer hire car's exceptional speed capability also make it exciting to drive and its long distance ability put it at the top of our list of Ferrari to hire for a ski trip.
The Best Hypercar to Hire for Skiing: Koenigsegg Agera RS
For many, the thought of hiring a £2 million supercar to get you to the slopes is ludicrous. Christian Koenigsegg disagrees. A few years ago, a video showing the
Koenigsegg Agera RS hire car
tackling a snowstorm in the Alps went viral with many car fans shocked that the driver had even attempted it. But not Christian. He claims that you should be able to drive your Koenigsegg anywhere as long as you have the right tyres with many of his customers easily tackling the snow to get to the annual Geneva Motor Show. In many countries winter tyres are mandatory and you should definitely get in touch with our team to discuss if you want to hire a supercar for skiing.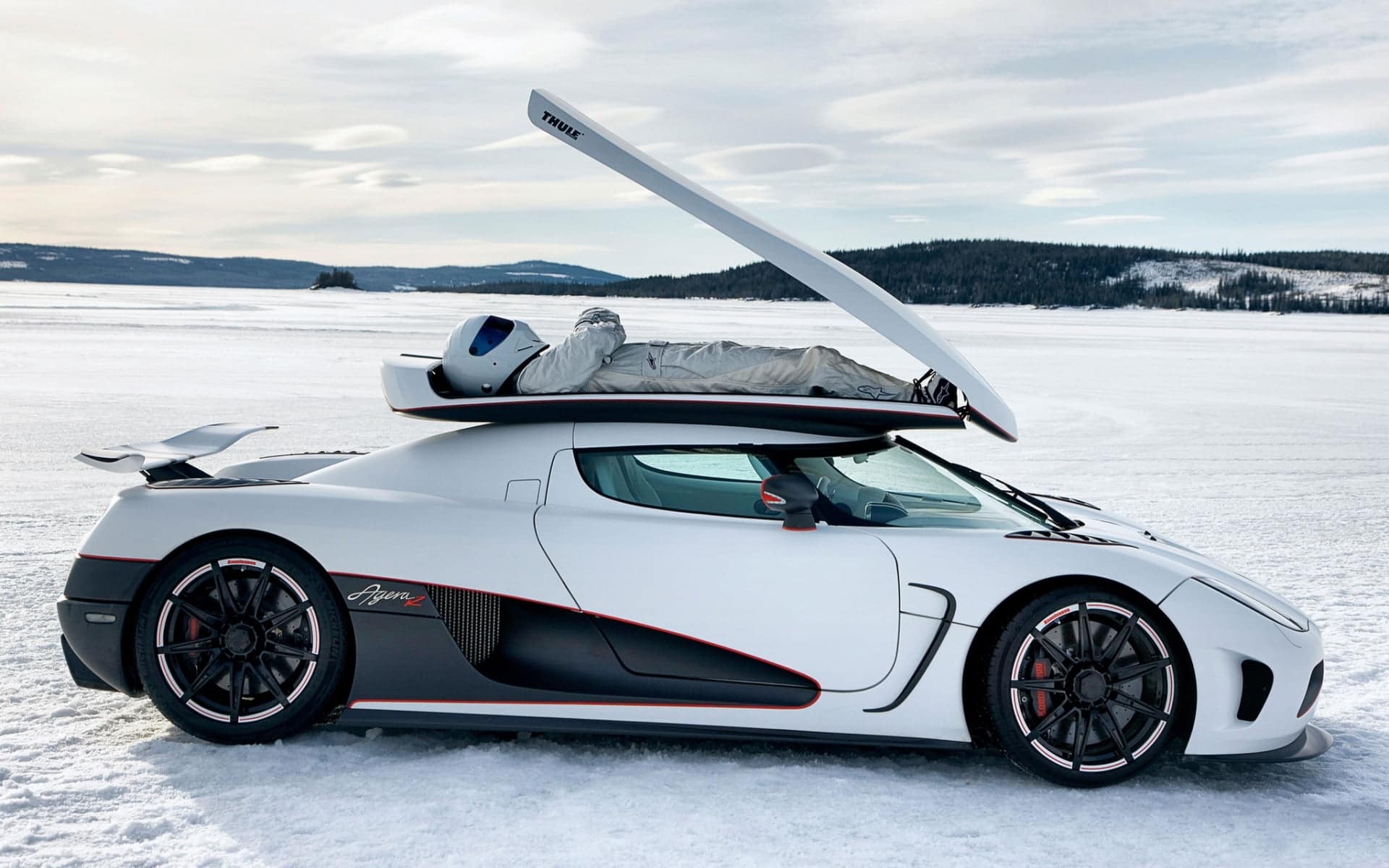 Along with the winter tyres, the Koenigsegg Agera RS hire car has front and rear hydraulic lifting systems for additional ground clearance and now the Agera R model can even have its hard top fully removed and replaced with a custom-made carbon fibre roof box. Designed especially by Thule, the roof box is the perfect size for skis or additional luggage and can be swapped back over to the traditional roof, which can be stowed up front, once you've arrived. With the largest fleet of luxury cars available for hire in the UK, we have an ever-growing collection of beautiful cars perfect for hitting the slopes. Your chosen prestige hire car can be delivered to any address in the UK from London all the way to County Durham so you have the flexibility to choose how you would like to hire your luxury car for skiing. Speak to our expert team for further details on any of our cars and make sure your next skiing trip is a complete success.