The Non-SUV-SUV Launch Of Sheer Italian Craftsmanship - The Ferrari Purosangue
For a marque that has long been known for its low, sweeping silhouettes, crafting a fitting SUV to challenge those on the market has long been a pipedream for many avid Ferrari fanatics. But now, in 2023, the world gets to meet the brand's answer to this gap with the Ferrari Purosangue. The very first Ferrari to be fitted with four doors and four seats, this impressive vehicle comes with a wealth of exquisite design, power to impress and a price tag that pushes it to the highest levels of luxury imaginable.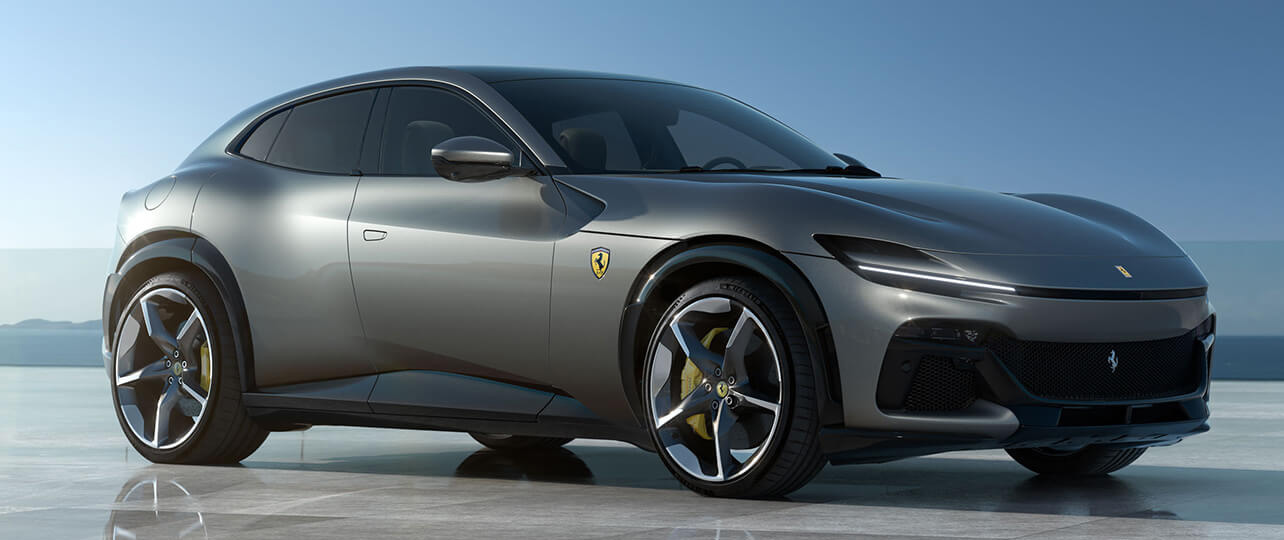 Revealed in September 2022, the Purosangue is the marque's 'thoroughbred' creation. While careful to remove the term 'SUV' from the lineup, the Italian manufacturer claims that it is 'unlike any other car' and one that opens up a new segment for the sports car industry. From the very first glance, this luxury car exudes Italian craftsmanship, holding on to the sweeping silhouette and yellow contrasting details you would expect. However, its overall height and the addition of back doors are the first indicators that something else is afoot here. The rear seats are accessed by suicide doors, lovingly renamed 'welcome' doors for this model. While initial entry is less spacious than you might expect, the generously-heated electric seats inside the cockpit provide enough room to stretch out – even for longer journeys.
One area where the Ferrari Purosangue excels is in speed. Ferrari has remained firm on its understanding that this is not an SUV, but rather a reimagined supercar. Underneath the bonnet, they have chosen an aggressive 6.5-litre naturally-aspirated V12 engine that revs up to 8250rpm. Put your foot down and you'll have 725bp and 716 Nm of torque to play with. On tests, the Purosangue can reportedly drink up 60mph in just 3.3 seconds and take you to an impressive top speed of 193mph. This luxury car has certainly been crafted for speed but that doesn't take away from its ability to deliver an enjoyable drive too. There has been no mention or whisper of electrification here – the Purosangue is designed to embrace everything that combustion power has to offer.
Ferrari have included a wealth of technology to ensure you feel enveloped in Italian craftsmanship while still enjoying every single corner. Their 48-volt Active Suspension Technology steps in to reduce rolls in tight corners while the carbon fibre roof not only looks great but also helps to keep the centre of gravity as low as possible. Alongside this, the marque has chosen a mid-front positioning for the engine, to further improve the distribution of weight and improve your overall driving experience. A custom power transfer unit allows the vehicle to shift available power to the front wheels, offering the driver four-wheel drive capabilities, if needed.
The SUV market is awash with off-roading models such as Range Rover or Porsche Cayenne that drink in the challenges of rugged terrain. However, the Ferrari Purosangue hasn't been designed to step into this battle. While it features more ground clearance than others Ferrari's, the only technology in place to support some off-roading is the Slide Slip Control, it isn't designed to take on Jeeps or other hardcore exploring vehicles. Instead, the exceptional power and exquisite design allow even more people to nestle into the back and appreciate everything about this beautiful car.
To assist the driver, you'll find an eight-speed dual-clutch system at your disposal, alongside 22" and 23" wheels that raise you clear off the ground. Carbon ceramic brakes and an independent rear-wheel driving system allow you to turn quickly, without letting up on stability. Even with a total kerb weight of 2,033kg, the Ferrari Purosangue manages to remain quick and agile. It absorbs technology from racing, using an electric motor and shock absorption system that grips the car low to the road for comfort during the tightest of turns.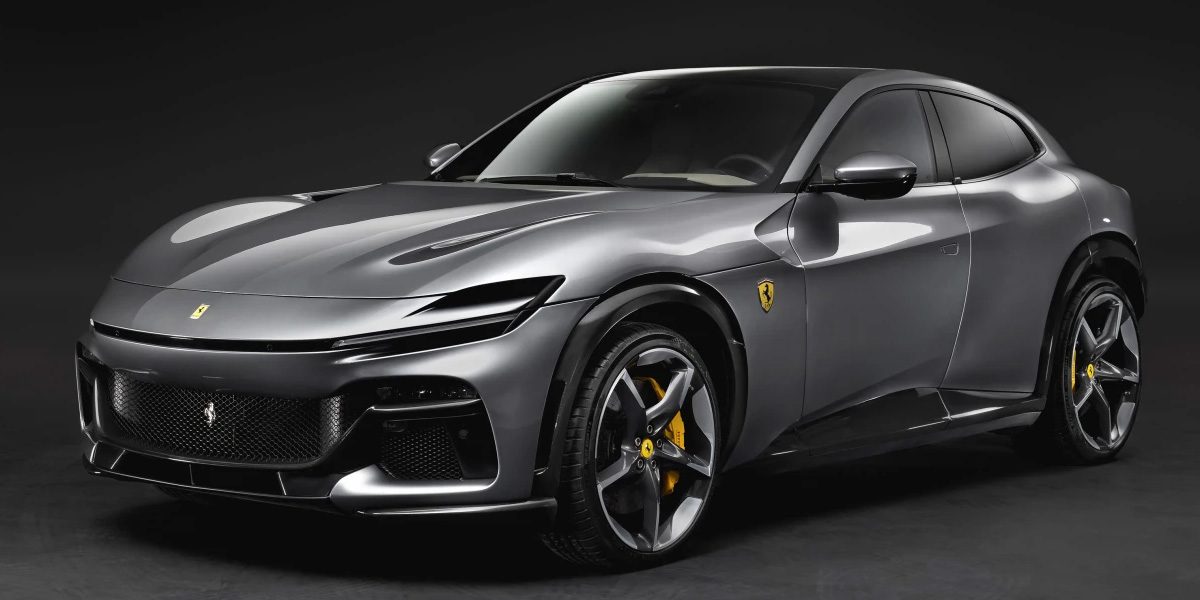 There's more to this luxury not-SUV car than power and speed though. It is also impressively practical. At the rear, you'll find a spacious 616-litre boot – enough to comfortably store larger bags and daily essentials in. Inside the cockpit, each of the seats comes with individual climate control and has a bucket design to ensure ultimate comfort. You'll find wireless charging points for your smartphone, USB pockets and a 10.2" touchscreen that allows you to seamlessly connect to both Apple CarPlay and Android Auto.
While the Ferrari Purosangue shows no sign of hybrid or electric alternatives, it has still been crafted with a style befitting the current sustainability focus. The headlining is crafted from recycled polyester and you'll find ecological Alcantara throughout. There is a multitude of trim colours and options to choose from, as you would expect from a car that starts at the £350,000 price bracket. Measuring in at 5-meters long and 2-meters wide, it is a large and impressive beast that cannot fail to turn eyes on the roads.
The Ferrari Purosangue is due to arrive in Europe next Spring, with right-hand drive models arriving in the UK by late summer. The marque has announced that they have committed to not going over 20% of total sales during its lifetime, making it one of the rarer models within their portfolio. Exclusive, luxurious and designed to push the Italian name further than it's been before, it promises to challenge everything you've ever thought about Ferrari.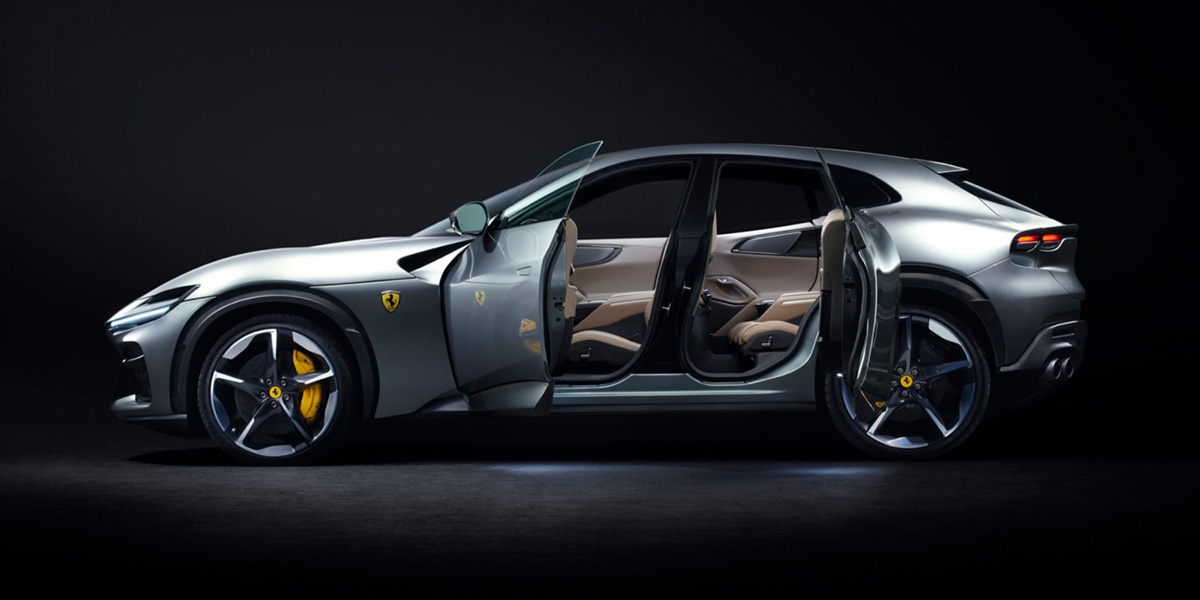 At Starr Luxury Cars, we pride ourselves on having the largest fleet of luxury cars for hire in the UK. Our industry partners allow us access to the most limited models and the most covetable prestige cars on the market, including the Ferrari Purosangue. From long-haul family trips to golfing breaks or business journeys, our professional and friendly team remain on hand at all times to help personalise your driving experience.
The Ferrari Purosangue will be available to hire in the UK from late Summer 2023. Keep an eye on our website and blog for announcements.
If you are interested in hiring a Ferrari in the UK, visit our entire fleet online here.
Alternatively, speak to a member of our professional Sales Team on 02036001631 (24 Hours) or email sales@starrluxurycars.com to identify the right prestige car for your next trip.