DISCOVER OUR PORSCHE HIRE FLEET
ONE OF THE MOST RECOGNISABLE NAMES ON THE ROADS
PORSCHE PANAMERA TURBO S E-HYBRID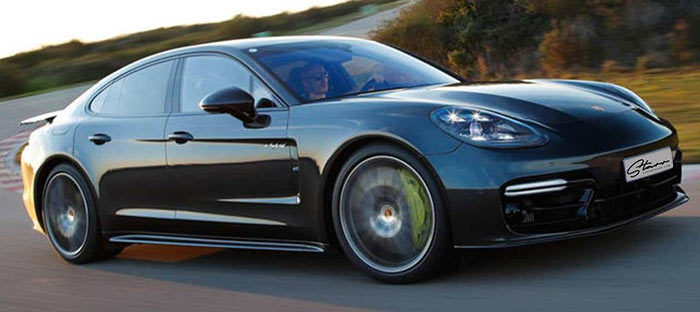 PORSCHE CAR HIRE IN THE UK
Only those who have driven a Porsche will know exactly what driving one of these beautiful machines really offers. Starr Luxury Car hire provides the perfect opportunity for those who wish to experience the same thrill that only this car can provide…
We have the largest selection of Porsche hire car vehicles in the UK and have every choice of vehicle to suit any occasion. Whether you are looking for an exciting weekend getaway. Or, want to arrive at a wedding in style then a Porsche should be at the top of the list..
The Porsche Carrera is probably the most recognisable within the fleet of Porsche hire cars and a personal favourite amongst our clients and the unique design of the Porsche has made them the most successful brand in motorsports with over an astonishing 28,000 wins under their belt!
Speak to one of our team today to discuss your requirements and the team will be happy to assist. Our customer support staff can be contacted on 02036001631 if you have any specific requests we will be happy to help.
Porsche was founded way back in 1931 by Ferdinand Porsche with their main offices and construction plant being based in the centre of Stuttgart.
In the early days, Porsche provided consultancy and development work and did not manufacture or design their own vehicles under the Porsche brand.
One of the very first tasks from the consultancy team at Porsche was from the German government who asked them to design a vehicle for their people. It was from this job that one of the most successful car designs of all time was born, the Porsche Beetle….
it was during the second world war that the Beetle was redesigned to become a military vehicle and over 52,000 were successfully produced to meet the demand. This was called the Kubenwagen.
Alongside this, Porsche also produced numerous designs for tanks which were to be used during the battles. However, Porsche failed to secure the contract and lost out to rivals Henshel instead.
When the war was over, the British forces seized Volkswagen and that very same year, Ferdinand Porsche was taken under arrest for war crimes, although he was never tried despite spending 20 months behind bars.
It was whilst he was behind bars that Ferdinand Porsche's son, Ferry Porsche, went on to develop and build his own car and Porsche was officially born.
Porsche has since gone on to becoming household name across the globe and are recognised as being the worlds leading producer of luxury vehicles with their own very unique style.