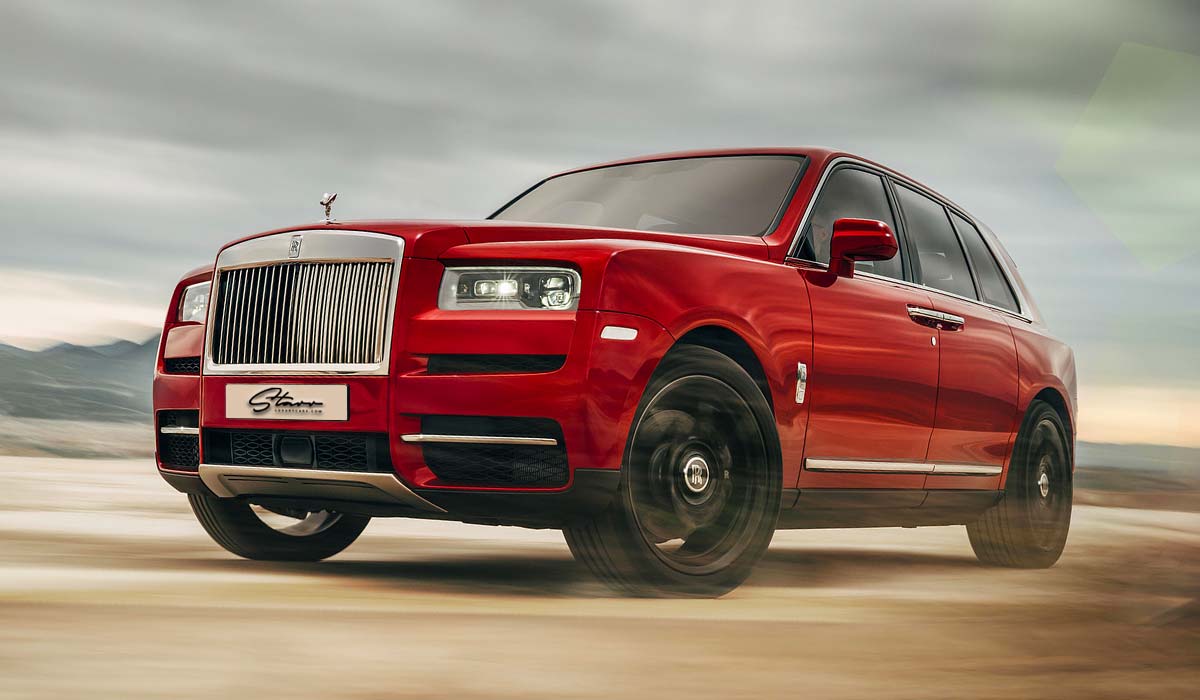 Star Luxury Cars Now in Dubai





Thank you for your interest in Starr Luxury Cars Dubai, Please fill in the quote form to get an instant quote, If you are not sure of the vehicle you are interested in please have a look at our selection of exotic cars available in Dubai
WE PROVIDE THE FINEST & EXOTIC
PRESTIGE CARS
WE PROVIDE THE FINEST EXOTIC & PRESTIGE CARS!
discover DUBAI AT the starr luxury way
Travel in style and delve into the epitome of abundance when you hire a luxury car in Dubai with Starr Luxury Cars. The City of Gold has long been the personification of prestige and, whether you're traveling for business or pleasure, promises to develop unforgettable memories. An emirate of superlatives comes to life fully behind the wheel of an exquisite supercar or while maneuvering an opulent 4×4 as you tower over all other road users. Starr Luxury Cars delivers memorable driving experiences that befit the exclusivity of the UAE, with some of the world's most covetable prestige car hires and a professional team to support you through every experience, we promise you'll remember every moment of your trip here.
Discover a city of opulence when you hire a luxury car in Dubai
In the heart of the world's largest attractions
Dubai holds the title as the ultimate luxury travel destination. From the world's highest 360-degree infinity pool to The Dubai Fountains, there's something to admire on every single corner. Temperatures regularly soar above 35°C and with such a wide area to explore, driving is the most common form of transportation. You could spend reserving taxis and battling against the influx of tourists attempting to do the same thing. Or, you can take things into your own hands and embrace luxury car hire with our wide and expansive fleet for all of your Dubai explorations. Hire an Audi R8 V10 and take to the Jebel Hafeet Mountain Road to explore 1240m of altitude and one of the finest curved roads in the UAE. The 5.2-litre V10 engine delivers 413 lb-ft of torque with 604bhp and a four-wheel drive system that allows you to grip tightly to each turn while soaring up to 62mph in just 3.7 seconds. You'll find yourself on the outskirts of Al Ain, with 60 corners at your disposal and some of the most dramatic Arabian landscapes in the area. 
Even the most iconic luxury supercar hires find their place seamlessly in Dubai. Hire a Lamborghini Aventador and step into a whole new class of opulence. One of the most popular vehicles of its kind in the world, it offers the opportunity to embrace Italian craftsmanship, cutting lines and an engine that roars aggressively through every street. The 6.5-litre V12 naturally-aspirated V12 engine is a beast in its own right, bringing 769bhp and 531 lb-ft of torque to your disposal. Put your foot down, allow the four-wheel drive system to grip the ground beneath you and make your way to the Dubai-Hatta highway towards Kalbar. Crossing over the roundabout will bring you face-to-face with a thrilling challenge of curving trails and mountainous climbs – plus an opportunity to carve your way through the Hajar Mountains. This allows you to push the Aventador towards its limits while enjoying views you'll only find in the UAE too. 
Swathed in culture, exploring Dubai by car is one of the finest ways to flex your ankle and drink in sights unlike any in the entire world. Hire a Mercedes Benz G-Class AMG 63 in Dubai and take your next adventure off-track. The Rub Al Khali (also known as the Empty Quarter) is an enormous desert with no man-made roads but few restrictions that limit you from exploring the sand dunes. The G-Wagon not only manages to exude luxury from every angular corner. It also brings a 4.0-litre V8 engine with 577bhp, 627 lb-ft of torque and a wealth of luscious interior space to ensure this next adventure is one to top your fondest memories. Plan your trip during the later months and you may even catch the Al Dhafra Festival – an 11-day celebration of camels, falcons and salukis. With a design rooted in the German military, the G63 brings a body-on-frame chassis, configurable suspension settings and a heat-resistant sunroof to ensure every moment of your trip is dripping in comfort.
Explore UAE from behind the wheel of the finest luxury cars for hire
With no shortage of prestigious events, world-leading attractions and exuberant luxury, Dubai is a city of dreams. Instead of simply running in the race alongside other leading travel destinations, it carves its own plinth – boasting many of the world's largest, deepest and most photographed locations globally. Exploring the entire breadth of this iconic city demands good transportation – the heat and long distances eliminate walking from the realms of possibility. And, if you're going to capture many sights through a window, you'll want to slip into the seats of a prestige luxury car hire that befits the opulence of your surroundings too. 
Hire a Bentley Bentayga – one of the world's most luxurious SUVs – and explore Dubai from a haven of handcrafted elegance. From the wide opening doors to the hand-stitched leather and plush carpet, every detail has been chosen to enhance your experience. Drive past the Burj Khalifa, the world's tallest building, and keep your eyes open for The Dubai Fountains. Watch as 22,000 gallons of water dance into the sky, hitting 500 ft and spreading across the entire 30-acre Burj Lake – a view that will mark its way into your memory for many years to come. Sink back into the plush, multi-adjustable seats and enjoy the view to its fullest. Once finished, make your way over to The Dubai Mall and discover the second-largest home of prestigious brands including BVLGARI and Chanel. Spend the day indulging before utilizing the large 590-litre cargo space to keep all of your finds safe as you travel onwards to your suite at the Four Seasons Resort Dubai at Jumeirah Beach. 
For those looking to visit many of the emirate's most iconic sites, hire a Porsche Cayenne in Dubai. Expertly crafted and delivering undeniable thrills, this powerful five-seater provides space for the entire family without turning its back on comfort in any way. The sleek silhouette and flowing bonnet slip in easily within the sea of supercars zooming past while giving you optimal views over the road ahead – perfect in the most bustling areas too. Put your foot down and the 3.0-litre V6 delivers 335bhp and 332lb-ft of torque, giving you a 0-60mph sprint time of 5.9 seconds. While the busy streets of Dubai are unlikely to allow you the freedom to test this out, the plush cabin and adjustable seats make the Cayenne the luxury hire vehicle here. Book tickets for Deep Dive Dubai, fill the spacious trunk with your swimming essentials and delve into the world's deepest pool where you'll find a sunken, ruined city for your exploration. Or, take in the races at Al Marmoom Camel Race Track and indulge in Middle Eastern culture in all of its beauty. 
If you're here to impress, hire a BMW i8 Roadster. This exquisite open-top hybrid sports car is a futuristic exploration of supercar performance. It embraces German craftsmanship to its fullest with a three-cylinder, 1.5-litre turbocharged petrol engine paired with a front-mounted eDrive electric motor. Together, they create 369bhp and 420 lb-ft of torque with a 0-62mph sprint time of 4.6 seconds and an electronically-limited speed of 155mph. Pair the unique experience of driving an electric luxury car hire in Dubai with another opportunity that won't leave your memory bank quickly by booking a slot for Dinner in the Sky, Dubai. A dining experience suspended 165 feet in the air, you'll get some of the most magnificent views of the surrounding area, delicious food and the opportunity to connect with other foodies while you do so. Or climb the 219m Address Sky View Hotel to drink in breathtaking perspectives of the city skyline, ride down the transparent Glass Slide or trek along the Edge Walk. 
Dubai is renowned for bringing once-in-a-lifetime experiences to your fingertips and there is no finer way to travel from each one than behind the wheel of a prestigious, covetable and luxury hire car today. 

Prestige car hire in Dubai with Starr Luxury Cars
In a city where luxury is a given, Starr Luxury Cars steps in to elevate the pinnacle of opulence even higher. From sand dune explorations at the helm of a Range Rover SV Autobiography to coastal drives to Dibba behind the wheel of a Lamborghini Huracan Spyder, you'll be able to live out your wildest dreams with the help of our professional team. We are proud to have one of the largest fleets of luxury cars in Dubai, with access to highly covetable and exclusive models from the world's leading marques. Whether you're here for business or pleasure, no stone is left unturned when you choose to rent one of our prestigious vehicles today. 
Our tailored driving experiences are expertly honed to suit your every need. We can arrange for your luxury car hire to be delivered to Dubai International Airport (DXB) for collection upon your arrival or to be waiting for you at the Atlantic Hotel when you check in. All of our vehicles are under two years old and have been extensively serviced to ensure the safety and confidence of every client. Our professional team remains on hand at all times to support your booking. Whether we're suggesting additions to your itinerary or providing additional extras, including licensed protection officers, we'll ensure your next trip to Dubai exceeds all others. 
Discover our selection of luxury cars for hire in Dubai here today or contact our expert team to start building the perfect driving experience today. 
Hire a luxury car in Dubai with Starr Luxury Cars today

Just a few of our recent testimonials from happy clients who trust Starr Luxury Cars
Great cars, great service especially from Andi who delivered the car to me, very polite and professional.
Jake and Kat Yacht Crew
21/06/2023
Excellent vehicle and amazing friendly service, met us as the airport and were on our way in no time at all. Can't recommend enough
Hedde Verhagen
21/06/2023
Andy arranged everything perfectly. Really made our trip complete👌🏼👌🏼
Carlos A Perez
19/06/2023
I rented a beautiful Bentley Bentayga from Star Luxury and it is the best experience I have ever had renting a car. The person who dropped off the car at my hotel was very helpful in explaining the features of the car and handed it over to me in pristine condition. Unfortunately I had a puncture on my way to Cambridge. I called the company and immediately they found a service that met me and put on a brand new tire in very little time. The whole experience couldn't have been better. Both Andi and Joe are true professionals and I will definitely be using the service again.
Great cars, professionally maintained, solved questions - requests fast and easy, especially for renting a DB11 from out for the country. Will use again on my next trip
Marcello Briganti
01/06/2023
Rented a Urus for a couple of days everything went smooth. Car was great and customer service was really fast and available. Adam toke care of us and delivered the car and make sure everything was ready for us to have the best experience. Price is decent compare to other companies and we will definitely use their services again !
Beautiful Range Rover and excellent service.
What an incredible service, and proffesional staff. This it's been an amazing experience, with this exceptional treatment, I really recomend it thoroughly, if you are a car lover, you will be gladly surprised.