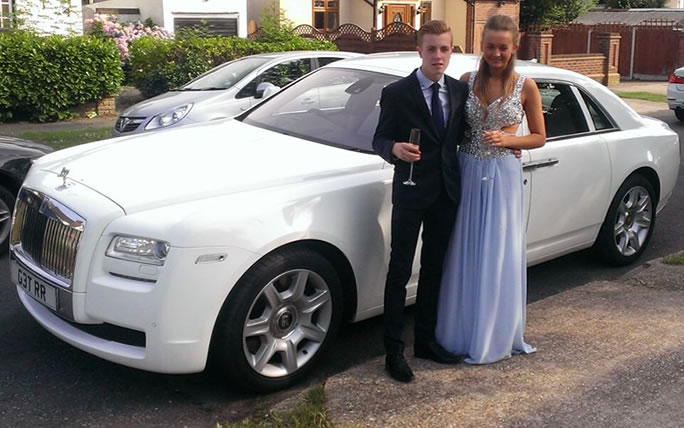 04 Jan

Live Like a Celebrity and Hire a Rolls-Royce for Prom Arrival

Now immensely popular for teens in the UK, prom season arrives in mid-June, marking the end of exams and a new chapter in every young person's life. Not only does this give school-leavers something to look forward to once exams are out of the way, this is a celebration of achievement and the most important event in the school calendar year, offering teens the chance to live out the red-carpet life for the day. There are so many things you may want to plan to make the occasion memorable, a beautiful dress or smart suit, hair and makeup, shoes and of course, most important of all, the arrival.

We've heard of school prom arrivals ranging from the basic to the outlandish and everything in between. Helicopters, Lamborghinis, Bentleys; one thing's for sure, nobody wants to be dropped off by their mum, regardless of how nice your family car may be. Stretch limousines and hummers may seem like the traditional choice but (honestly trust us on this one), there are much classier and more impressive alternatives. Have you ever heard a rapper mention his fleet of stretch limos? No, probably not, but we can guarantee you've heard the likes of Drake, Post Malone and Jay-Z bringing up the Wraith or Phantom plenty of times.

See a queue of stretch limos outside the venue and it kind of takes the shine off, you may as well have booked a traditional cab and got dropped off at the back, ready to blend in. Instead, you can be ready to make an entrance of a lifetime, in a luxury hire car so imposing your teachers, parents and peers alike will be impressed.
Rolls-Royce Wraith Prom Hire
The Rolls-Royce Wraith; impressive, aggressive and worth around a quarter of a million pounds. This is one of the most luxurious hire cars on the market, making it the perfect choice for prom arrival. Whether you're planning to arrive solo, with a date or as a small group of friends, one of our professional Rolls-Royce chauffeurs will ensure you're treated as we treat all our regular clients, with the utmost respect, ensuring you receive a first-class service from start to finish.
The Rolls-Royce Wraith hire car seats up to four passengers and features a stunning interior, complete with starlit roof. Not only can you and your guests enjoy one of the most beautiful luxury interiors to be found on a production car including hand-crafted elements made from some of the finest materials in the world, it also provides an excellent backdrop for impressive prom photos.

Rolls-Royce Phantom Hire for Prom
The Rolls-Royce Phantom hire car is, put simply, one of the most luxurious and easily recognisable vehicles in the world. Favoured by A-list celebrities and the Royal family, the Phantom is set to impress from the very first glance. Again, this prestige hire car can seat between three and four passengers comfortably and features an array of top-spec design details to keep you feeling like a true celebrity for the entirety of your journey to and from your prom.
The starlit roof has been built using thousands of tiny LED lights, resulting in an ambient atmosphere, perfect for a special occasion, alongside the softest and finest leather upholstery and a near-silent, private area for you and your friends to enjoy. From the outside, the Rolls-Royce Phantom is an icon of British luxury, a backdrop so photo-worthy friends will be queueing up to be seen with.
As well as an immaculately-kept luxury hire car, our prom transport package includes outstanding customer service. Upon request, we can arrange for refreshments, balloons or chocolates to make your day that little bit more special and you can rest assured that one of our friendly and professional chauffeurs will arrive looking the part, so you can have the true red-carpet experience. We have Rolls-Royce prom chauffeurs available to book up and down the UK, from London to Birmingham, Edinburgh and beyond. We know how important your leaver's prom is to you and, as such, it's important to us. Our friendly team are on hand to offer advice and recommendations and get your Rolls-Royce prom hire organised, ready for you to have the very best prom arrival of all.