Ascot Racecourse has been home to some of the greatest achievements in horseracing, having hosted races for over 300 years. Now one of the most famous racecourses in the world, Ascot holds many race meetings throughout the year, but there's one in particular that really stands out. Royal Ascot is hosted for a week every June, showcasing the very best in racing standards with the highest performing horses and jockeys. Not only can guests expect to feel the thrill of the day, witnessing the highs and lows of participants, Royal Ascot also has some of the best British food, drinks and entertainment on offer, to make sure you enjoy your entire experience whether you win or lose.
The Queen and Royal family are regular attendees to Royal Ascot as big fans of the sport and you can also expect to see celebrities in amongst the 300,000 people that attend every year, thanks to its prestigious history and surroundings. Levels of luxury differ greatly depending on the enclosure which you are based, from the Village Enclosure which allows informal dress and picnics on the green to the highly exclusive Royal Enclosure, which displays the very best quintessentially British fashion and finest food and drinks venues. Whether you're a member of the Royal Enclosure or you're looking to enjoy the day in the classic Queen Anne Enclosure, Starr Luxury Cars can provide the best way to get to Royal Ascot.
Travelling to Royal Ascot can be particularly difficult if you haven't arranged something in advance, with so many people using public transport, the trains and streets can sometimes be swamped. You've spent your time selecting the perfect dress and hat, dry cleaning your morning suit and reading up on the horses and jockeys of the day, now you just want to get there and enjoy your day. For Royal Ascot transport that is fast, reliable and exquisitely opulent, we recommend booking a Royal Ascot chauffeur. We have luxury British cars available for Royal Ascot hire that are suitable for couples, groups or businesses, ensuring the most comfortable and stylish journey to and from the racecourse.
Luxury Royal Ascot Chauffeur: Arrive in Style with a Chauffeur-Driven Bentley Mulsanne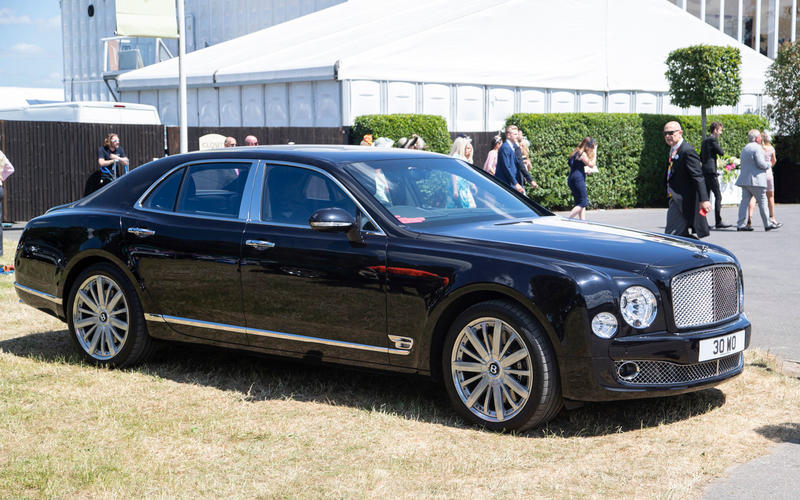 Bentley Motors have been established carmakers for over 100 years and even today, every single model is built and hand-finished in the North-West of England. With a rich British heritage comprising of motor racing and production car building, the resulting Bentley Mulsanne chauffeur-driven car is one of the most beautiful and extravagant British luxury cars in the world, providing the perfect space for VIP passengers. The Bentley Mulsanne is an ideal prestige car to hire for Royal Ascot, featuring a subtle yet powerful exterior and a sleek and elegant interior with plenty of space for up to four adults and luggage.
Your Bentley chauffeur will concentrate on the journey ahead, allowing you the freedom to relax in the finest quality environment and socialise with your guests as you wish. The interior is classic and refined, featuring luxury leather seating and solid wooden panelling, modern technology and astounding attention to detail. Whether you're accustomed to travelling in high-end vehicles or are looking to treat yourself for the occasion, this vehicle has an interior which is comparable to a private jet. The Bentley Mulsanne hire car is also fully equipped to deal with a wide range of terrains and conditions, allowing your professional Bentley Mulsanne chauffeur to get to you and from Royal Ascot quickly and comfortably.
Hiring a Royal Ascot chauffeur doesn't just ensure that you will get there on time, you will be dropped off as close to the venue entrance as possible. The Bentley Mulsanne has an intimidating road presence, displaying the signature craftsmanship and contemporary design of the elite marque. This makes the luxury chauffeur-driven car one of the most easily recognisable vehicles in the world and promises an unmissable entrance and exit to the horseracing event. Hire a chauffeur-driven Bentley Mulsanne for Royal Ascot and begin the races feeling relaxed, rejuvenated and ready to win.
The Best Way to Get to Royal Ascot: Hire a Rolls Royce Phantom Chauffeur for Royal Ascot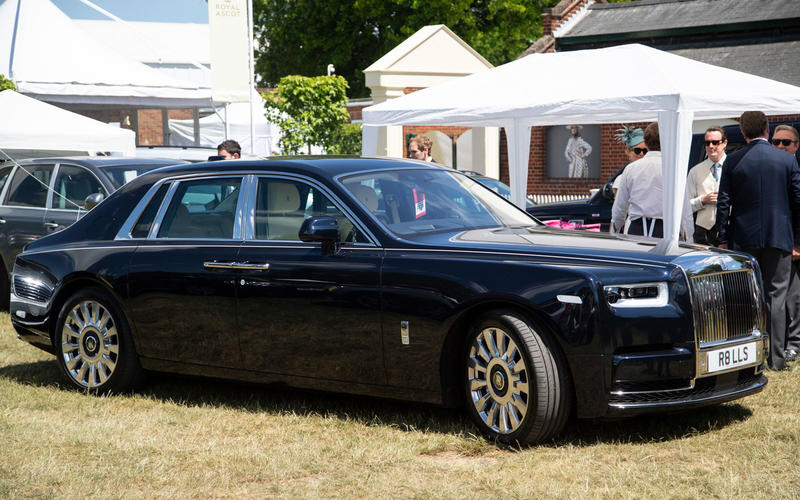 Another giant of the British luxury motor industry, a Rolls Royce is also an excellent choice for your Royal Ascot chauffeur hire car. The Rolls Royce Phantom is instantly recognisable as a British classic, as the marque's most popular prestige model which has been painstakingly designed and put together since 2003. An elegant interior is paired with a powerful exterior to create a prestigious car which demands respect wherever it goes. Not only will your Royal Ascot chauffeur ensure you arrive at the racecourse promptly and feeling relaxed, nobody will fail to notice you make your entrance in the iconic Rolls Royce Phantom.
Up to four adults can sit comfortably within the Rolls Royce Phantom with further space available for any luggage or travel essentials. Whilst your Royal Ascot chauffeur firmly concentrates on getting you to the venue safely and quickly, you and your guests can relax in what is genuinely one of the very best luxury car interiors ever made. You won't be able to ignore the quality of the materials which surround you, featuring hand-stitching and advanced quality control; every element is utterly perfect. The Rolls Royce Phantom chauffeur car features enhanced soundproofing for a quiet drive as well as the iconic starlit roof for an extra special atmosphere.
Whilst it's needless to say the chauffeur-driven Rolls Royce Phantom offers comfort, luxe and stunning design, the ride it offers is also incredible to experience. Hiring a Rolls Royce Phantom chauffeur to travel to Royal Ascot can help to elevate your entire day, ensuring you only experience the very best that Britain has to offer through food and drink, horse racing, entertainment and travel.
Organise Royal Ascot Transport: Travel in Luxury by Booking a Range Rover Vogue Chauffeur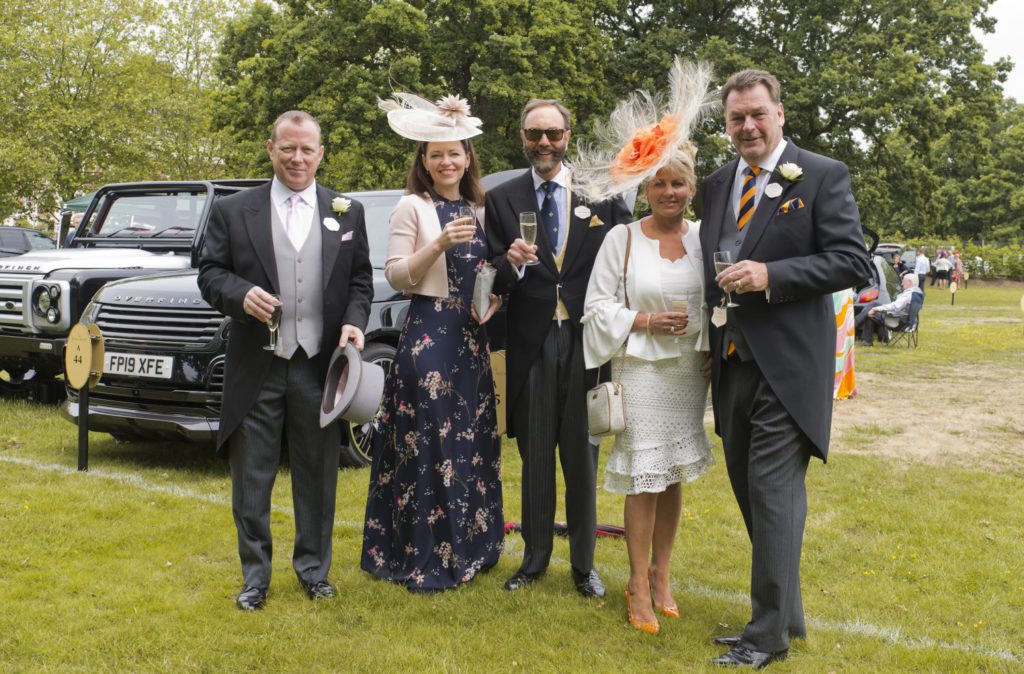 A more modern addition to our selection of Royal Ascot chauffeur vehicles, the Range Rover Vogue is still every bit as impressive. The Range Rover Vogue has space to seat up to four adults comfortably and is an epic symbol of power and prestige, guaranteed to get you noticed upon your arrival at Royal Ascot. A third luxury car made exclusively in Britain, the Vogue is one of the latest to benefit from nearly 50 years' worth of English heritage, engineering and luxury 4×4 designing, keeping all the signature aesthetics of Land Rover with impressive new technology.
Not only is the chauffeur-driven Range Rover Vogue an ideal luxury car to be transported from London to Ascot, its off-road capabilities mean you can expect to be collected from any UK address and experience a smooth and comfortable drive, no matter the terrain or conditions. As well as providing extra head space making it perfect for taller passengers, the Range Rover Vogue will keep you comfortable with extra wide seats and the option to fully recline if there's not a passenger in the front. You can choose to enjoy your journey with heated arm rests and massage features, taking the opportunity to unwind en route to Royal Ascot.
The prestige 4×4 is a beast on the road, perfect for those seeking to experience luxurious travel to and from Royal Ascot. Our chauffeur-driven Range Rover Vogue is kept in immaculate condition, ensuring each client gets to experience a ride in a luxury car which feels brand-new. Our Range Rover chauffeurs also have years of experience in driving VIP guests to and from venues across the UK so you can rest assured that you will be treated with the utmost care and respect from the moment you first enquire about your booking to the moment we get you home, hopefully with fuller pockets.
Located just south of Windsor and about an hour's drive from Central London, our professional Royal Ascot chauffeurs can collect you from any address in the UK, ensuring you enjoy a quiet and comfortable journey in sumptuous surroundings. All our clients can expect to receive complimentary water and state-of-the-art technology to keep you hydrated and entertained throughout your journey but we also offer upgrades and extras including luxury champagne and spirit packages so you can spend your time exactly as you wish.
Once your day at Royal Ascot comes to an end, you can avoid walking or waiting to be collected as your luxury British car chauffeur will be waiting for you. Ascot Racecourse also offers the option of arriving by helicopter. Whether you're travelling from London or the tip of the UK, your Royal Ascot chauffeur can get you to your flying destination from any address before your helicopter continues the journey for you. Our expert team provide the best care for our clients and will always go above and beyond to fulfil special requests, no matter how big or small. If you have specific requirements or need any more information about your Royal Ascot chauffeur booking, speak to our friendly team.