At the end of November, Elon Musk delighted and surprised the world once again with his latest model in the making, the Tesla Cybertruck. The live event and latest creation have received mixed reviews as we were shown one of the most unique car design prototypes to ever go into production. Its blocky form looks like something straight out of a sci-fi movie and the new design includes the use of innovative materials for a resilient body, outstanding practicality and electric supercar level performance.
The New Tesla Cybertruck's Exterior and Interior Design
Excited screams came from the audience as the new Tesla Cybertruck took to the stage. Since 2016, when a new modern pickup truck was hinted at by the all-electric elite car marque, we've seen many guesses of what the Cybertruck's design would actually entail. None, however, quite compared to what Tesla have created. Sharp lines, huge wheels and no paint makes this car look like it's just arrived from out of space. At the back, the roof panel can be electronically controlled to roll up, leaving a platform and ramp for huge storage capabilities, which can be cleverly hidden out of sight. Of course, Musk then casually revealed a surprise branded all-electric ATV quadbike to demonstrate the functionality, in true Tesla style. It's received both praise and criticism from car fanatics as it was compared to LEGO by some yet hailed for its uniqueness and cutting-edge looks by others. It's yet to be seen how much the Cybertruck's style will actually change before it goes into production or whether we're set to see a giant space-influenced electric truck on UK roads. Whatever you think about the look of the new Tesla Cybertruck, it's certainly different and some of the elements have already been applied to Tesla's other models in concept designs, a hint that Tesla may actually be onto something. In contrast to the dominating exterior design, the interior of the Cybertruck is really quite understated. Even with the extensive pick-up space at the rear, the Cybertruck will seat up to six people in a spacious, minimalist cabin. One single 17-inch touchscreen will feature on the dashboard, controlling every setting and providing all infotainment.

Superior Durability and Safety Levels
As Elon Musk said himself, it has 'room for improvement'. The worldwide audience collectively cringed as Franz von Holzhausen, Tesla's Chief Designer was invited on stage to throw a steel ball at the Tesla Armour Glass the new Cybertruck boasts. We'd already seen an effective display of the new strength as Musk's helpers performed a comparison of the new glass versus traditional glass in a high-production demonstration which showed Tesla Armour Glass completely withstanding the impact, but unfortunately the prototype model couldn't quite yield the same results. Instead, Holzhausen managed to crack both the front and rear windows, a devastating blow which is rumoured to have lost the car giant up to 6% in share prices in one day. However, days later Musk addressed the issue and promises to make improvements before production commences. And if these improvements are made, the Cybertruck will be an unstoppable force. The durability of the body and windows promises to reduce dents and scratches, improve longevity and help to keep passengers safe in a form which is virtually indestructible.
SUV Practicality with Supercar Performance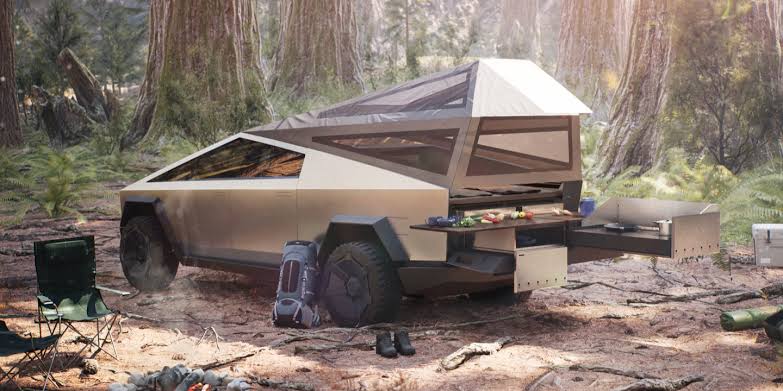 We've seen Tesla push the limits of all-electric cars time and time again, but the Cybertruck claims to go even further. There will be three models produced, each with different motors and driving capabilities, available with self-driving capabilities at an extra cost. With a 500-mile range and an acceleration speed of 0-60mph in 2.9 seconds, the new Tesla Cybertruck is set to be the fastest, most efficient pick-up truck ever made. It also has an impressive towing capability of over 3.5 tonnes, demonstrating there is so much more to the new utility vehicle than a quirky design. We'll have to wait a while to hear further details of expected delivery dates but at the moment Tesla are expecting production to begin in late 2022 with initial orders being taken now for a small deposit. The affordable pick-up truck is expected to cost somewhere between £31-54,000 and one thing's for sure, if the model does go into production as offered, you'll be able to find the Tesla Cybertruck available for hire amongst our luxury SUVs and other Tesla rental cars as soon as deliveries are made.