Aston Martin DBX: From Concept to Game Changer
First revealed to the public in prototype form back in July at the Goodwood Festival of Speed, the completed Aston Martin DBX SUV production model has just been released in Beijing. It was one of the most exciting new prospects to come out of Goodwood this year, in a festival which many have come to see as the main and best unofficial British motor show. The elite marque's first luxury SUV remained a well-kept secret since that reveal, with Aston Martin surprisingly revealing very little about the performance or aesthetics. However, experts in the motoring industry were very vocal with their predictions of what we could expect from the new prestige 4×4 hire car, based on exclusive test drives and trends in the market. It comes at a time where Aston Martin's sales have been suffering after 106 years of trade and the car giant hopes its first luxury car will turn that around completely, aiming to sell over 4000 units a year to a predominantly female market. The new Aston Martin DBX SUV hire car is being built in the UK at Aston Martin's St Athan facility in Wales, its second UK manufacturing plant. Up until now, the team had been working on various prototypes, ready to take part in a thorough testing programme and now it has been officially revealed, production of the finalised model will begin immediately, with deliveries expected to the first customers in the spring of 2020. Set to rival the
Bentley Bentayga
,
Porsche Cayenne
and the
Lamborghini Urus
, the new Aston Martin DBX SUV will be beautifully hand-crafted and available to buy from £158,000. Although Aston Martin are considerably late to the super SUV party as the fourth prestige car maker to introduce a model to the market, their unique selling point is that the body of the Aston Martin DBX is entirely new. Without sharing their structure, Aston Martin have created a unique bonded aluminium platform which gives it multiple advantages, the most prominent being its light weight. It also fits neatly in between the
Bentayga
and the
Cayenne
in terms of size, at 5.04m with the long wheelbase allowing plenty of space for both passengers and luggage. It features a Mercedes AMG 4.0 litre twin turbocharged V8 engine, the same as the
DB11 supercar
and helping with its undeniable capability. The combination of reduced weight and powerful engine allows the Aston Martin DBX to accelerate from 0-60mph in just 4.3 seconds and it has a top speed of 181mph.
Details of the Exterior and Interior: New Aston Martin Luxury 4×4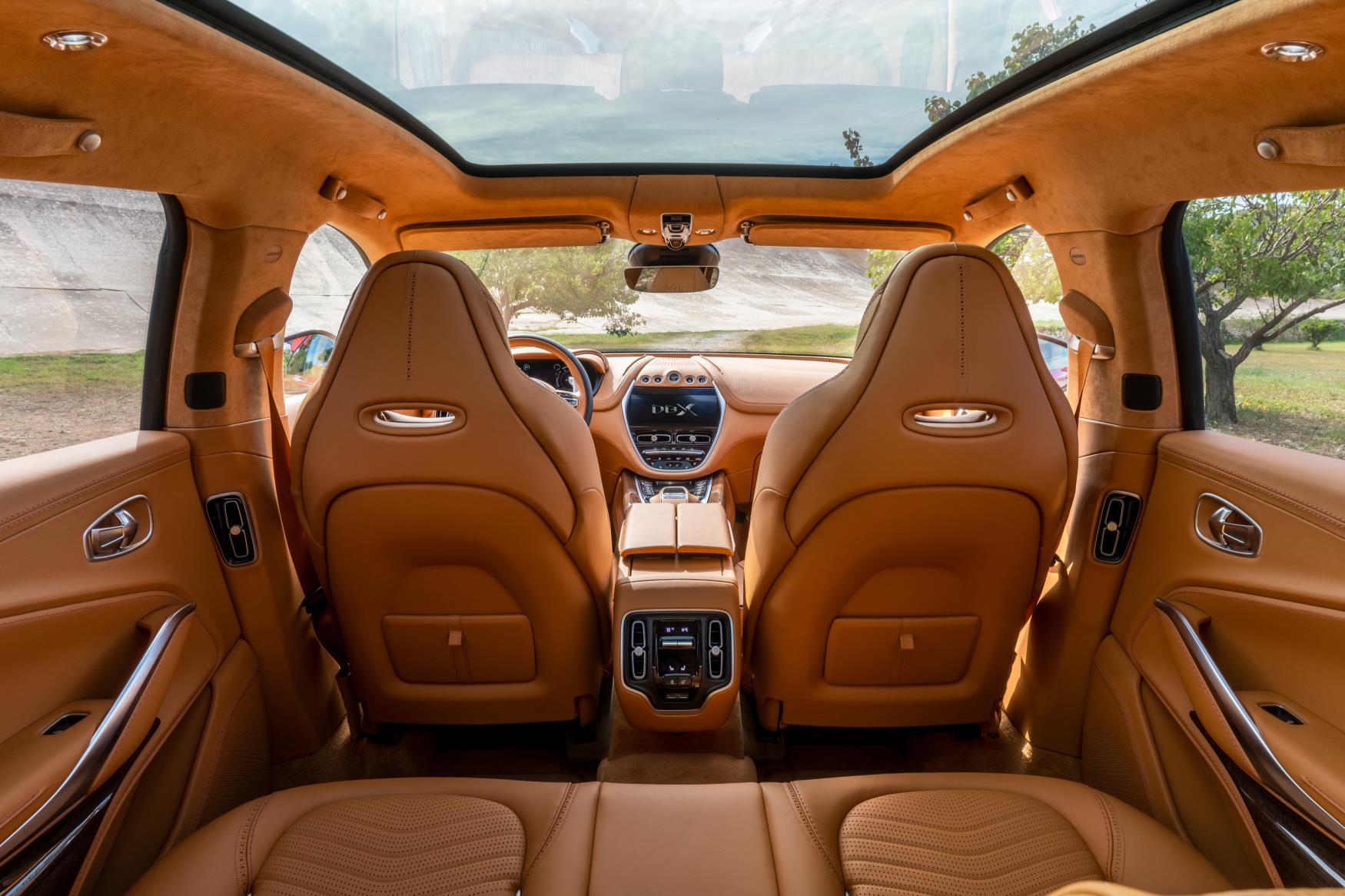 Giving how much the success of the Aston Martin DBX meant to the company, it comes as no surprise that they really have gone all out. The exterior design has evolved greatly since the first concept which was revealed in 2015 and is, thankfully, miles better than the Lagonda SUV concept they toyed with back in 2009. A first for the British marque, the new Aston Martin SUV features many signature design cues including a front inspired by the DB11 and Vantage with low curved shape, sportscar duct tail and elongated lights. The new Aston Martin 4×4 also features a huge front grille, potentially the biggest of any of its production models to date and keeping it in line with the marque's other luxury cars. It also helps to define the new super SUV's muscular shape and cover the powertrain beneath. Considering how different this is to Aston Martin's usual models, the beautiful 4×4 does not look out of place in the line-up, with the elegant two door luxury sportscar cleverly developed into a spacious four door jeep, with sunken door handles and a sporty feel which retains its classic design cues. Focussing on creating a simple beautiful luxury 4×4, Aston Martin have removed a lot of the fuss, allowing the eye to focus on the most important elements. The glass windows cover each side panel separated only by more glass, creating a flush look which is both modern and tasteful. The same goes for the exterior door handles. Whilst still ultimately practical, essential elements have been designed in a discreet fashion which leaves the Aston Martin DBX looking simply like a work of art. Inside, each element has been carefully considered and drivers can expect luxury leather everywhere from the perforated leather seats to the matching perforated leather speakers, which sit alongside beautifully contrasting piano black wood-finished interior door handles. It also features a large panoramic glass roof and boasts an impressive 632 litre boot space, enough to rival some of the most popular and well established 4×4 models. The electric roof blind is available in alcantara and the seats, inspired by the DB11, have been optimised for one of the most comfortable drives in an SUV. The cockpit is split by a bridged centre console, creating a relaxing, user-friendly space for both driver and front passenger. Aston Martin's DBX personalisation service allows for customisation to every element, including the option to have the centre console carved out of solid wood. Unlike nearly all other Aston Martins, the new 2021 DBX is a fully fledged five-seater with plenty of room to seat up to five adults. The latest in modern technology ensures that the driver and passengers of the Aston Martin DBX will be treated to a relaxing ride, no matter where you choose to go. Even in environments Aston Martin drivers could never normally tackle, passengers can benefit from the additional comfort of ambient lighting and sumptuous leather upholstery whilst the driver can benefit from a heated rear window and rain sensing windscreen wipers, all the necessary little details to make the journey that little bit easier and more enjoyable.
Driving and Handling: Tough Terrains to City Sprints
Its thorough testing programme included driving in some of the world's harshest environments, from snow in Sweden to the deserts of the middle East. Of course, the new Aston Martin SUV was also tested in Wales where it is being built as well as its most recent destination, the Nurburgring, with each testing environment helping engineers to improve its multi-terrain capabilities. Every element of this car has undergone comprehensive testing, even down to the positions of the buttons and setting controls which have been carefully optimised for enhanced driver experience, again particularly focusing on the female market. Although it has sufficient towing capabilities, Aston Martin have already admitted this luxury SUV does not quite have the off-road capabilities of a
Range Rover
as it needed to remain as luxurious as any other Aston Martin vehicle whilst performing both on and off-road. However, it does allow drivers to take on mud and sand with ease and should be plenty for any UK family adventure. Featuring all-wheel drive and some of the most advanced driving technologies, the Aston Martin DBX is set to be a pleasure to drive. 22-inch wheels come as standard, with a choice of two designs in the new luxury SUV where everything is customisable. Six adaptive driving modes allow you to go from on road to off road very quickly shifting torque between the front and rear wheels to improve handling and overall safety.  All over body sensors trigger an electric-powered anti-roll system with roll bars automatically deployed should you ever need them. While the Aston Martin DBX has been designed to tackle harsh terrains, it's clear not every potential customer will have this desire. To make the new DBX SUV more accessible and desirable to all luxury car owners, there are several exclusive design packages available to suit daily needs. These include a ski package with optional purpose-built roof rack, matching prestige leather holdalls, a pet package  with a portable dog washer and specially designed dog bed and boot space and a wet bag built in underneath the floor of the boot space, created for driver and passengers to store wet clothing before hiding again with a luxury leather insert. So whether you're a thrill-seeker or you prefer a luxury SUV which will take you through daily life without sacrificing any opulence (or matching accessories), the Aston Martin DBX SUV really does perform. The new Aston Martin DBX has already created a lot of noise within the luxury car industry. Excited experts and critics have provided a lot of excellent feedback and can't wait to try out the latest SUV to become available to the rich and famous and see how well it really does against the
Bentayga
,
Cayenne
and
Urus
. Whilst the first deliveries aren't expected until Spring 2020, we're already almost certain an electric model will follow, another step towards high-end car marques becoming more sustainable. While you're waiting for the model to hit the roads, why not try out one of our other
luxury 4x4s
or take the opportunity to
rent an Aston Martin sportscar
, perfect for weekend city breaks and cross-country journeys.