EXOTIC LUXURY CARS IN EUROPE
Starr Luxury Cars is now in Europe! and offering Self-Drive & Chauffeur Hire Services
ADRENALINE IS THE POWER OF BRAVES
Are you ready for your next pure experience? Feel it, Live it, at the Starr Luxury Cars way
FEEL LUXURY AND POWER
discover europe at the starr luxury way
From the Eiffel Tower to Hagia Sofia, Europe brings with it a host of unforgettable experiences and opportunities. At Starr Luxury Cars, we are dedicated to bringing first-class luxury travel directly to our clients. As we continue to grow and expand, Starr is proud to provide an extensive fleet of prestige cars for hire throughout Europe with tailored driving experiences that far exceed all expectations. We accommodate for all travelling parties, whether you're visiting Geneva for business or have plans to ask that all-important question in Paris. Our professional team offer support and guidance throughout your booking, so you can focus on drinking in the charm of every city and indulging in the finest sites too.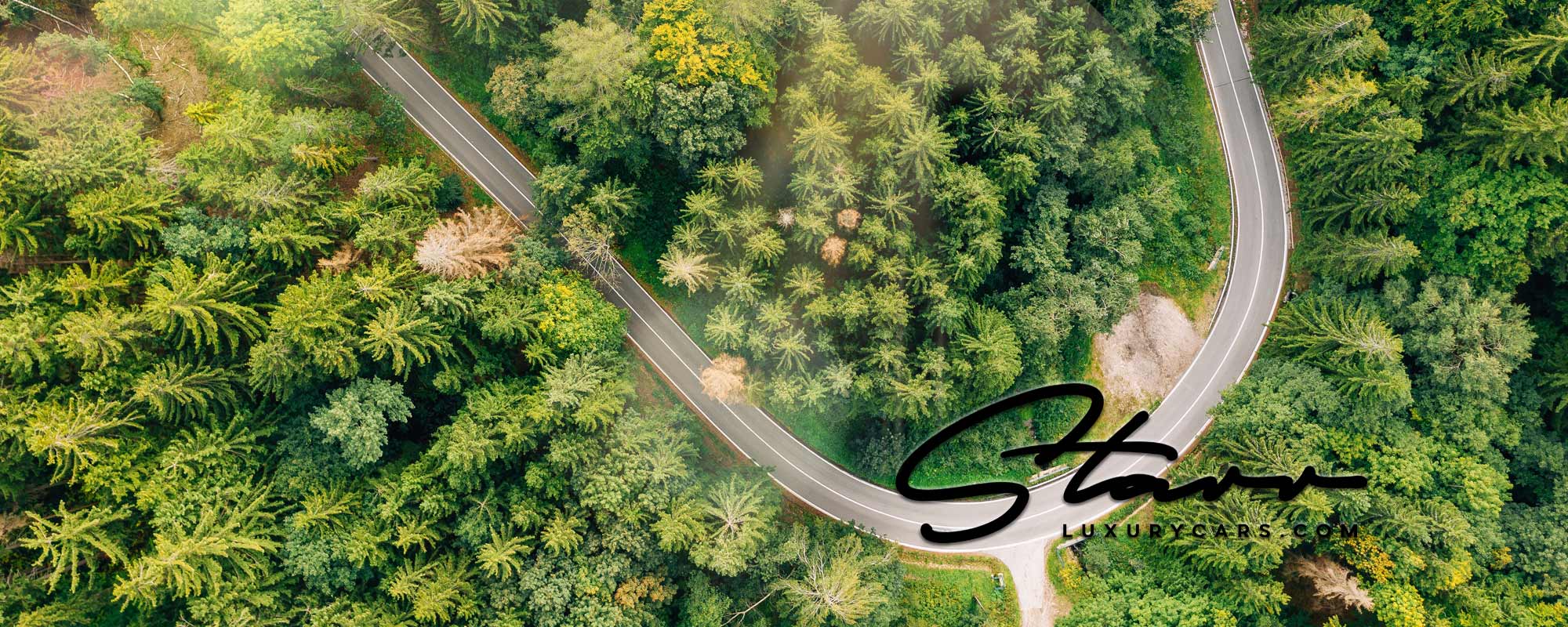 WHY CHOOSE STARR LUXURY EUROPE?
WE PROVIDE THE FINEST EXOTIC & PRESTIGE CARS!
Explore The City Of Light in exquisite comfort
Hailed as one of the most romantic cities in Europe, Paris has an allure that draws in couples and families alike. It is awash with rich culture, from The Palais Garnier to the Versaille Palace. Those visiting during March, September and October will find themselves in the midst of Paris Fashion Week. An annual celebration of street and couture fashion, this world-acclaimed display of talent is attended by thousands. Hire an Aston Martin DB11 and discover the level of prestige travel that befits such an illustrious event. Perfectly styled to pull up on the red carpet, this sports coupe has an abundance of power under the bonnet and a sleek silhouette that glides around corners with grace. It maintains your impeccable style during fashion week just as effortlessly as it could pull you up outside Philippe Chatrier Court for the Roland Garros grand slam.
Discover Middle Eastern culture in style
Bringing together Western and Eastern traditions, Istanbul is home to some of the world's most exquisite mosques and in-depth history. It is a city of enriched culture with a thriving nightlife and endless shopping opportunities. Hire a chauffeur-driven Mercedes Benz S Class and discover the finest way to explore every corner of this exotic city. From The Blue Mosque to the Grand Bazaar, there's no better way to travel than nestled in a haven of comfort while your driver manoeuvres through the busy streets. Sink into the plush, multi-adjustable leather seats and ask your chauffeur to head over to Emirgan Park for The Tulip Festival. Hosted during the month of April, this celebration of the national flower allows you to appreciate horticulturalism at its finest. Alternatively, the S Class has enough prowess and elegance to suit The Istanbul Music Festival too. Held every June and July, this is where you'll be able to appreciate local talent as well as some of the biggest names before sinking back into a luxury car crafted for comfort.
Delve into Mediterranean cool in the Catalan Capital
Step onto the beach in Barcelona or wander around the cobbled streets and you'll understand why so many people return again and again. This historic city has so much to offer, from the Gaudi excellence of La Sagrada Familia to the culinary excellence of El Celler de Can Roca. Hire a Ferrari 812 and ensure you turn heads while you explore. A truly remarkable supercar, this explosive vehicle brings 789bhp to your fingertips with a rear-wheel drive set-up that guarantees thrills. Cruise over to the Circuit de Barcelona-Catalunya in early June and you'll be able to catch the world's finest drivers gearing up for the Spanish Grand Prix. With the prowess to get you into the VIP section, you'll be able to live out your wildest driving dreams from the comfort of the city's roads.
Appreciate unique architecture in The Heart of Europe
From its world-class musical talent to truly unique buildings, Prague offers city excursions like no other. It manages to bring together luxury and culture into one package, with events such as The Prague Festival celebrating this history every year. With a masquerade parade that starts in The Old Town, hiring a Range Rover Vogue will allow you to appreciate every moment of this world-renowned celebration. Book your trip over late May/early June and you may even catch the World Roma Festival too. Known locally as Khamoro, this five-day celebration highlights all things Romani and is one not to miss for visitors. With the Range Rover Vogue at your disposal, you'll be able to visit every corner of the city while ensuring the comfort of all your party and prioritising driving enjoyment at the same time.
Step back in time with the ancient Romans
Home to the Pope and renowned ancient ruins, Rome promises to steal your heart on the very first visit. It is a truly exquisite city that overflows with culture, business opportunities and prestigious shopping locations too. Hire a BMX X5 for your stay and discover the convenience of city travelling in a powerful SUV. Honed for comfort, this is the perfect vehicle to take you from your room at the Cavalieri to Parco del Foro Italico where you can appreciate the finest tennis starts during the Italian Open. With plenty of grip, an abundance of space and cutting-edge technology, few prestige cars for hire could make this type of trip any more memorable for the entire family.
Embrace Italian style, elegance and power combined
Milan is hailed for its fashion-forward nature and Milano Fashion Week is undoubtedly the most celebrated event of its calendar. Hire a Rolls Royce Wraith and turn up on the red carpet in style. Whether you're dressed in the latest couture gowns or are working to redefine Italian streetwear, this expansive cruiser is the perfect chauffeur-driven car. As you sink into the armchair-like seat in the rear and appreciate the whisper-quiet drive, your professional chauffeur will manouver the roads and deliver you to the next catwalk with ease. The Wraith may be large but it is also endlessly elegant and has long been celebrated by Italian automotive enthusiasts. The handcrafted detail and expansive silhouette promise to draw gasps of appreciation from every passerby.
Take a cruise through the most influential Greek city-state
Known as the birthplace of democracy, Athens promises to take you back in time through its architecture and culture. Hire a Bentley Mulsanne with a professional chauffeur and glide through the many different landmarks with ease. Drive past the Acropolis hill, admiring the World Heritage Site from a distance and keeping an eye out for the Parthenon temple too. This expansive cruiser has been crafted for comfort making it the perfect vehicle for inner-city tours. Allow your professional chauffeur to make their way through the busy streets while you relax fully. Visit during June or August and find yourself in the heart of the city's Epidaurus Festival. This annual celebration of art has been hosted in Athens for over 60 years and features alluring performances at Odeon Herodes Atticus and the Ancient Theatre of Epidaurus. With the Mulsanne at your disposal, spending an evening indulging in Grecian art before heading back to the local bar or your hotel room has never been easier.
Tour through the German capital in impeccable style
A city of contrasts, a trip to Berlin will nestle you in between historical landmarks and contemporary modernism. It is the city hailed for its Marathon that sees over 45,000 runners from 157 countries pound the streets on a 42km course from the Brandenburg Gate. If you've managed to secure a space, hire a Mercedes Maybach with a professional chauffeur as a post-run treat. After you've pushed your muscles to the limit, sink into plush armchair-style seats with a host of adjustability options and a silken soft drive. Your professional chauffeur will take care of everything so you can sit back and appreciate the medal hanging around your next. Or visit during February and use the Maybach to make your entrance on the red carpet. The Berlin International Film Festival is one of the world's most prominent that began life as a showcase of the free world.
Indulge in Southern French opulence at its pinnacle
Monaco is acclaimed worldwide for its superyacht allure and affluent population. It has all of the luxury needed to draw you in – especially when you choose to hire a BMW i7 for the duration of your trip. A truly impressive limo, this quick and refined prestige car has the allure of German design and cutting-edge technology from an all-electric powertrain. Cruise over to Circuit de Monaco in late May or early June and take your seat on Grandstand T for the Monaco F1. With over 78 laps over a 3,337km circuit, watch the likes of Esteban Ocon or Pierre Gasly as they race for the podium. Those here for the fashion should visit during May where they'll catch the Monte-Carlo Fashion Week. Pull up outside in the BMW i7 and turn heads for much more than just your catwalk outfit.
Revel in the birthplace of Pizza
Naples is a city renowned for its wine and culture. Hire a Porsche 911 Cabriolet for your trip, throw the roof down and appreciate the hot, Italian sunshine as it beats down on your body. With a 3.8-litre engine and 379bhp, this explosive sports car will take your breath away. Hire it and cruise over to the Naples Winter Wine Festival. Hosted by celebrities, this charitable event raises money for children in need with chef-hosted dinners and an auction. Or use the Porsche 911 Cabriolet to fit in perfectly at Cars on 5th – an annual, one-day event that celebrates luxury vehicles and raises money for charity too. The perfect way to indulge in your love of prestige automotive while basking in Naples's undeniable charm.
Travel to the worldwide centre of diplomacy
Visit Switzerland and it won't be long until you find yourself drawn to Geneva. A hub of business and a global financial centre, this iconic city plays host to numerous international organisations including the headquarters for the United Nations and the Red Cross. Hire a Range Rover Autobiography LWB and make sure any meeting you're due to attend is preceded by the perfect, relaxing drive. A 4×4 with the capabilities for off-roading, it benefits from an extended wheelbase to accommodate the tallest travellers with air suspension to eliminate bumps on the road. Attend Palexpo – an annual gathering of luxury innovators and industry leaders – to set your business ahead of the crowd. Or book tickets to the Geneva Motor Show where many of the world's most significant marques make much-anticipated announcements.
Drink in one of the most exciting destinations in Spain
Hailed as the home of Spain's performing and musical arts, Madrid offers so much variety to every visitor. It offers a host of delicious Spanish dishes and stands as the home of flamenco dancing too. Hire a BMW 7 Series for your trip and you'll be able to melt into unrivalled comfort in a vehicle crafted for exceptionally quiet and smooth acceleration. The most luxurious and high-tech car BMW has ever produced, it is the perfect vehicle to help you discover the San Isidro celebrations in May. This week-long festivity sees the blending of modernism and tradition that honours the city's patron saint with dances, dress-up and Madrid cuisine. The 7 Series is also a luxury car hire that promises to impress everyone, meaning it will just as easily take you to your chosen pit stop for the world's best pride festival – Orgullo – in the last weekend of June.
Sink your toes in internationally renowned sandy beaches
With its rich nightlife and pristine coastlines, it's no wonder that Marbella peaks at the top of many people's travel lists. Hire a Porsche Carrera Cabriolet and slip into the prestige of this iconic city with ease. With the roof back, the wind rushing through your hair and the sat nav programmed for Puerto Banus. Host of the Marbella Luxury Weekend, this international project allows you to delve into unprecedented opulence with a showcase of jewellery, watches, boast and much more. Those visiting the city during August should seek out tickets to the Marbella International Opera Festival. An international competition with masterclasses, it allows you to indulge in the finest operatic talents. Plus, the Carrera Cabriolet has all the beauty to perfectly suit arrivals on the red carpet too.
Luxury car hire in and throughout Europe with Starr Luxury Cars
Elite travel is intrinsic to our DNA here at Starr Luxury Cars. Our professional and dedicated team are passionate about crafted tailored driving experiences that exceed every requirement. We have some of the largest fleets in many European locations, with access to some of the most covetable prestige supercars, expansive SUVSs or cutting-edge cruisers. Our experiences can be honed to perfection, with the option to hire one of our fully-vetted chauffeurs too. Their detailed knowledge of each city affords you access to the finest, hidden locations while allowing you to effortlessly manouver around unwanted traffic. Alternatively, choose our self-drive hire experiences to ensure you slip behind the wheel of your dream luxury car this year.
Discover our full fleet of prestige cars for hire throughout Europe here or, to discuss your requirements in more detail, get in contact with our experienced team who are always on hand to help.
Just a few of our recent testimonials from happy clients who trust Starr Luxury Cars
Great cars, great service especially from Andi who delivered the car to me, very polite and professional.
Jake and Kat Yacht Crew
21/06/2023
Excellent vehicle and amazing friendly service, met us as the airport and were on our way in no time at all. Can't recommend enough
Hedde Verhagen
21/06/2023
Andy arranged everything perfectly. Really made our trip complete👌🏼👌🏼
Carlos A Perez
19/06/2023
I rented a beautiful Bentley Bentayga from Star Luxury and it is the best experience I have ever had renting a car. The person who dropped off the car at my hotel was very helpful in explaining the features of the car and handed it over to me in pristine condition. Unfortunately I had a puncture on my way to Cambridge. I called the company and immediately they found a service that met me and put on a brand new tire in very little time. The whole experience couldn't have been better. Both Andi and Joe are true professionals and I will definitely be using the service again.
Great cars, professionally maintained, solved questions - requests fast and easy, especially for renting a DB11 from out for the country. Will use again on my next trip
Marcello Briganti
01/06/2023
Rented a Urus for a couple of days everything went smooth. Car was great and customer service was really fast and available. Adam toke care of us and delivered the car and make sure everything was ready for us to have the best experience. Price is decent compare to other companies and we will definitely use their services again !
Beautiful Range Rover and excellent service.
What an incredible service, and proffesional staff. This it's been an amazing experience, with this exceptional treatment, I really recomend it thoroughly, if you are a car lover, you will be gladly surprised.