STARR LUXURY CARS REVIEWS
STARR LUXURY CARS ARE PROUD TO HAVE 100% 5* REVIEWS
"Excellent customer service. The whole experience was flawless and above board. Truly satisfied customer"
STARR LUXURY CARS REVIEWS
Here at Starr Luxury, our aim is simple…
Provide an outstanding service to our clients and retain our title of the UK's number one Luxury Car Hire Brand!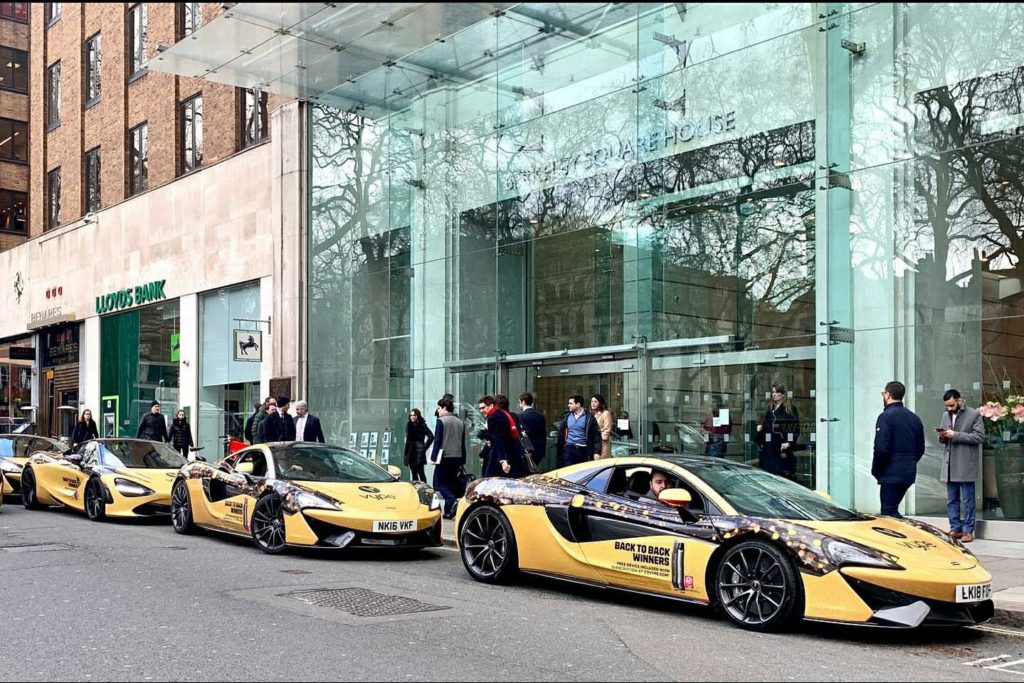 Based on 57 reviews
Theo Johnson
14:46 11 May 21
Friendly, honest and respectable team. Wanted to hire some cars for the weekend to help us decide what new car we

...

wanted to buy, they had all the cars I could think of and at fair rates. Highly recommended.

read more
Khush Singh
10:42 01 May 21
We had hired the G-Wagon for our wedding from this company and all I can say is it was brilliant. The communication

...

from Adam was superb and there were no problem regarding the booking considering it was a last minute thing. The driver arrived on time and was dressed appropriately. The driver was really friendly and listened to all our requests. I would defiantly recommend these guys and will consider booking them again in the future.

read more
Tom F
20:53 02 Jan 21
Needed to hire a car for my wedding and with a last minute change to that date 'Starr Luxury Cars' where very

...

accommodating. I had my 911 delivered to me clean in a very professional manner, a very sraightfoward and easy process. I would highly recommend them for anybody seeking hire of prestige cars. Thanks for everything.

read more
Sally Addison
14:48 24 Oct 20
Booked 3 cars for my wedding. Booking was hassle free, and they turned up on time. Drivers were great. Prices are also

...

great. Much lower than some other quotes I was getting.

read more
chris melvin
16:04 12 Oct 20
Excellent service. Always deliver and collect on time. Courteous and professional staff and great cars!
L B
11:36 09 Oct 20
My husband and I just wanted to say a huge thank you for the car service you provided for our wedding day. The guys

...

were great and very professional yet friendly. We felt really special and everything went smoothly.

read more
Jason Touray
17:43 22 Sep 20
I had a perfect experience with Starr Luxury Cars! Richard went the extra mile to source a beautiful Audi R8 V10 Spyder

...

for me at short notice and I couldn't be happier with the level of service, explanations and the car itself. Would definitely hire from them again and highly recommend!

read more
A Google User
18:31 15 Sep 20
Fantastic service from Adam and the team for going above and beyond. They made every effort to accommodate my

...

requirements. A very professional company. Thank you

read more
Steve Hunt
14:32 07 Sep 20
Simple and straightforward to deal with. We booked the car, it turned up at the exact minute it was promised, and it

...

was taken away at the end! We booked it as a present for a relative who was bowled over by it. A job well done!

read more
Диана Аникина
12:02 07 Sep 20
Very professional service with fast replies, polite and welcoming staff and a great selection of premium class vehicles!
Ryan Burke
13:34 26 May 20
Incredible service and car was perfect. Would highly recommend and use again
AL
16:34 30 Mar 20
I needed to rent an SUV in a short notice for 10 days and I needed it in 2 hours. Having rung around a couple of

...

places, the only company that managed to sort me out was Starr Luxury Cars. I spoke to Ike and he was on the ball from the get go. Would definitely recommend to anyone looking to rent luxury cars. Received my refund within 6 working days which was great!

read more
Piragash Sivanesan
13:24 06 Jan 20
Great experience, great and responsive customer service and immaculate vehicle.
Wayne W
15:06 04 May 19
I used Starr Luxury Cars for an important corporate event recently. We required three cars for important clients and

...

the we specifically specified a certain calibre of chauffeur was required, after previous companies failed to live up to expectations. We were beyond happy with the fulfilment of our brief. Very happy clients and Starr Luxury Cars will be our go to for future car requirements. Cannot recommend highly enough.

read more
Next Reviews
Why we are rated number one!
Fleet of over 70 cars

Starr Luxury Cars boasts an impressive, ever growing fleet of only the finest luxury cars in the world from a Range Rover to a Lamborghini Aventador SVJ.
Luxury as standard

Whether you require a chauffeur or want a supercar to explore the finest countryside the UK has to offer, Starr Luxury Cars guarantee luxury as standard.
Above & Beyond

We understand that sometimes your plans change or you need a car delivered outside of normal working hours. Starr Luxury will always endeavour to make your hire as simple as possible and are always happy to accomodate any changes you may need to make.
Amazingly responsive

We aim to respond to any enquiries within 2 hours and are always on call for existing clients.

Working with Global Companies

We have worked with FTSE 100 companies, global brands and many other companies whether its for a brnad campaign or corporate incentive, we can help.
Full transparency

We don't have any hidden costs. The price you pay, is the price you pay. No hidden charges or excessive terms.
It has never been easier, just click the button below and start your next adventure.