Prepare your senses as you may be about to see and hear even more luxury cars zooming around central London, thanks to the opening of Mayfair's newest supercar showroom. Years overdue, this week H.R. Owen has officially opened a new Ferrari flagship store, set to house all the latest releases for prospective customers to feast their eyes on and part with their cash for. Berkley Square is already home to numerous luxury car dealers including Bentley, Rolls-Royce, Bugatti and Tesla so there's no doubt Ferrari will fit right in, adding a little more competition between the prestigious marques. Some of the most famous car dealerships have been open in Berkley Square for around a century, helping give the area its reputation for exquisite motors.
Surrounded by prestigious diamond dealers and award-winning restaurants, prospective buyers can expect the best customer experience whilst sampling some of the finest Italian design in the car industry to date. To start as they mean to go on, the eagerly anticipated new store was home to two days of pre-opening celebrations, displaying three of the rarest and most luxurious cars Ferrari has ever made, to the public from 9th – 11th July.
The 1954 Ferrari 750 Monza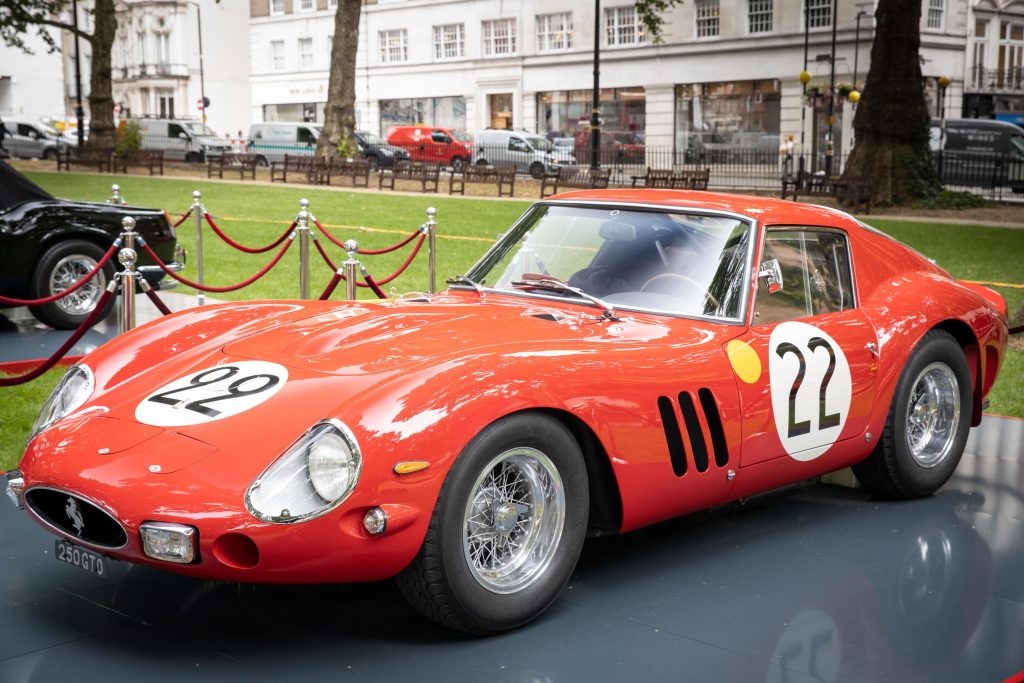 The oldest classic car to appear in the priceless Ferrari line-up marking the H.R Owen Berkley Square opening was the 1954 Ferrari 750 Monza. Despite being 65 years old, this rare Ferrari displays a lot of modern technology for its time. It has a respectable horsepower of 250hp available, alongside high torque and a four-cylinder engine which saw it take both first and second place in its debut race in Monza, where it then earned its name. It also has a top speed of 155mph which wouldn't make it too out of place on the roads today.
Its heritage, rarity and traditional Italian design make it so impressive today, marking a point in the history of Ferrari's design ethic. The drooped nose went on to inspire countless Ferrari models and now features in the adapted yet iconic way that we know it now. Featured in the signature Ferrari red, the 1954 750 Monza displays the marque's rich history, expert craftmanship and extreme level of detail that have seen them become producers of some of the most desirable cars in the world.
The 1961 Ferrari 250 California Spider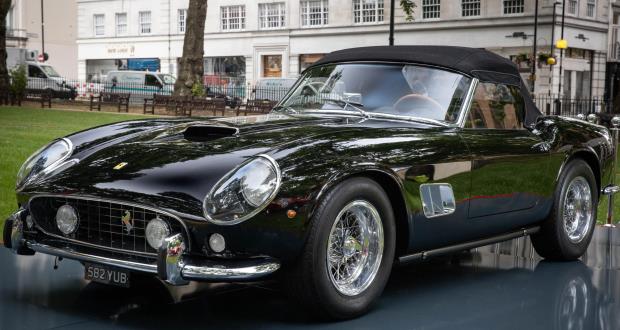 The 1961 Ferrari 250 California Spider was next to appear in the stunning line-up and it doesn't take long to work out why. This vintage Ferrari is arguably one of the most beautiful cars ever made and as one out of a total of 56 of this specific model, it is also one of the rarest Ferraris in the world. Wanting an open-top version of the successful Ferrari 250 GT, this is Scaglietti's creation, designed for those wanting to enjoy the Californian sun. It also featured a fully folding soft roof, a three-litre V12 engine and enough space for a driver and passenger alongside luggage.
The particular model held on display outside the new Ferrari flagship store in Mayfair has been owned by a host of celebrities, including actor James Coburn and past Top Gear presenter Chris Evans, who reportedly paid around £12 million for the classic sportscar. At nearly 60 years old, the classic car went on to inspire the 2015 release of the Ferrari California, one of the marque's most popular models and one you can hire from us today.
The 1962 Ferrari 250 GTO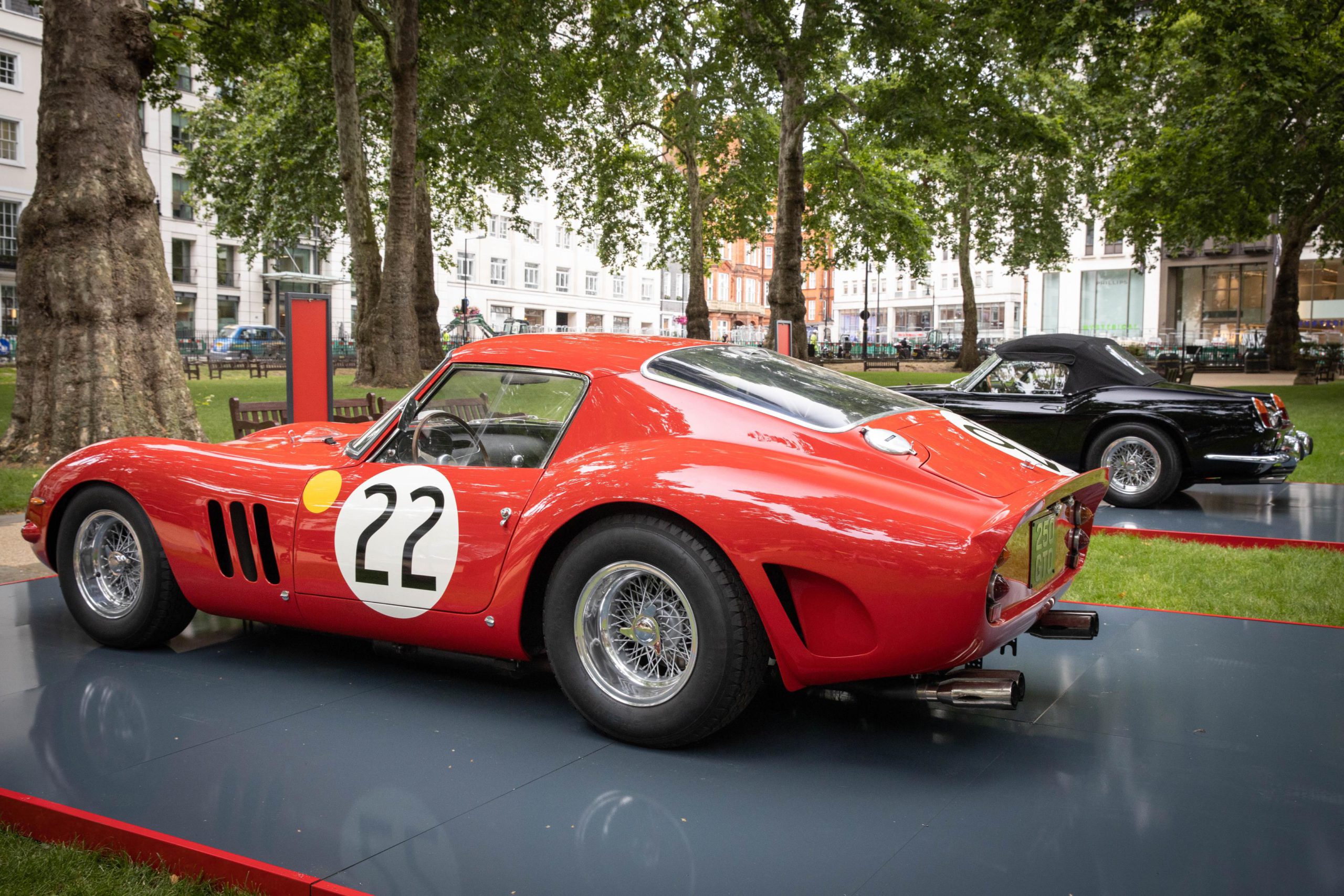 The third vintage car featured in Berkley Square last week was the 1962 Ferrari 250 GTO, a 250 GT heavily optimised for competitions but still remaining a road-legal car. It came second in its debut race, losing only to a Ferrari 250 Testa Rossa sportscar, before winning numerous titles in the GT category. It features a three-litre V12 engine, capable of a top speed of 174mph as well as deep side air ducts, thanks to early wind tunnel research.
Only 36 Ferrari 250 GTOs were ever made, making this another extremely rare Ferrari. One was sold in 2014, becoming the most expensive car ever auctioned at the time by bringing in over £30 million. For luxury car fans, the Ferrari 250 GTO has become infamous thanks to its rich history and astounding performance of its time. The particular model on show is said to belong to Pink Floyd drummer Nick Mason and is valued at over £60 million, making it one of the most expensive cars in the world.
Ferrari Monza SP1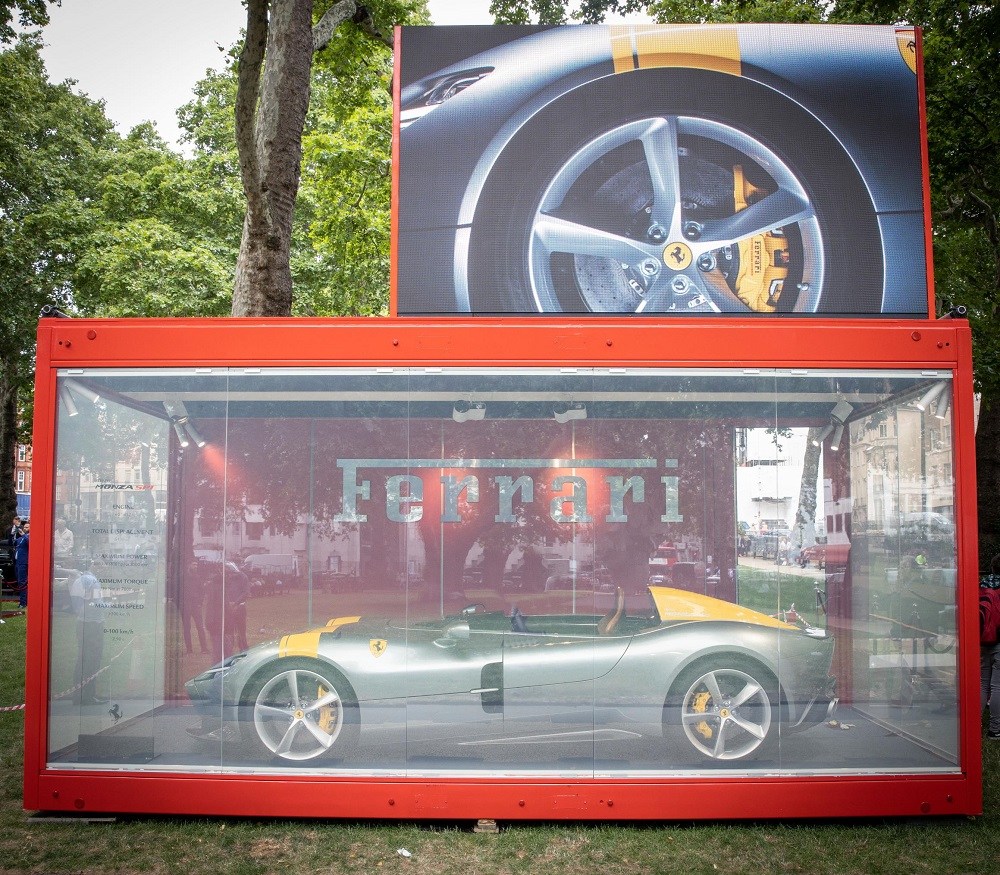 Alongside the three Ferrari classics sat a new breed of Ferrari supercar. Only in concept form at the moment, the Ferrari Monza SP1 is the front-running model in a new limited-edition Icon line-up, taking world-famous vintage Ferraris and redesigning them to produce modern performance, high levels of comfort and intimidating looks but with a truly retro feel. The Monza SP1 has got to be one of the most unique designs we've ever seen, covered in carbon fibre and revealing an opening to seat just one, this brand-new supercar has been based on the barchetta styling of race cars of the past.
The Ferrari Monza SP1 also features a new rear light design, a sleek full line of light which separates the upper shell from the lower body for a truly modern aesthetic. Not only have Ferrari managed to create a luxury supercar which is extremely futuristic, prestige car fans will also be able to see the delicate touches that have been inspired by a gone by era. One of the most unique features of the future car is the lack of windshield which has been accomplished by creating an aerodynamic passage below the driver's side. The virtual windscreen allows the driver to remain comfortable whilst experiencing what is promising to be one of the most exhilarating drives Ferrari has ever designed.
The new H.R. Owen flagship Ferrari store is set to feature new and approved pre-owned luxury supercars, including the latest releases and classic sportscars. Customers can also benefit from official Ferrari servicing, valuations and aftersales support, ensuring you continue to enjoy your new purchase for years to come. Winners of Ferrari's Global Dealer of the Year award and displaying an epic amount of passion towards the prancing horse, there is no better place to buy a Ferrari in London.
If the new flagship Ferrari store is at the top of your list of places to visit, just remember Starr Luxury Cars offers you the opportunity to try before you buy. Find the new Ferrari of your dreams at H.R Owen in Mayfair but before you sign your name on the dotted line, allow us to provide you with the same model for you to rent for a day, a week or even a month. Even if you have a specific colour and extras in mind, we can source the Ferrari you're looking for, allowing you to try out all those modifications before you commit. Just to make sure your new purchase will be everything you thought it would before you part with a substantial amount of money. As massive Ferrari fans we're sure it will be but it's always better to be safe than sorry.
Alternatively, if a visit to the new Ferrari showroom in London leaves you feeling inspired, get in touch with us to try out some of the models you've come across. We have Ferraris for self-drive hire as well as those suitable for track days for true performance testing and Ferrari chauffeurs, perfect for getting you to and from a prestigious event or special occasion, although you really need no excuse to hire a Ferrari; the stunning supercars speak for themselves.
With the largest fleet of Ferrari hire cars in the UK and a wealth of partners to source specific vehicles from, Starr Luxury Cars should be the first place you think of if you're looking to hire a Ferrari. Our head office can also be found in Berkley Square where our friendly and professional team are hard at work making sure our clients have the best Ferrari car hire experience in London. With our fleet ranging from the most popular models such as the 458 and 488 Spiders to the new Portofino and limited edition and hard to come by La Ferrari, we have a model for every supercar fan. Our Ferraris are kept in immaculate condition, receiving regular servicing and quality inspections, ensuring you receive a Ferrari which feels like it's brand new every time you hire from us.
At Starr Luxury Cars, we will always go above and beyond to meet our clients' specific requests, no matter how big or small. Get in touch with our expert team who will be able to help and advise you with your Ferrari supercar hire, ensuring you have a fantastic client experience from the very first moment you speak to us. Even if you're not planning a visit to the new boutique, we're sure you will enjoy the Ferrari of your choice so much that you may be tempted to once you give it back.