Ferrari Hire London: Pack Some Extra Horsepower on Your Next City Getaway
If you spend any length of time in London's Mayfair, Knightsbridge or Kensington you'll realise it's the playground of the rich and famous. Dazzling supercars line the streets like flamingos amongst the pigeons, each sparking the same level of emotion regardless of whether they're zooming past producing that ear-splitting roar or purely at a standstill. In amongst the elite of the sportscar world, one of the most popular supercars to rent in London must be Ferrari; they're astonishingly fast, satisfyingly loud and have an instantly recognisable Italian design ethic which sends the message that they mean business. The stallion of supercars, London Ferrari hire allows you to explore the capital in the most opulent surroundings, taking in the sights from the luxury and comfort of your very own cockpit. Whether you're a UK resident or an overseas visitor, hire a Ferrari in London and experience the city from a truly unique vantagepoint. You can choose to visit some of London's top restaurants and venues, ensuring an impressive arrival or simply experience the drive in a supercar which is a joy to drive both on the open road or in inner city traffic. With the biggest fleet of supercars for hire in the UK, our London Ferrari hire cars include the latest releases as well as legendary favourites, each available for you to book for next London event or trip.
Ferrari Portofino Hire London: Rent a Stylish, Practical Convertible Supercar for a Luxury Getaway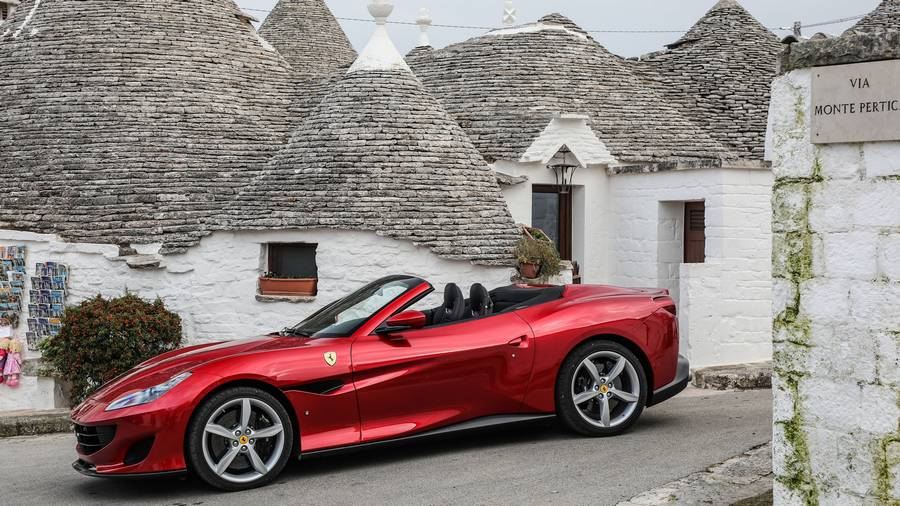 An all-time favourite for the summer season, the Ferrari Portofino hire car guarantees to enhance your London getaway all year round. The hard-top convertible is versatile and slick, adapting in all weather conditions whilst retaining excellent performance, speed and practicality. Despite the roof mechanism which traditionally means something's got to give for most supercars, the Portofino has only ever been designed as a luxury convertible hire car. As such, every element has been carefully considered to accommodate the added weight and mechanics without compromising Ferrari's high standards. It has a top speed close to 200mph and can reach up to 125mph in as little as 10.8 seconds, a phenomenal feat for a convertible sportscar. As well as the added weight of the roof, the Ferrari Portofino hire car also has two rear seats and plenty of boot space. This is pretty much unheard of in the world of supercars, making the Portofino unique as a supercar to hire for four in London, ideal for city breaks and luxury getaways. As a small group can share the experience together, the Ferrari Portofino is one of the best supercars to hire for proms in London, as well as red-carpet events or corporate occasions.
Ferrari 488 Hire London: Striking Looks and Top Speed for City Trips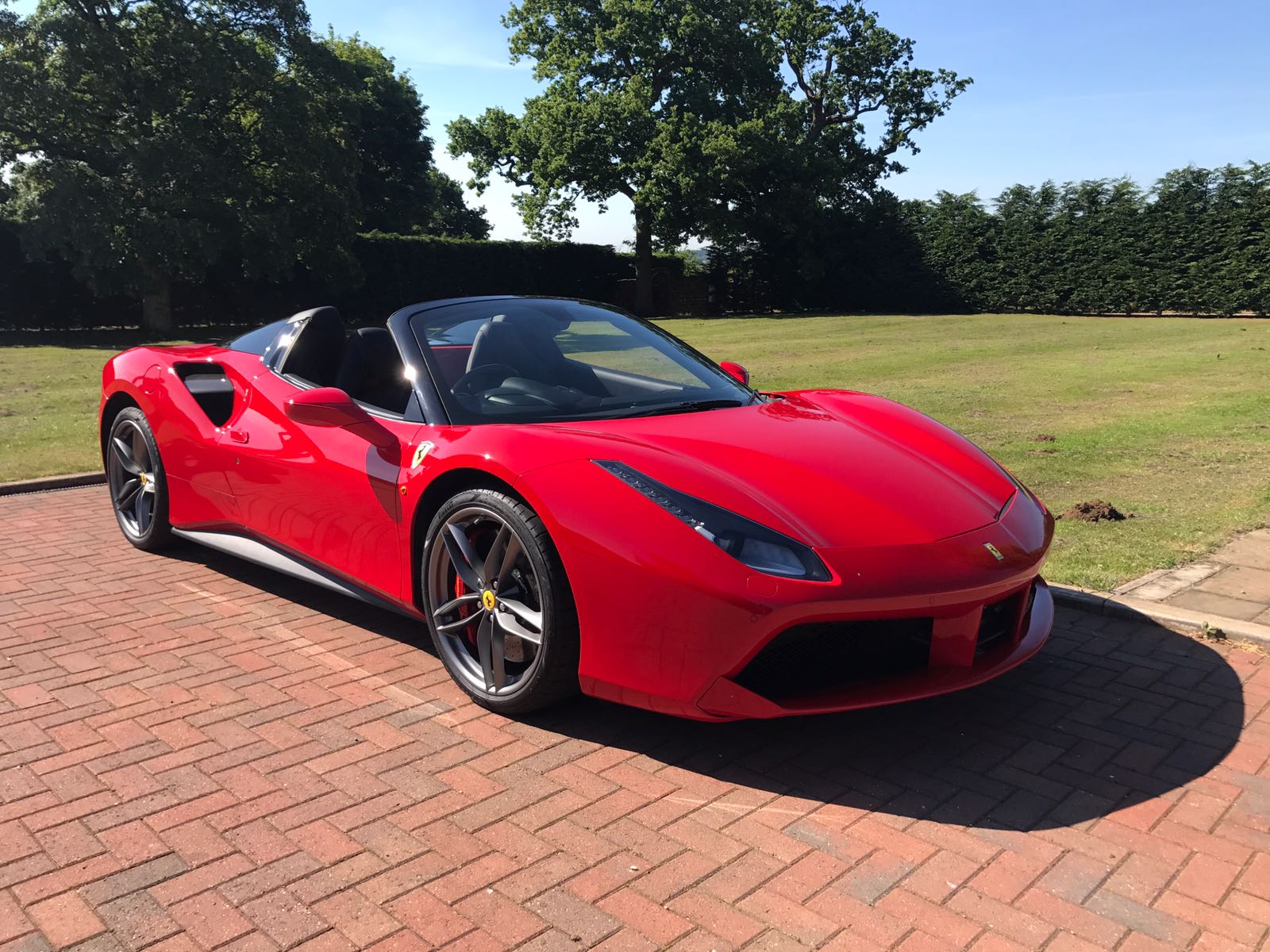 The Ferrari 488 series is another stunning design available for hire in London and across the UK. Combining award-winning beauty and track performance, the Ferrari 488 hire car has been built on Ferrari's extensive experience in motorsports. The result is a striking-looking supercar with enhanced aerodynamics which ensure you enjoy the very best luxury hire car experience in London. This unique combination and focus means that the Ferrari 488 rental car provokes joy whether you're able to take it up a notch on the racetrack or you are at a standstill in London traffic. Starr Luxury Cars have the Ferrari 488 available for hire in London in both the Pista and Spider forms for a supercar experience which is enjoyable all year round. Both powered by a phenomenal V8 engine, the Ferrari 488 series can reach top speeds in excess of 200mph, allowing you to feel the adrenaline from astounding levels of acceleration in any environment. Take the Ferrari 488 from London streets to the track and you will not be disappointed, as a road-worthy car with tons of track-based tech, the Ferrari 488 has to be driven to be believed.
LaFerrari Hire London: Rent the Rare Limited-Edition Supercar for a Weekend City Break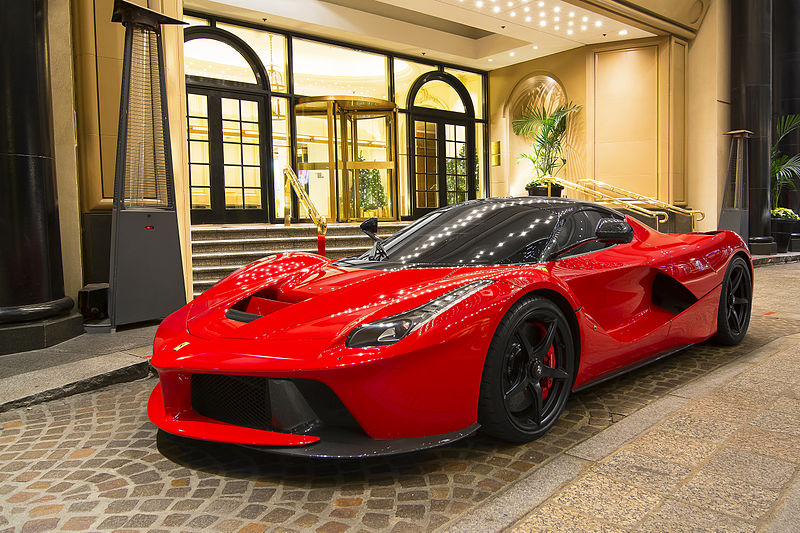 As one of the rarest modern supercars ever made, we are incredibly proud to have the Ferrari LaFerrari for hire in London and across the UK. One of only 499 models, the LaFerrari originally cost over £1.1 million to buy and is extremely rare to see, let alone actually drive. The hybrid luxury supercar is powered by a combination of a V12 engine and electric motor, capable of top speeds of over 217mph for a truly unique driving experience. The body is like an average Ferrari (if you can call any Ferrari average) but on steroids. Insanely muscular with pronounced signature features such as extreme air ducts and an exaggerated low nose, the LaFerrari is instantly recognisable as one of the rarest supercars in the world. Rated ten out of ten by some of the world's most knowledgeable car critics, Top Gear described the LaFerrari as 'absolutely magnificent' and 'quite simply, the most evocative hybrid hypercar in the world'. Become part of an elite group of Ferrari fanatics and hire the LaFerrari in London for a week or extra luxurious weekend getaway. Make any ordinary occasion extra special with our London Ferrari hire services. Whether you're looking to hire a Ferrari for a wedding in London or need a rental supercar for a prom or red-carpet event, Starr Luxury Cars can help with the largest fleet of supercars for hire in the UK. Each of our Ferraris has been meticulously maintained so you get to experience the feeling of driving a practically new supercar every time you hire through us. As well as the extensive list of Ferrari models you can see on our website, our expert team are experienced in sourcing specific models, including some of the rarest and most expensive supercars in the world. Speak to our friendly team who can help you make the right choice for your London Ferrari hire experience and provide excellent service and care from the very first point of contact.