THE FUTURE OF ELECTRIC CAR HIRE
You would be forgiven for thinking that the invention of the electric car is a new one, given their current popularity. But the first electric car was actually developed over 100 years ago, although petrol and diesel vehicles have remained the most popular choices ever since. Now, with a greater understanding of the environment alongside the efficiency of electric cars, electric car hire is more popular than ever. This move has been greatly helped by Tesla, possibly the most innovative luxury car marque of our time. Tesla have proven that electric cars can be beautiful, luxurious, and high
performance, breaking records and winning coveted awards traditionally associated with petrol-powered cars.
With the UK government announcing that new petrol and diesel cars will be banned from sale from 2030, and a ban on hybrids to follow by 2035, electric car hire is now set to become even more popular. After this time, UK residents will only be able to purchase new electric cars with zero emissions in a bid to tackle pollution. With this comes a pledge to expand the charging network, aiming to make driving an electric car easier and more accessible than ever before. And as the average life of a new petrol or diesel car is around 14 years, by 2050 we can expect most people to be driving electric cars, making traditional vehicles a thing of the past. While this may seem like a daunting prospect for some, we're actually really excited. The move will push luxury car marques into developing new technologies and improvements for electric vehicles and could see us driving beautiful cars which have a much greater range, shorter charging times, and better automation systems than ever before..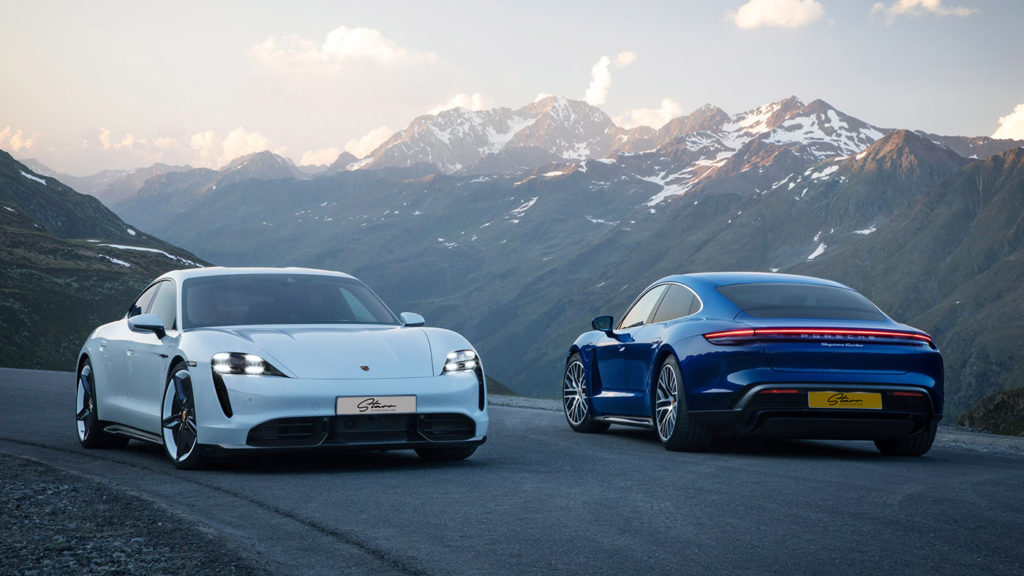 Luxury Electric Cars for Hire in Our Fleet
Our ever-expanding fleet includes some of the best electric cars to hire in the UK. Featuring the
newest releases alongside firm favourites we look at five of our best, available to book for special
events, weekend trips or more long-term hire.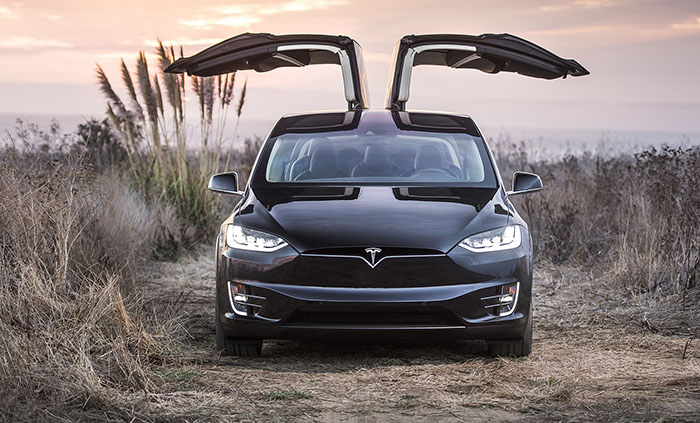 The versatile Tesla Model X P100D is a great electric car to hire for families, weekend getaways, or business trips featuring a unique combination of ample space, impressive performance, and a luxurious look. It can accelerate from 0-60mph in just 2.9 seconds, blistering speeds when you consider that this is a spacious and comfortable luxury SUV.
With one of the best ranges in the industry, this luxury electric hire car can travel up to 336 miles on a single charge and can be ready to use again in under an hour, using one of Tesla's supercharging points.
Not only does the Tesla Model X P100D hire car impress with its safety credentials, having received a
five-star rating in all categories, its distinctive design also means that it won't look out of place
arriving at a luxury event. Falcon wing doors dominate the design and open upwards allowing easy
access, whilst ensuring you always make an impressive entrance.
This five-seater saloon car offers exceptional performance and a luxurious interior, designed to be practical and comfortable, yet ensure you have an incredible driving experience. Also ideal for families and couples looking to hire an electric car, a 409-mile range allows you to travel across the UK, recharging in under an hour when needed.
The Tesla Model S hire car is available in both the 75D and P100D variants, with the latter being the high-performance version, boasting an acceleration time of just 2.4 seconds from 0-60mph. It also includes Tesla's modern safety innovations, allowing for complete peace of mind on even the longest drives.
Ambient lighting and enhanced air filtration help to create a comfortable, inviting space whilst lightweight, luxury materials have been used to ensure all passengers have an enjoyable journey. The beautiful exterior design has been perfectly blended with excellent safety and performance
capabilities, for a luxury electric car to hire for special occasions and everyday driving.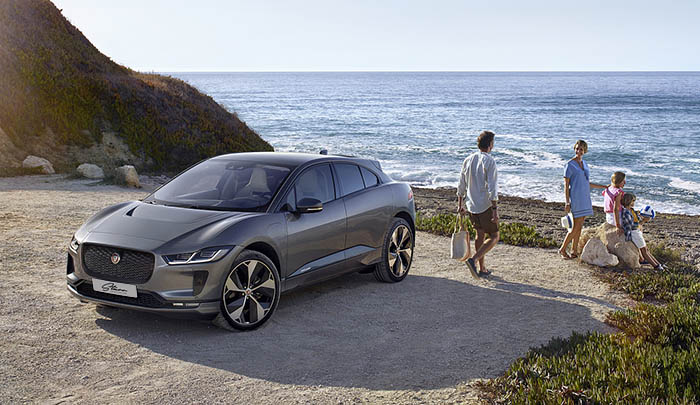 The Jaguar I-PACE has won multiple awards, including World Car of the Year and World Green Car making it an ideal electric car to hire for individuals, couples or families who want to lead a more sustainable lifestyle. Jaguar's first all-electric SUV boasts zero emissions and has a range of 292 miles, great for short and longer UK trips.
Aside from its green credentials, the Jaguar I PACE hire car also offers practicality for special occasions and everyday driving. 656 litres of boot space provide plenty of room for luggage and belongings, while both driver and passengers can benefit from ample leg and head room for a comfortable journey.
The exterior is the perfect blend of Jaguar design signatures and aerodynamics, combining to create a luxury car which never fails to impress upon arrival. With fast charging times, a refined design and advanced technologies, the Jaguar I-PACE is without a doubt one of the best electric cars to hire on the market today.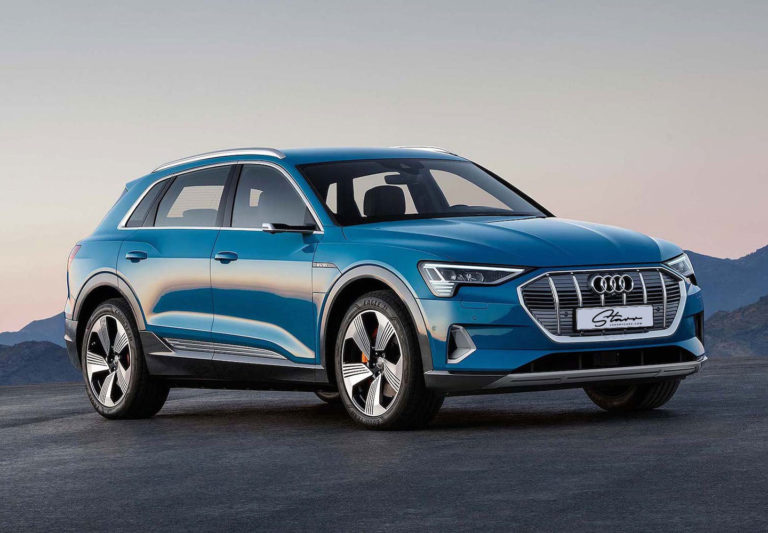 The Audi e-tron has been specifically designed for those who are perhaps a little hesitant to make the move from traditional to electric vehicles. There are no huge technology innovations here and instead of making a statement, both the interior and exterior have been designed to match other Audi hire cars as closely as possible. This unique design aesthetic is brilliant for those looking for the familiarity of an Audi but the benefits that come with hiring an electric car. 360 cameras and dual charging points come as standard, elevating your driving experience and if you do want to try something new, the Audi e-tron hire car is the first road-legal SUV in the world to feature optional side camera in place of the traditional wing mirrors.
It has a range of 248 miles in a single charge, with plenty of driving modes which allow you to tackle harsh terrains or focus on saving battery life. Also offering practicality, space and comfort, the versatile Audi e-tron is an excellent choice for those looking to try their first electric car.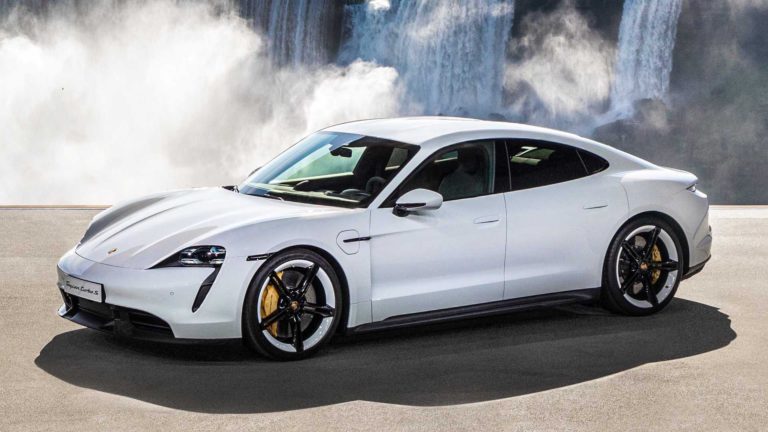 The Porsche Taycan is Porsche's first all-electric car, a luxury sports car which boasts signature
Porsche design qualities and a thrilling driving experience. For Porsche fans, the traditional experience has been considered in the design, lowering the battery to ensure that you can keep that low driving position.
Seating between four and five people, the Porsche Taycan is one of the best electric cars to hire for group trips and everyday driving, easily providing enough space for individuals to store luggage and belongings whilst having the option to carry additional passengers when desired. The driver also benefits from a newly designed interior, with settings and controls housed within glass screens for a look which is modern yet highly functional.
A range of 279 miles allows you to complete longer journeys whilst a 0-60mph acceleration time of 2.8 seconds ensures you still experience the thrill of driving a luxury sports car, ideal for individuals and couples who want to reduce their carbon footprint without sacrificing enjoyment.
The luxury electric car hire industry has reached a more exciting time than ever, and we will be continuously reviewing and updating our fleet with the best releases. To hire an electric car, you can complete our online booking form or speak to our team for further details. Alternatively, view our full fleet of electric cars for hire, ensuring your next trip is impressive, enjoyable, and completely guilt-free.