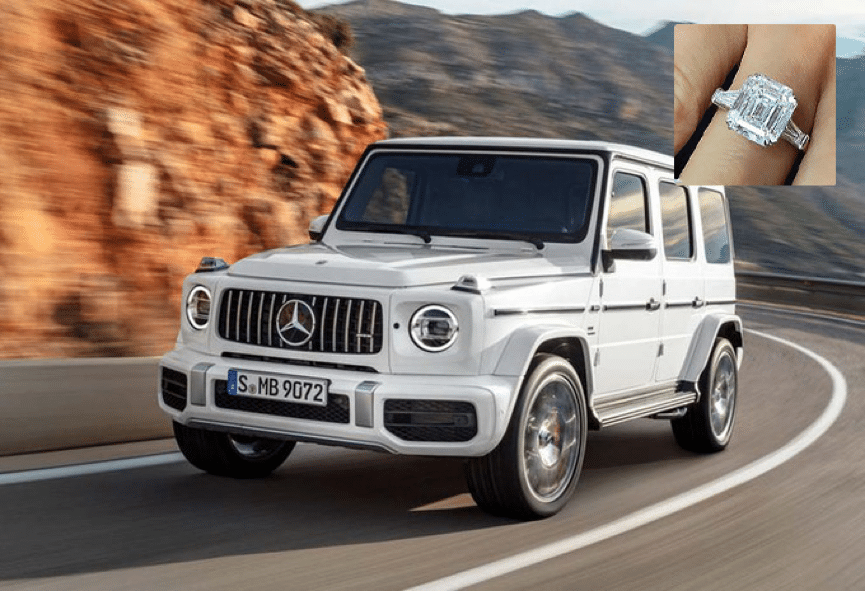 09 Apr

Matching Your Girlfriend's Diamond Ring To Her Taste In Luxury Cars
Have you ever wondered what's one of the most important elements to attract desirable women towards you? Well, luxury cars certainly help and while your love of fast cars is DNA hardwired, women's love affair with the priciest arrangement of carbon atoms around is also longstanding.
But things are changing. The modern man doesn't just wear a sole luxury watch anymore; he's wearing bespoke high end jewellery too.
And the modern woman? She loves luxury cars now more than ever.
An expensive, speedy, and powerful car can take you (and her) from zero to hero in 0 to 60 in a diamond flash.
1.    Bentley Bentayga

Bentley. Synonymous with British luxury, but no longer the older mans vehicle. The Bentayga is fast competing with the Mercedes G wagon for women's most loved affair in a 4×4. It might be the world's fastest truck according to Ettore Bugatti but she loves to feel important on the road – and like an Hermes handbag, have enough space to carry all her belongings inside if need be. If she loves the Bentayga, she loves a Hermes Birkin. Like Bentley's unrivalled interior leatherwork and stitching, she'll appreciate small design details with high craftsmanship in a ring. Perfectly set small diamonds down the band will sit well with her love of stunningly detailed Bentley interior.
2.    Mercedes G wagon
 
The rebellious Barbie car. If she loves Middle East – Dubai, Los Angeles lifestyle she loves the aggressive feel of this super hot 4×4. It's luxury, it's cool, but isn't showy to the point she can't get around without feeling like she has to be a supermodel getting out. Her love of the G wagon's harsh outlines will suit a square emerald cut diamond perfectly. No soft and subtle here, this car is on trend. And her ring should be too.
3.    Porsche 911 Carrera S cabriolet
 
Effortlessly pretty and so fun to drive. It's classically beautiful but elegantly performance-centric. It's European lifestyle with the reserved class that comes with. All the while, she'll still appreciate the attention that comes with driving a Porsche 911 roof-down along the Corniche. Her taste for elegant class will sit perfectly with a classically stunning oval ring, paired with the brushed metal performance feel of her platinum band.
4.    Aston Martin DB11
This car is made for the female boss. The DB11 is the most powerful and efficient 'DB' production model in Aston Martin's history. It's a marriage made in heaven for her city working, powerful executive lifestyle – synonymous British luxury for the well-dressed woman with influence. If she's the boss in the workplace and loves the DB11, a classy 3 stone platinum diamond ring will suit her powerful stylish personality perfectly.
5.    Maybach s class
 
You can never go wrong with a Mercedes. But the Maybach S class oozes luxury for the luxury-loving introvert. It's practical, its gorgeous – but it won't get the ogling attention that comes with a more showy performance car. If she loves the Maybach, the stunning but simple luxury of solitaire diamond ring will sit perfectly with her love of un-showy but exclusive things.
6.    Range Rover 
It's generic, but women love the Range Rover. The fact she'll feel super important on the road and that the Range comes with all kinds of electronics to help drivers avoid bad situations. For her, this car is a means to get to a destination but without muddy water touching those soft leather seats or testing out the crush resistance of the roof. She'll appreciate a classy on trend ring such as a cushion cut halo that's practical enough for her to wear all day everyday as required.
La Ferrari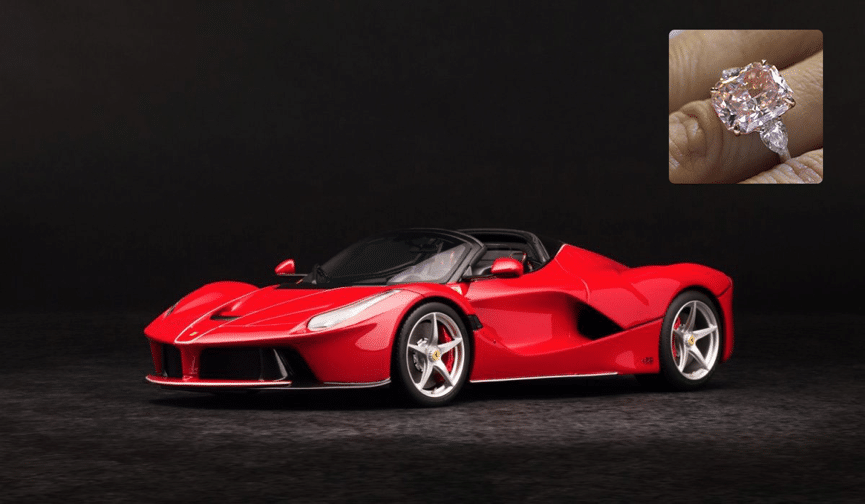 If she fawns over Ferrari and La Ferrari in particular – she has expensive and exclusive taste. Think Rodeo Drive, 5th avenue before Oxford Street Selfridges. This woman loves the rare and expensive. A stunning yellow diamond or pink diamond ring entirely suit her taste for the finest things that very few others will have.
Jaguar E type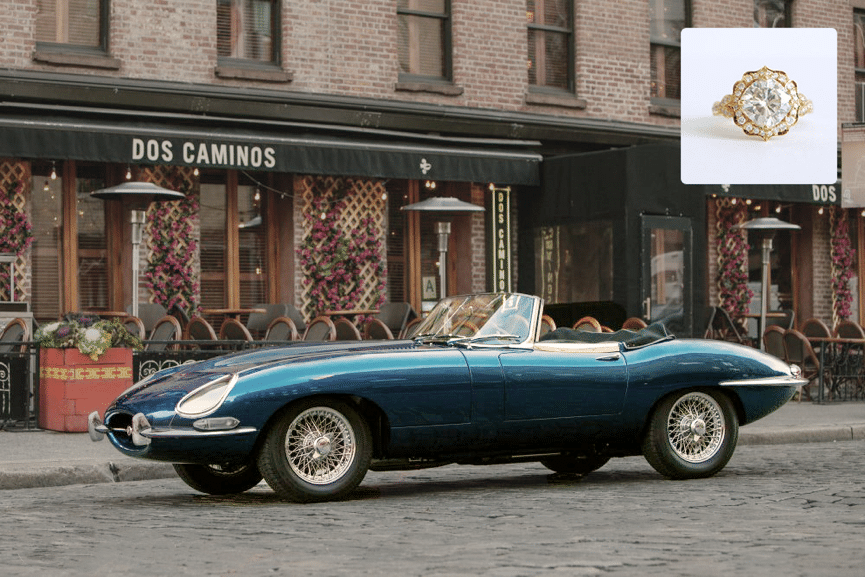 Described by some as the most beautiful car ever made, the E type epitomizes the glamour and excitement of the swinging 60's. If the Jaguar E type is her ultimate dream car, she'll love the nostalgic touches of a vintage ring. A yellow gold band is a must and vintage etching in a bespoke design will be her ultimate reverie realized.
Our generation is all about experiences, but they're buying into image brands too. If you're looking to give your significant other the ride of her life, a weekend of high-luxury, or the finest escort for your wedding, Starr Luxury Carrs based in London's Berkely square is the UK's leading luxury car hire specialists, and if you're looking to get her perfect ring? Contact LIV Diamonds – hatton garden engagement ring specialists, who decisively help guys get the right ring for their significant others.