The Top 5 Most Popular Luxury Hire Cars of 2020
As we continue into 2021, we've now had time to take a look back and reflect on 2020. This was a turbulent time for the luxury car industry and though there were some new releases, everything seemed to slow down a little to make way for more important events. However, we still saw clients opting for luxury hire cars to brighten up a dreary year, make the most of a UK staycation, and retain some of the normal enjoyment which may have otherwise been lost. In this article, we look at our top 5 most popular luxury hire cars of 2020, their stand-out features and what makes them a great choice to elevate your next trip.
With a bold design, luxurious interior and enough space to accommodate any family or group for a UK getaway, our Range Rover hire models continued to be immensely popular throughout 2020. Each Range Rover is distinctive and modern, providing practicality whilst remaining an easily recognisable symbol of luxury. And it's not just the comforts and finery that our clients love about Range Rover hire cars, each also has impressive off-road capability which allows you to travel without limitation, tackling sand, woodlands or mountainous areas for the ultimate family adventure.
The Range Rover Vogue is one of our most popular luxury 4x4s for hire, and it offers a comfortable and relaxing travel experience for you and up to four passengers. Your group can benefit from modern technology, including beautifully integrated touchscreens and several new driving systems which make your journey smoother and more enjoyable. Inside, ergonomic design allows for a practical yet beautiful design, including updated seating which remains comfortable even on the longest of journeys.
Alternatively, we have the Range Rover Sport SVR available for hire in the UK. The fastest Range Rover model on the market, this luxury hire car guarantees a thrilling driving experience, alongside the comfort and practicality we've come to expect from the prestige marque. Created by the Special Vehicle Operations team, each element has been created using the finest materials, for an ultra-luxurious cabin space. The best in its class, the versatile Range Rover Sport SVR is ideal for business journeys and meetings as well as elevating personal getaways and weekend trips.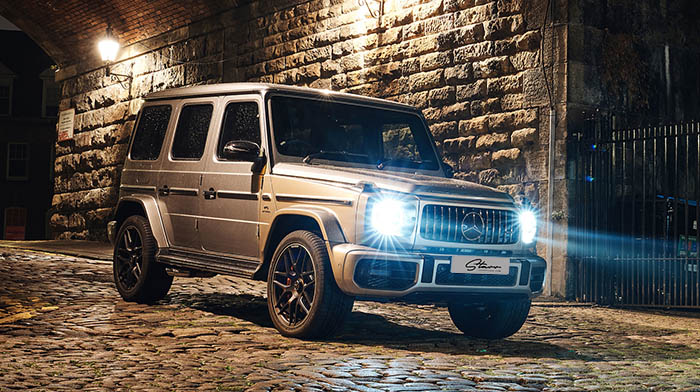 One of the most distinctive luxury hire cars in the world, the Mercedes-AMG G63 also remained a popular choice throughout 2020. Though it was originally created as a military vehicle in 1972, in more recent years the Mercedes G-Class has become the ultimate symbol of luxury and updates to its interior and exterior design have been made to improve its use by personal and corporate clients. Retaining its unique, retro external design, the Mercedes G-Wagon is often favoured by those wishing to make a statement, whether that's for event arrival or to feature in a music video or production.
Though it has kept much of its original, utilitarian looks, there is nothing old about the technology or driving experience of the Mercedes G63 hire car. The chassis has been completely redeveloped and the six-cylinder turbodiesel engine now allows for a top speed of 124mph and 0-62mph acceleration time of 7.4 seconds. Larger wheels and better steering responses make for a drive which is more agile, responsive, and enjoyable, allowing you to tackle harsh terrains or everyday driving on UK roads with ease. The Mercedes G63 also seats up to five occupants with an incredible amount of extra space in the boot for belongings, perfect for UK getaways.
Though the untouched Mercedes G63 is an icon, we also have the Mercedes G63 Brabus for hire, adapted to be bigger, more powerful, and more luxurious than ever. The interior is opulent, combining fine quality materials with traditional craftmanship and hand-finishes for an elevated cabin space. Not for the feint hearted, enhancements have also been made to the engine, allowing for a top speed of 149mph and a 0-60mph acceleration time of 4.9 seconds, producing an almighty roar to let everyone know you've arrived.
It's the fastest and most powerful production car in Bugatti's history, combining ground-breaking engineering with the use of lightweight materials for speed and to create the ultimate driving experience. With a price tag of over £2.5 million, this luxury supercar is one of the most exclusive to hire for any occasion, whether that's a luxury getaway or arrival at a red-carpet event. Signature C curves and outlandish exterior styling ensure you will impress, whilst luxury leathers and precious metals help to create an ultra-luxurious interior for a superior driving experience.
The Bugatti Chiron hire car also comes with a skyview option, allowing you to become immersed in your surroundings as you drive one of the most expensive and luxurious cars in the world. Every element has been carefully considered and designed to improve performance, whilst the interior has been thoughtfully built using traditional techniques for the ultimate in luxury supercar hire.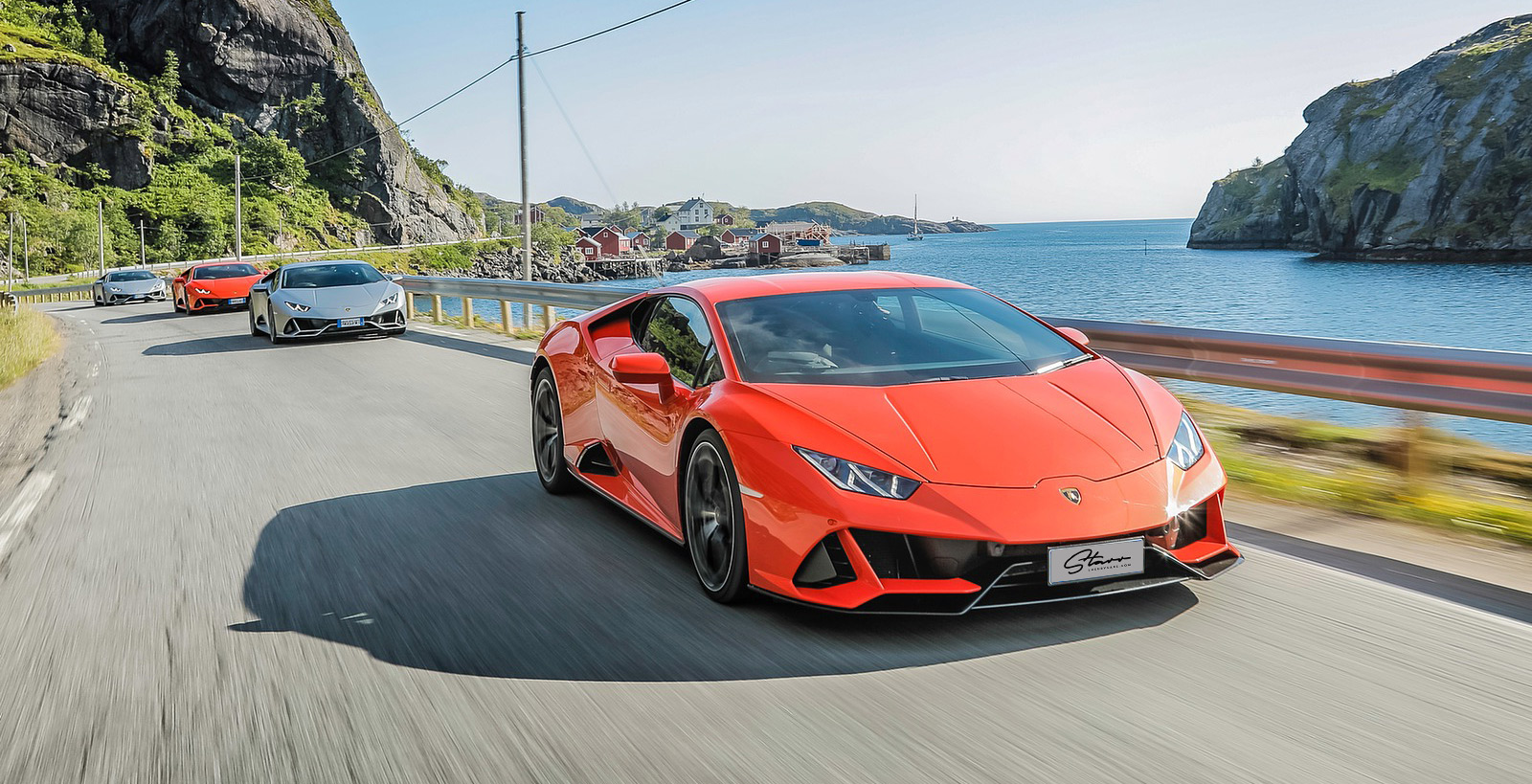 One of the most popular Lamborghinis ever made, the Lamborghini Huracan remained an all-time favourite for showstopping arrivals in 2020. The iconic sculpted design combined with ear-splitting speeds makes for a unique driving experience which never fails to impress. As well as the Lamborghini Huracan hire car, we also have many of its variants in our fleet, including the incredible Performante and Spyder options for a hire supercar that can be used all year round.
Instantly recognisable, the Huracan showcases Lamborghini's design DNA perfectly, with its long flat nose and muscular body. This makes it a head-turning car, ideal for impressive date nights and romantic getaways, as well as event arrivals or driving experiences. The original Lamborghini Huracan can reach a top speed of 202mph and accelerates from 0-62mph in just 3.2 seconds, providing an adrenaline rush for those looking to make unforgettable UK road trips or simply to cruise around one of the most popular city centres in style.
Inside, you and your passenger will find a luxury cabin, complete with high-quality materials, which doesn't just impress with its looks but is also surprisingly comfortable. Boasting one of the most comfortable interiors Lamborghini have ever created, occupants can benefit from luxury leathers and an ergonomic design, which ensures you will enjoy every second of your journey, even on the longest of trips or at its top speed.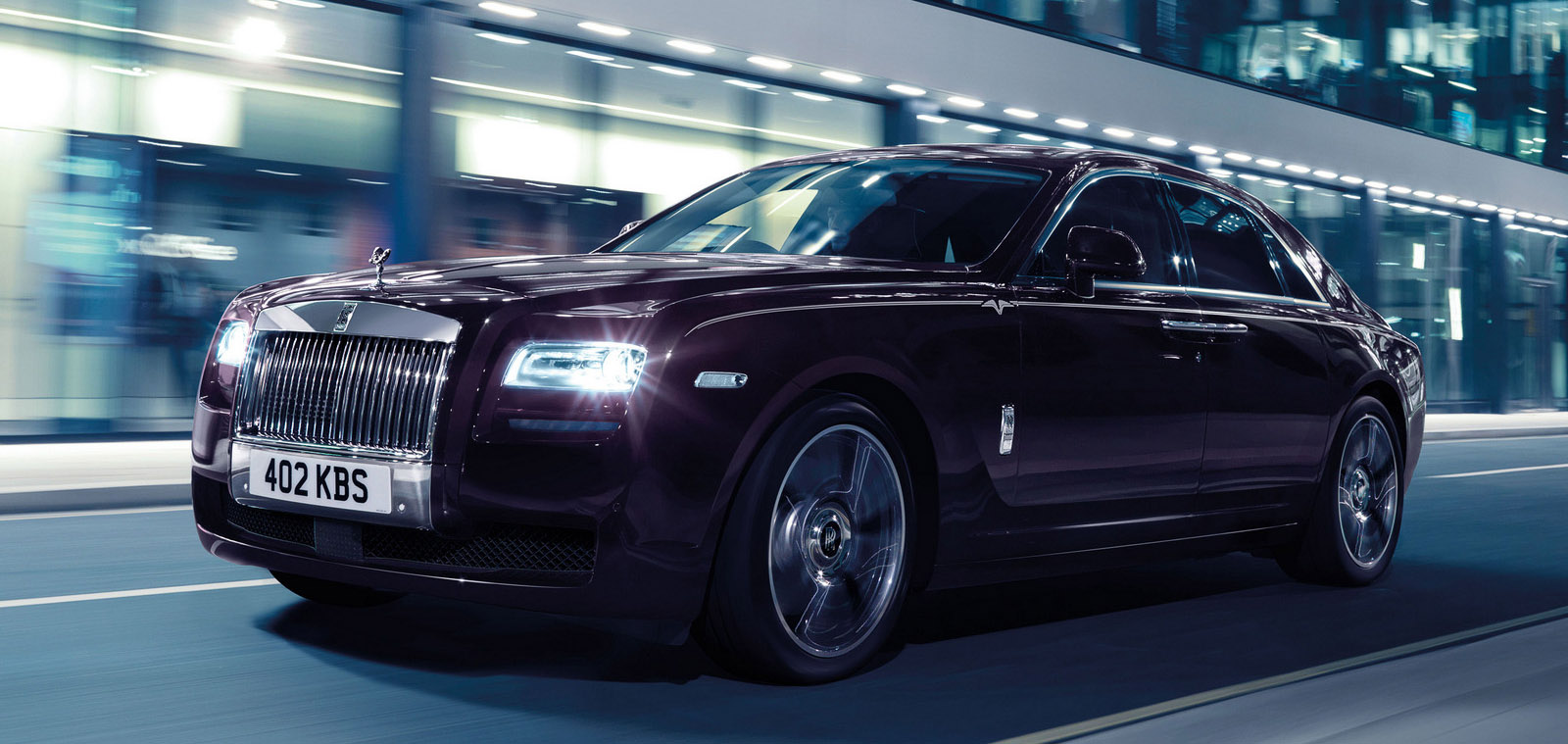 The Rolls-Royce Ghost is a timeless classic which will never go out of style, as it proved in 2020, remaining in our top 5 most popular choices of luxury hire cars. Exceedingly beautiful, Rolls-Royce hire cars are often the vehicle of choice for celebrities and VIPs, providing a decadent, luxurious, and supremely comfortable space to enjoy any journey. We have both the Rolls-Royce Ghost Series 2 and Series 3 available for hire, the latter including the most recent updates which allow you to enjoy state-of-the-art technology as you travel. Usually favoured as a chauffeur-driven luxury car, the Rolls-Royce Ghost is an ideal choice for special occasions, London date nights or marriage proposals.
Each vehicle has been hand-made in Goodwood, England, with exceptional attention to detail which ensures every element is of perfect quality. This can be felt from inside the Rolls-Royce Ghost, as occupants can enjoy some of the finest quality materials in the world, carefully crafted to create a space which allows you socialise, work, or relax as you please. Technology has been cleverly implemented within the classic interior, remaining discreet but allowing you to always keep in touch with the outside world.
And for those who are looking to hire the Rolls-Royce Ghost for a special occasion such as a wedding or prom arrival, thousands of LED lights have been hand-built into the ceiling to create the show stopping impression of a starry sky. One of the most unique and well-known features of Rolls-Royce hire cars, this helps to create a calming and impressive atmosphere, perfect for making any occasion even more special.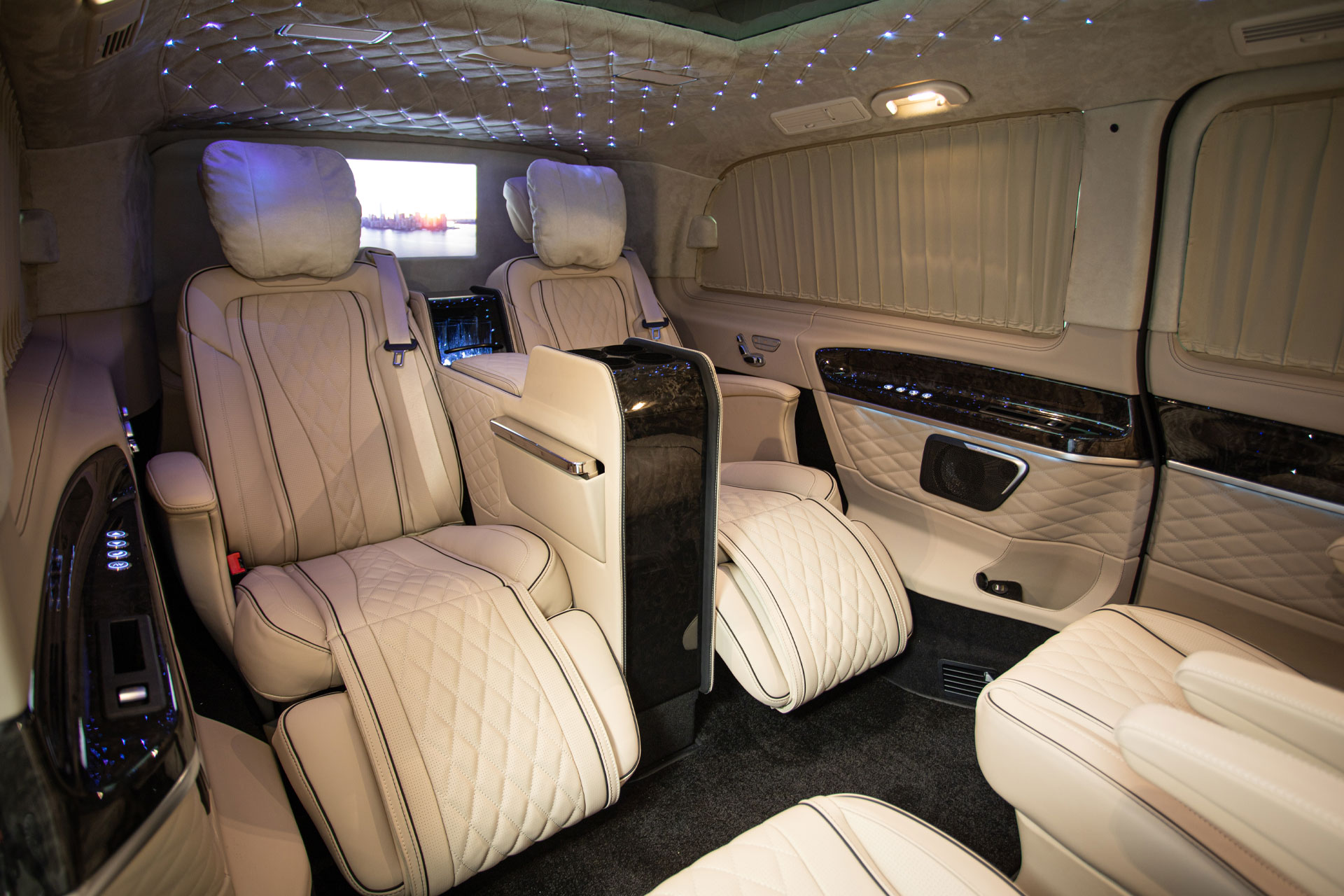 The Mercedes Jet-Class is one of the most unique and indulgent luxury hire cars available on our fleet, offering passengers a thrilling experience that they won't get with any other vehicle. Remaining popular in 2020, this prestige hire car can seat up to four with room for a further two occupants in the front if you're considering self-drive hire. Most popular as a chauffeur-driven vehicle and often booked for executive business travel or special occasions, passengers can experience the feeling of travelling in the cabin of a private jet, all whilst remaining on the ground.
From the outside, this may look like your standard MPV but open the door and you will discover a fully bespoke interior, which puts passenger comfort, luxury, and enjoyment above everything else. Passengers can sit in a club four seating arrangement, complete with individual tables and luxury quilted ceiling and seating. For those looking to unwind during their journey, the Mercedes Jet-Class can often feature widescreen TVs, drinks cabinets and refrigerators, allowing you to fully relax with family, friends, or business associates.
Soft carpet flows throughout the Mercedes Jet-Class, and additional soundproofing ensures you can keep any external noises, such as traffic, out of your environment, for a calm and quiet space. As well as offering generous leg and headroom for occupants, the Mercedes Jet-Class hire car also features ample storage space for luggage and belongings, allowing you the freedom to travel anywhere, for any purpose, in the ultimate luxury space.
Though 2020 held many changes for all of us, our clients still favoured the luxurious and versatile, elevating personal and business journeys with prestige car hire. Whether opting for self-drive hire or our professional chauffeur service, our fleet remains safe and convenient to use, providing space, comfort, and decadence as and when you need it. And each of our most popular luxury hire cars is available to book in 2021, ensuring that you make lifelong memories on your next trip.
Book a Luxury Hire Car for 2021
Each new hire car is ready and available to be booked for your next trip and can also be reserved in advance for summer outings and holidays. With plenty to choose from, we have something to suit individuals, couples, and families, helping to ensure that those precious moments are elevated and transformed into lifelong memories. Spacious, comfortable, and opulent interiors provide the perfect environment for your group to relax and unwind, whilst blistering speeds and unique driving experiences ensure any journey changes from a chore to an enjoyable experience. You can request a quote online or speak to our expert team for further information, ensuring you are one of the first to hire a new 2021 luxury car.