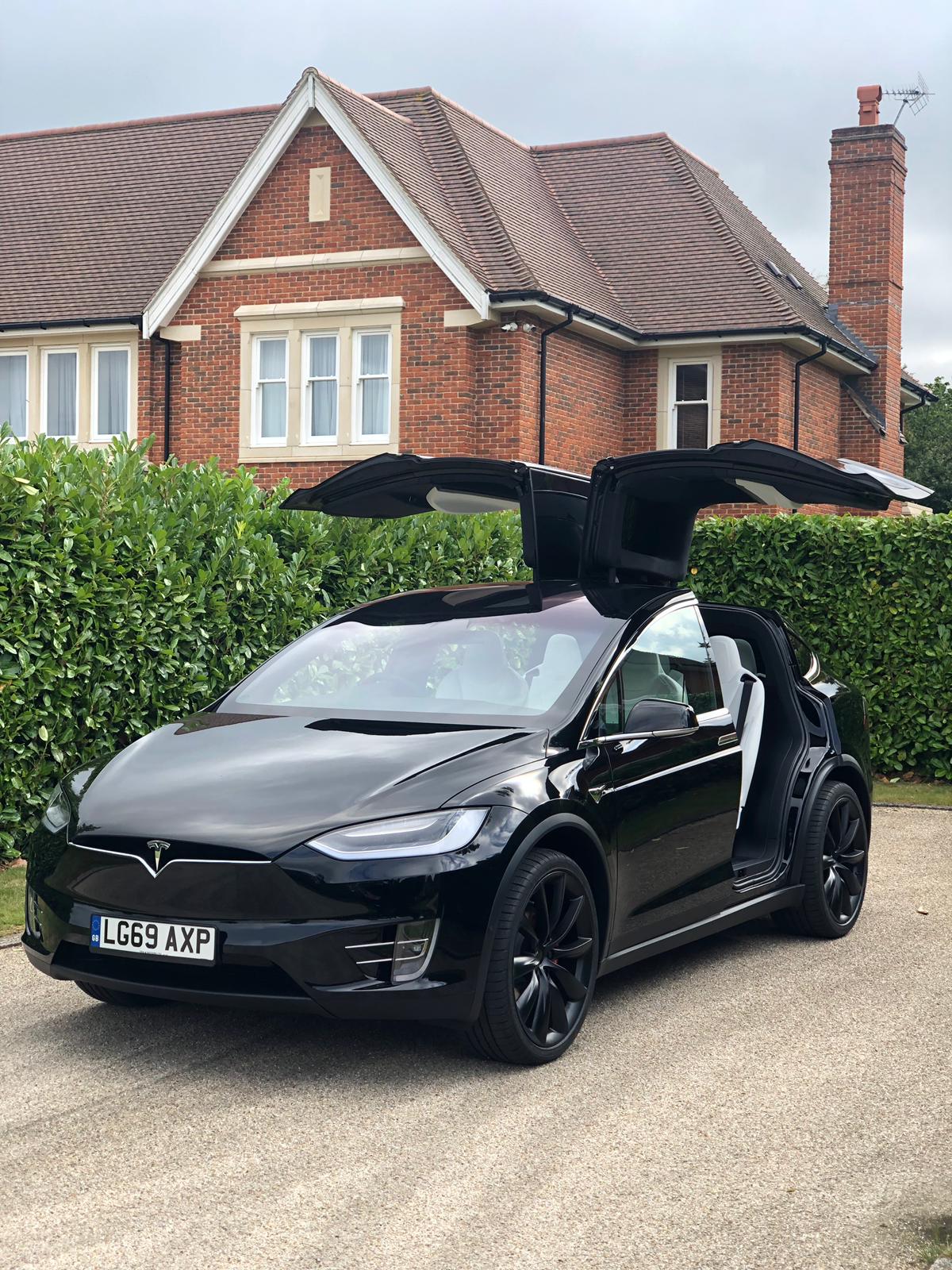 29 Oct

Environmentally Friendly Prestige Cars

Hire Eco-Friendly Luxury Cars and Reduce Your Carbon Footprint

Extinction Rebellion's international 'Autumn uprising' comes to an end after two weeks of protests across the globe and, whilst it seems the government may have other things on their minds right now, retailers across the world are certainly listening. Extinction Rebellion received mixed support from the public thanks to some unorthodox and often bizarre actions but whether you love them or hate them, you can't ignore their message. In the last year we've seen an increase in brands trying to come up with more sustainable alternatives to our favourite purchases in every industry, from huge toy brands beginning to eliminate plastic, to food giants bringing in vegan-friendly options on a mass scale.

And, of course, the same can be said for cars – yes, even luxury cars. Electric cars aren't new by any means but recently we've begun to see an increase in prestige marques concentrating on hybrid and all-electric cars, signalling a definite shift in the motoring industry as we all attempt to live a more eco-friendly lifestyle. Not only are marques finding ways to seamlessly create luxury sustainably, advances in engineering means that electric cars can now be designed to be faster and more powerful than traditionally powered prestige hire cars. As we are constantly updating our fleet to reflect new trends and breakthroughs in the car industry, we already have many eco-friendly luxury cars available to hire across the UK, with more to join as they're released in the future.

The Tesla X P100D, Range Rover P400e and BMW i8 are three of our favourite electric or hybrid cars we have ready for you to rent. And whilst all three benefit the environment by reducing the need for fossil fuels, there are so many other reasons to consider these options for your next business event, special occasion or weekend away.
Hire the Tesla X P100D Electric Car: The Fastest SUV To Date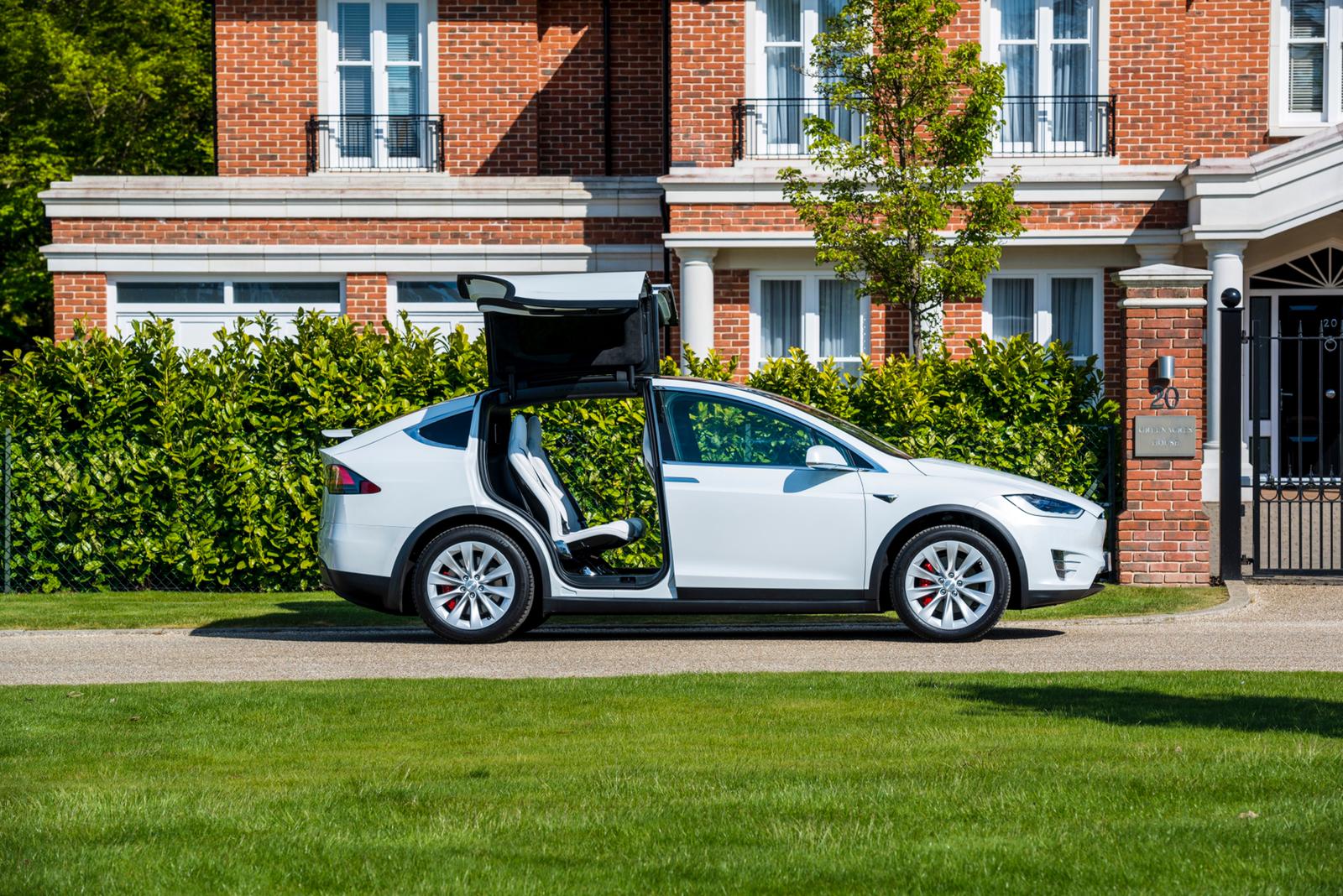 One of the newest marques in the luxury car world, Tesla became a global phenomenon with its range of electric-powered hire vehicles which are ground-breaking in looks, performance and technology. The Tesla X P100D is an all-electric SUV rental car which hit headlines for its speed and safety features. It is currently voted one of the safest cars to hire in the world, achieving top marks in every category with thanks to its unique design which helps to reduce the risk of injury to occupants. Alongside its high levels of safety, the Tesla Model X hire car is also one of the fastest SUVs in the world, able to accelerate from 0-60mph in just 2.7 seconds.
Innovative styling and design mean that the Tesla X P100D electric car can seat up to seven adults and features extra space for storage, making it the perfect eco-friendly car to hire for a family holiday or business trip. With a full battery, it has a 315-mile range allowing you to tackle long drives without interruption and in most cases, can be charged from 0-100% in just under 16 hours. This gives you enough time to reach your destination and enjoy your evening, safe in the knowledge that your luxury electric hire car will be ready to use again the following morning.
Alongside the obvious economic and environmental benefits of being an electric vehicle, this luxury hybrid hire car also has all-wheel drive for extra power and control as well as stylish falcon wing doors, allowing easy access and a huge panoramic windscreen, making it just as beautiful as it is practical. Hire a Tesla Model X in the UK and enjoy a guilt-free trip without sacrificing any of the luxury that you're accustomed to finding in high-end rental cars.
Rent a Range Rover P400e: The Quietest 4×4 Hybrid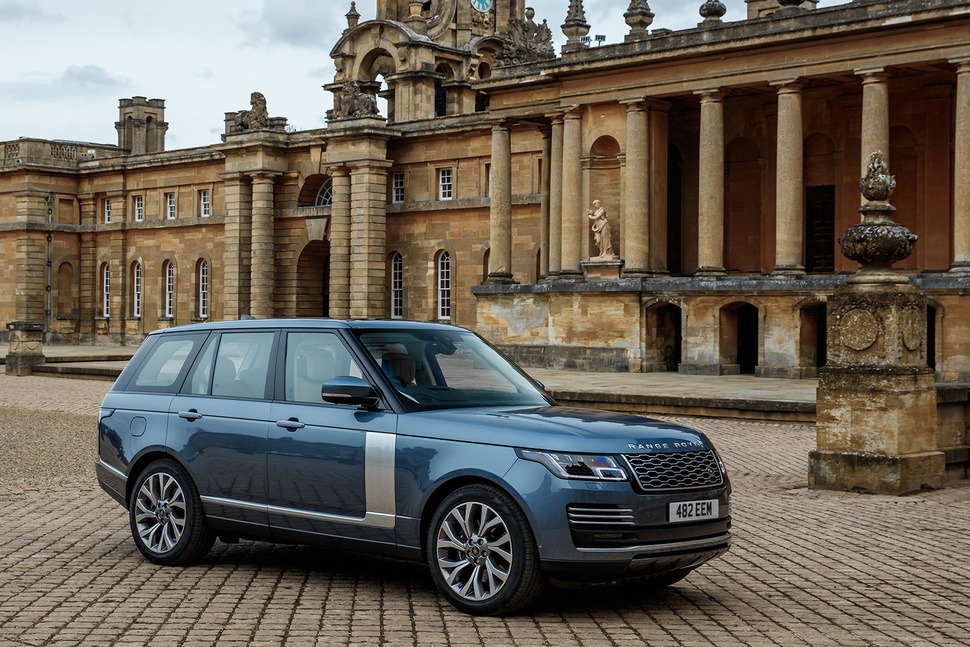 King of the 4×4 world, the Range Rover P400e is a hybrid SUV powered by a petrol engine and electric motor. Although it does feature a traditional engine, this hybrid Range Rover hire car can travel 31 miles on electricity alone, making it the idea 4×4 to hire for city trips, general weekly hire or corporate use. This is the best electric car to hire for short trips as charging in between can allow you to use little or no petrol, reducing your carbon footprint and minimising fuel costs.
As well as the standard benefits, an electric powertrain allows the Range Rover P400e to travel in near silence, creating a peaceful and inviting environment for families, friends and colleagues to unwind. And as with most Range Rover models, the eco-friendly Range Rover hire car features masses of space for occupants and luggage, with plenty of head and legroom for even the tallest of drivers. It keeps the same refined design as other models with soft, premium quality leathers and natural wood panels, generating the same feeling of luxury, with an impressive reduction in emissions, especially for an SUV.
As a newer Range Rover model, the P400e rental car features a revised interior, including wider, softer seats and a dual screen infotainment system which has had rave reviews from car critics. It has also been rated the best Range Rover to opt for thanks to the benefits which come from being a hybrid. Car lovers who like the way that Range Rovers look and feel have nothing to lose when hiring the P400e as it includes all the best bits with reduced emissions and costs.
Book a BMW i8: The Future of High-End Supercars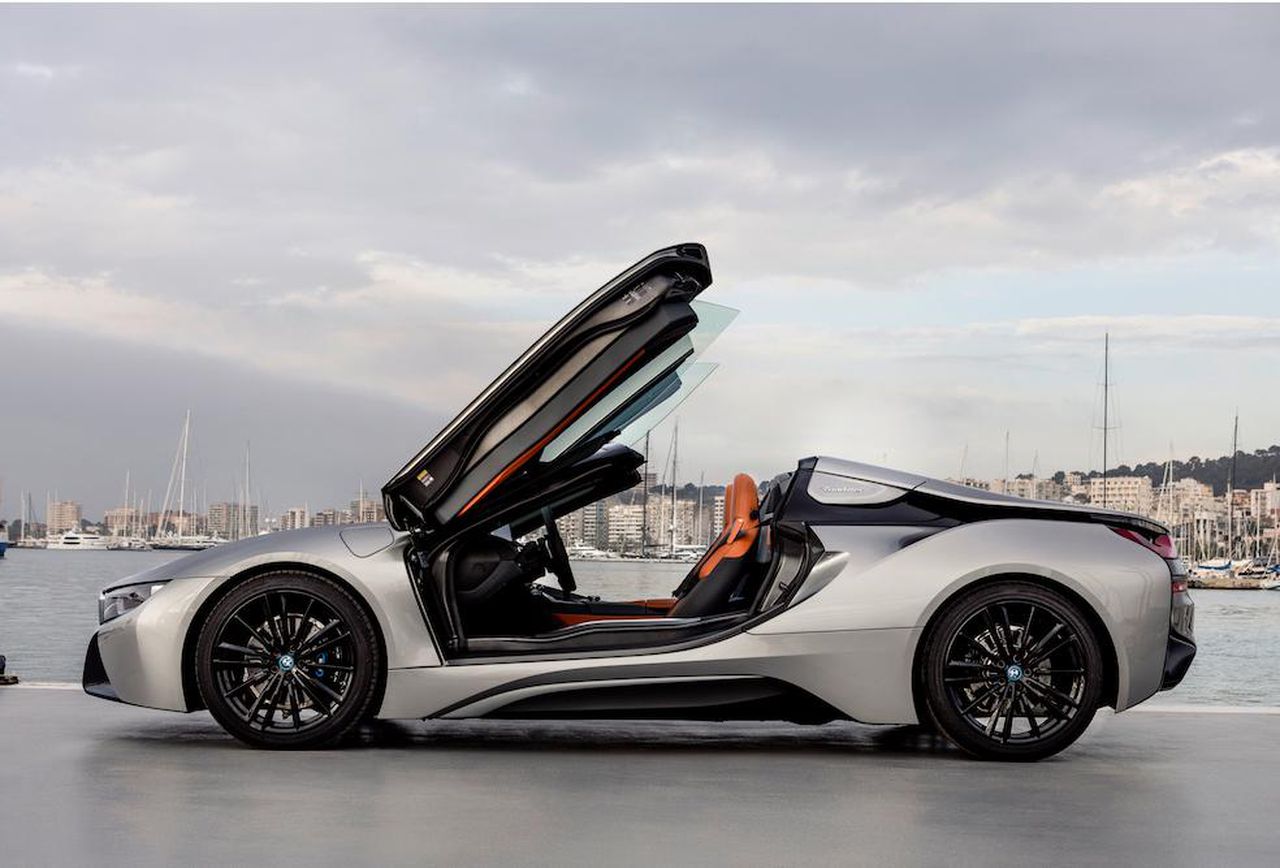 One of our most popular hybrid luxury hire cars, the BMW i8 is the supercar of the future. It has received near perfect reviews from some of the most reputable car critics, with thanks to its stunning, flamboyant exterior and innovative design. The rear wheels are powered by a small engine whilst the front wheels are powered by an electric motor, allowing for various driving modes and styles to suit your environment and driving style. Modern BMW engineering techniques mean that the BMW i8 is powerful and fast, all whilst helping to reduce fuel consumption for a smaller carbon footprint.
Built from carbon fibre and aluminium, the BMW i8 hire car is incredibly lightweight, allowing a limited top speed of 155mph but also accelerating from 0-62mph in an impressive 4.4 seconds. The overall aesthetic and feel of the car have not been compromised to achieve a smaller weight. Instead the BMW i8 features stylish dihedral doors and a futuristic, aerodynamic design which is guaranteed to turn heads upon arrival. Inside, this hybrid BMW hire car is modern and spacious, with signature blue accents and luxury leathers.
Although relatively uncommon for a sportscar, this eco-friendly luxury supercar is also 2+2, with two small rear seats and substantial storage space, allowing you to share an exhilarating journey with friends or family. The BMW i8 is the perfect choice if you're looking to hire an environmentally friendly supercar which doesn't sacrifice its impressiveness. Here, BMW have shown that luxury and sustainability can easily go hand in hand and is set to inspire luxury car marques and models of the future.
Luxury Car Sharing: Pick Renting Over Buying to Help Protect the Environment
Not all luxury marques have yet embarked on the journey to sustainable production and sourcing. Whilst the industry takes small steps to become more environmentally friendly, we continue to help by reducing the need to own cars. Rather than buying your own luxury fleet to select from on a daily, weekly or monthly basis or owning cars that you rarely drive, why not pick and choose from our extensive prestigious range, hiring electrical or traditional luxury cars for as little or as long as you need. Not only does this give you a much greater choice and the freedom to experience the newest releases at a fraction of the costs, it also helps to slow down production rates and demand, playing a small part in protecting the planet.
As with any business, becoming more environmentally is a slow process but with the change in the car industry making more eco-friendly cars available, we expect to be able to move towards a more sustainable luxury car hire service in due course. In reducing the need for people to own multiple cars in order to experience them, our prestige car booking service allows you to select the car that you want for as little or as long as you want, before giving it back and allowing someone else to hire, a step in the right direction for the carbon footprint caused by the luxury car industry.
Alongside the electric and hybrid prestige cars we currently have on offer, in early 2020 we will welcome the Porsche Taycan to our rental line-up, Porsche's first all-electric vehicle. The new Taycan hire car won't just feature a vegan interior made from recycled materials but will have a top speed even higher than Tesla, another sign of the sustainable luxury car movement we're sure to see taking over in the next few years.