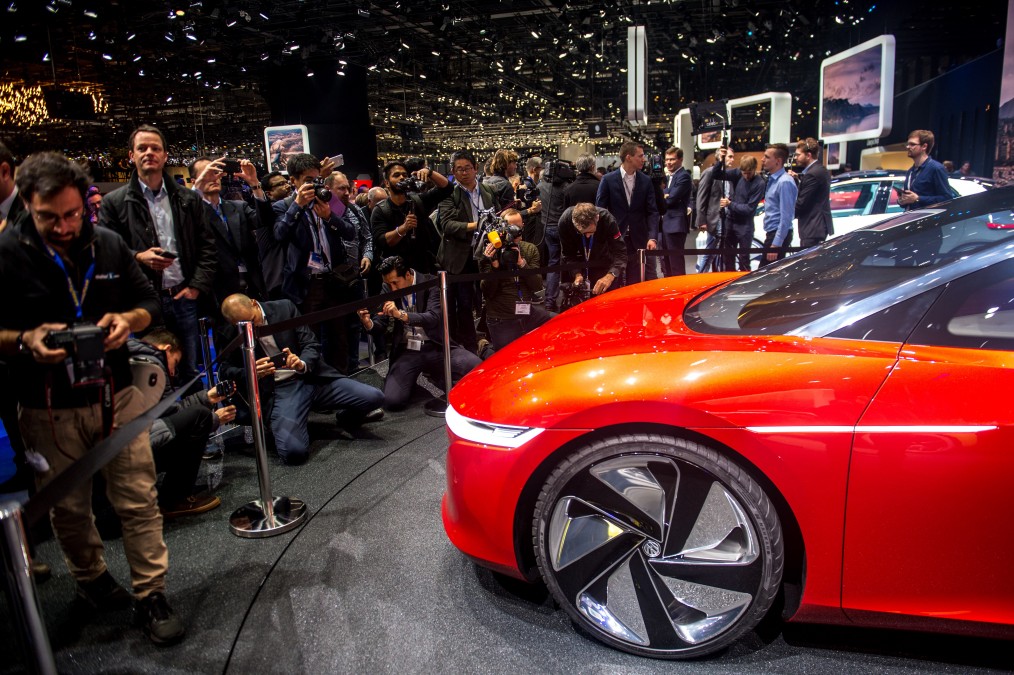 13 Mar

Geneva Motor Show Highlights: The Top Seven Luxury Cars Revealed

It's currently the most exciting time of the year for car fans worldwide. Whether you like to keep track of the latest models to make sure your most recent car's not about to lose most of its net worth, admire the ground-breaking tech of the world's top marques or witness the reveal of potential new record breakers, the annual Geneva Motor Show never fails to amaze. Millions of pounds worth of metal, innovative new concepts and outstanding engineering makes for a playground for the rich and famous, awe-inspiring moments and surprising reveals; some of which even those most heavily involved in the automobile world don't see coming. We've rounded up the most exciting cars from the Geneva Motor Show 2018 and can't wait to add some of these beautiful new models to our fleet of prestige hire cars.

As the renowned show returns for its 88th year, we firmly set our sights on the newest line-up of luxury cars, featuring the finest materials and highest performance money can buy. The world's top marques set out to prove nothing is impossible and this year, electronic cars have dominated the show. We know from existing models that hybrid and electronic cars are just as capable as traditionally fuelled vehicles and can be even pushed further for more power, faster speed and better handling, and this year's revelations will certainly be making Tesla nervous after the reveal of the heavily-anticipated Roadster late last year.

Aston Martin Lagonda Vision Concept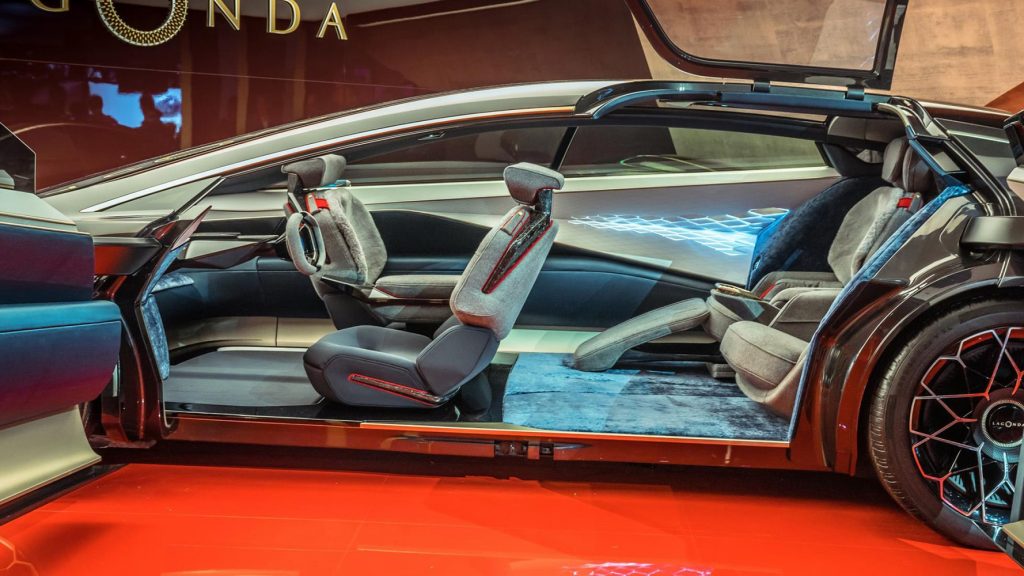 It's safe to say we're not too interested in the release of everyday cars so for us one of the most exciting reveals is the return of Aston Martin Lagonda. Showcasing the stunning Lagonda Vision Concept car, the elite marque aims to be the first luxury carmaker to produce purely electronic vehicles, with extravagant interiors and impressive external design. An SUV and coupé model are expected to go on sale in 2021 with the most advanced technology, allowing for autonomous driving but, whilst impressive, that wasn't what caught the most attention here.
The interior is simply breath-taking, with enormous amounts of leg room for passengers, a fully carpeted rear cabin and a design which resembles that of a private jet. Because if you have that much money that private jets are a frequent mode of travel, why should the space in your car be any different? And with the levels of autonomy at an all-time high, it's only fitting that both front seats are able to spin 180° so that you never miss out on the company of your associates.
A top team of stylists were on board, creating an interior which would not be out of place in a luxury London home and, just to make sure that interior can't be missed, the rear doors open in tandem with the roof. The innovative design sees the battery packs and motors hidden beneath the floors and wheels, which enables the Aston Martin Vision Concept car to boast an entirely flat floor, allowing easier access and maximum space. The exterior also sees a truly unique design being brought to the world of luxury cars, as traditional shapes are disregarded in favour of a sleek, curved profile. As a concept, of course the styling and capabilities are heavily exaggerated, but we're excited to see what the marque does release in three years' time.
Ferrari 488 Pista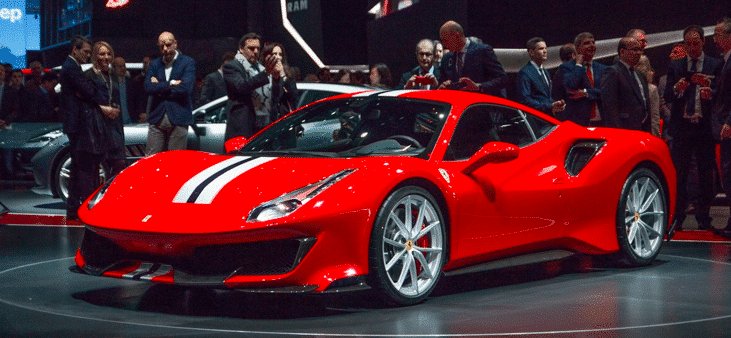 If you're more interested in burning rubber than lounging in the back of what's essentially a room on wheels, we also saw the public debut of the Ferrari 488 Pista. Beautifully modern and insanely fast, the 488 Pista boasts a 0-60mph acceleration time of 2.85 seconds, potentially making it the fastest model Ferrari has ever made. As always, the new model takes its design inspiration from the marque's extensive involvement with Formula One, and with the new Pista, Ferrari are one step closer to blending track cars with the road.
The completed model will set you back a cool quarter of a million pounds and will go on sale shortly after the Geneva Motor Show ends. If you don't have a spare £250k lying around or you just want the chance to test drive the current fastest luxury sportscar made by Ferrari, we have the La Ferrari hire car as part of our ever-growing range. The new model also happens to have the most powerful V8 engine the marque has ever built with remarkable force and a satisfying roaring to match. Of course, aerodynamics have been key in its design for a silhouette which is powerful, impressive and masculine. Added racing stripes add a nice touch to Ferrari's heritage, making this an exclusive and exciting supercar we're sure Ferrari fans will be looking forward to trying.
Rolls-Royce Bespoke Selection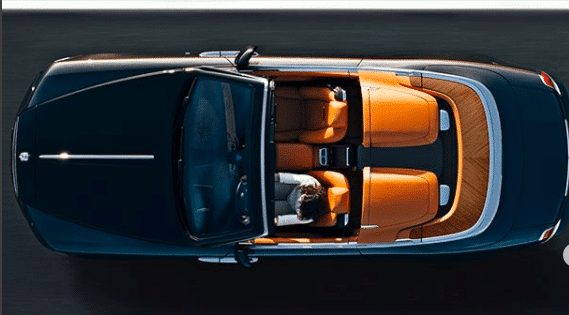 As well as a chance to show off their forward-thinking and new capabilities, some marques use the Geneva Motor Show as a platform just to remind people exactly what their existing models can be like. Rolls-Royce revealed four bespoke models, each tailored to precise specifications to display the marque's heritage. You may think you've seen it all, but you've never seen anything like this. Rolls-Royce have just reminded the world that anything is possible for their clients, and any request can be fulfilled, no matter how extravagant.
Three Rolls-Royce Phantoms received the VIP treatment and the elite marque took the opportunity to create works of art, using incredibly rare, luxury materials and custom-made paint colours. The 'Whispered Muse' Phantom was given ten layers of paint to create a prestigious crystal effect and the matching interior was finished in rose gold accents with hand-stitched embroidery and bespoke art. A second Rolls-Royce Phantom, 'The Gentleman's Tourer' was finished in gunmetal grey, inspired by military aircrafts and the interior featured platinum panelling. And the third Phantom, 'A Moment in Time' received a bespoke blue crystal paint effect, with matching navy interior. All three needed extensive amounts of time from highly skilled workers, to design, fit and finish the pieces with ultimate precision.
Finally, the Dawn Aero Cowling was revealed, an option which will now be available to all Dawn customers. The rear seats of the luxury convertible were covered with a hand-made leather deck, made from carbon fibre and aluminium. It comes complete with lockable storage holds, expanding the limits for customers who have more need for storage space than four seats. In short, if you can imagine it, Rolls-Royce can make it, and with their customers spending hundreds of thousands of pounds on the most beautiful one-off models, it was nice to be able to have a taste of exactly what the marque can do.
BMW Concept M8 Gran Coupé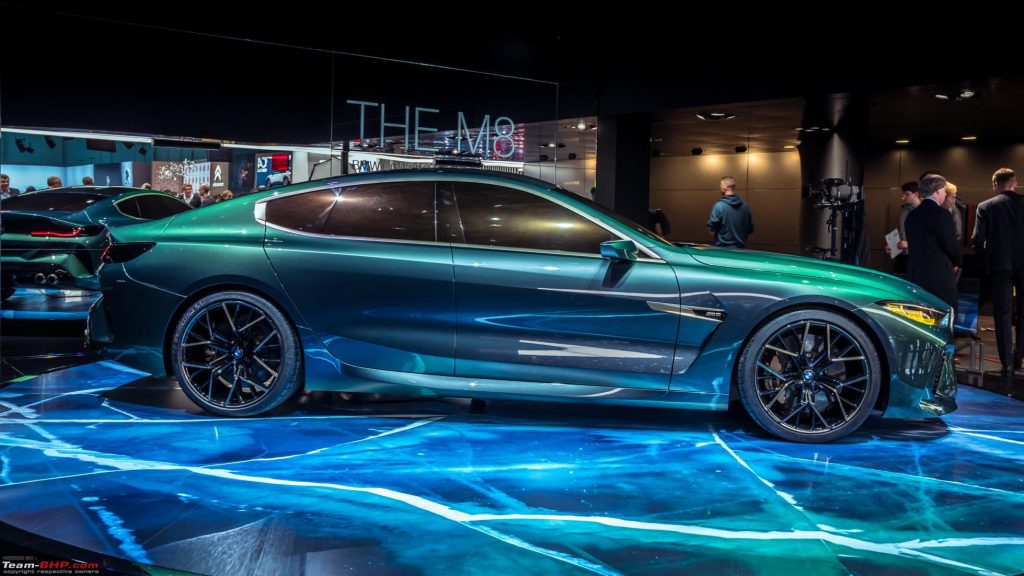 Another concept car, and this time the idea isn't as far-fetched as the driver facing away from the steering wheel. With the new 8 Series due for release in the summer this year, BMW have revealed the concept for the top end model of the class, set to fill the gap between BMW and some of its more expensive rivals. The stunning coupé was finished in a bespoke paint colour, changing from green to blue and inspired by the Northern Lights. The outer elements were all matt gold, complimenting the deep green colour perfectly.
Whilst we can see that the new BMW concept certainly looks luxurious and we can be sure the finished article will be slightly toned down but not look too different, at this moment in time both its powertrain and interior design are unknown. Speculation has begun but nothing has been confirmed. For now, we can spend our time admiring the powerful silhouette which attempts to blend the lines between luxury and modernity.
Range Rover SV Coupe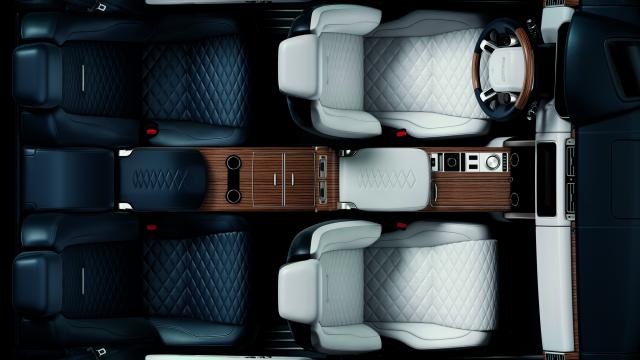 Range Rover managed to surprise the crowds, revealing they're reviving the two-door SUV not unlike the original model Land Rover started with nearly 50 years ago. The question 'why?' might quickly spring to mind here, but the model's being limited to 999 units and will all be individually hand-built at the marque's Special Vehicle Operations headquarters. The base price for this unique new SUV Coupe will be £240k, but Range Rover are sure very few will be alike, with customers potentially adding a further £100k onto the asking price in customisations. So no matter what you think about the overall design and practicality of a two-door SUV, the rarity and exclusivity of the £340k Range Rover will prove desirable to their niche customer base.
It's also surprisingly quick for a larger car, with a 0-60mph acceleration time of five seconds flat and a top speed of 165mph. This makes it the second fastest Range Rover on the market and proves highly competitive against the high-end marques. Land Rover stayed away from the electronic option with the new vehicle, instead including a powerful five litre V8 engine which will no doubt satisfy the appetites of adrenaline seekers worldwide. And we're sure the limitation of less than one thousand models along with the not so subtle nod to Range Rover's extensive heritage will see all 999 sold pretty quickly, even if this is the most expensive Range Rover ever made.
Lamborghini Huracán Performante Spyder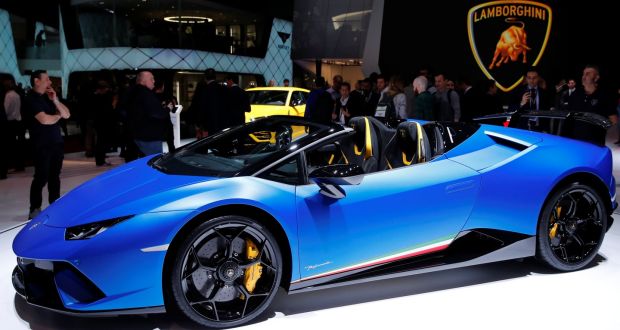 Following the reveal of the Lamborghini Huracán Performante Coupe at last year's Geneva Motor Show, this year the marque went one step further and showcased the beautiful styling of the Spyder version in a stunning matte blue. Naturally, this supercar model outdoes its Spyder predecessors in terms of weight and speed and the powerful V10 engine can accelerate from 0-60mph in as little as 3.1 seconds with a top speed of 201mph. Expecting to cost upwards of £238k, we're sure this phenomenal sportscar will tick the boxes for Lamborghini fans worldwide who like to be able to hear the roaring engine and be a part of their environments.
Both exterior and interior styling are unique whilst retaining aerodynamic optimisation, for a supercar which is both thrilling and emotive both on and off the track. Of course, the Lamborghini Huracán Performante Spyder's interior receives an amazing finish, with expertly crafted panelling, hand-stitching and some of the finest materials money can buy. But if you've got a spare quarter of a million pounds and itch that can't be satisfied without the loss of a roof, the 2018 Spyder will go on sale later this year.
Bentley Bentayga Hybrid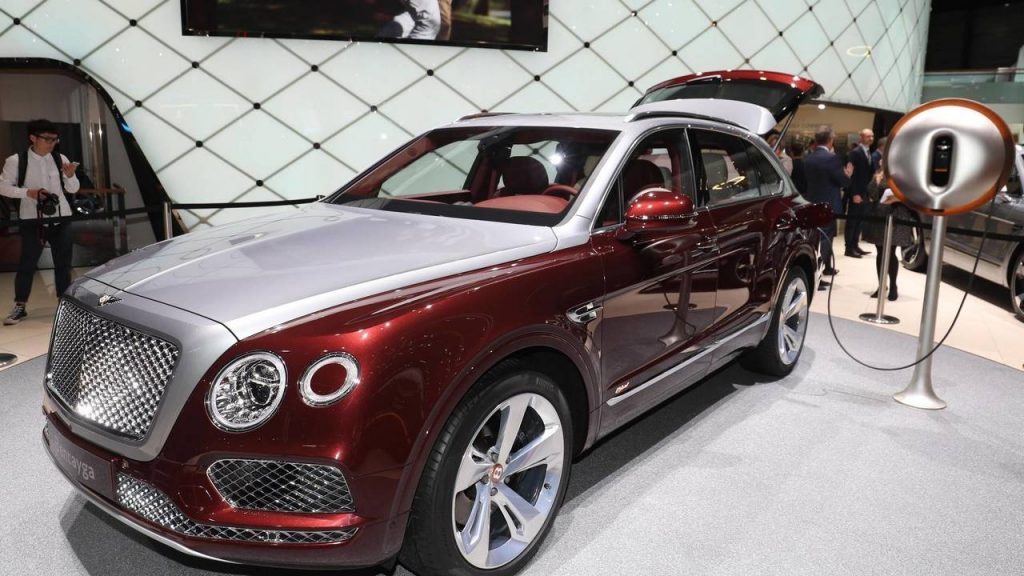 Last but by no means least, Bentley have revealed their intentions to move into the electronic market with their first hybrid luxury car option. It's safe to say we can expect there to be lots more Bentley hybrids to follow over time as the marque make it clear that this is their next step. Blending the ultimate in luxury driving with a hybrid powertrain creates a more relaxing environment for both driver and passengers, with near-perfect silence and smooth and steady handling.
Of course, Bentley promises the interior will be every bit as luxurious as we expect, retaining its distinctive Bentley look, feel and heritage whilst modernising to keep up with its new customers' demands. Bentley is the first of its main competitors to release a hybrid luxury car, which will go on sale later this year.
The Geneva Motor Show did itself proud again this year, displaying some of the most exciting and beautiful cars we've ever seen, not just in the luxury market but across the scale. As always, there are far too many amazing prospects to mention but we were certainly satisfied and surprised at what we saw. It's clear that whilst electronic vehicles are fast becoming the norm across the retail spectrum, thankfully elite marques are not willing to compromise the luxurious interiors that their traditional models have always had. And the combination promises to be both an important and exciting time in the world of luxury cars. We'll be on tenterhooks for the rest of the year awaiting the hidden details that surround our favourite models, as well as taking a closer look at which of these beautiful luxury cars we should be adding to our UK fleet in the near future.