While it's currently a quiet time for everyone, we've started thinking about the future and our thoughts turn to all the beautiful cars we can't wait to drive over the summer and autumn. Luxury droptop hire cars for the weekend, stunning grand tourers for cross-country trips, prestige SUV hire cars for family breaks; the list is endless. And some of the most special types of car on that list have got to be the classics. From the 60s onwards, we were treated to a wealth of beautifully designed cars and while a lot of these still exist and run, they don't often see the light of day.
Vintage cars are great for car events and meetings and ultra-special romantic occasions, but despite their indisputable beauty, they're not usually the first choice when it comes to everyday use or events. This is partly because the performance is lacklustre, the engineering is from a bygone era which means they're often slower and not as easy to drive, and classic cars tend to be reserved only for garage collections or classic car meetings. But that is about to change.
Classic cars are actually phenomenal to drive, offering a completely unique driving experience which is different to anything you've felt in a modern hire car. Even though you may lose some modern conveniences, driving a classic car offers a sense of excitement and emotion which quickly makes that a small price to pay. And whilst we hire out some of the rarest cars in the world that are guaranteed to get stares, vintage cars turn heads in a new way, sparking appreciation, conversations and awe from people of all walks of life.
Transforming the Iconic to the ionic: Luxury Vintage Cars Made Electric
New company, ionic cars have come up with an innovative way to restore iconic older vehicles, which doesn't just focus on revamping their looks but completely modernises the way they run. As well as restoring the interior using high quality, sustainable materials, the classic cars are brought firmly into the 21st century as highly skilled ionic engineers perform what they call a 'heart-transplant'. Carefully removing the original engine and all its components and replacing with a new custom designed battery pack, these vintage cars are transformed instantly into eco-friendly electric vehicles.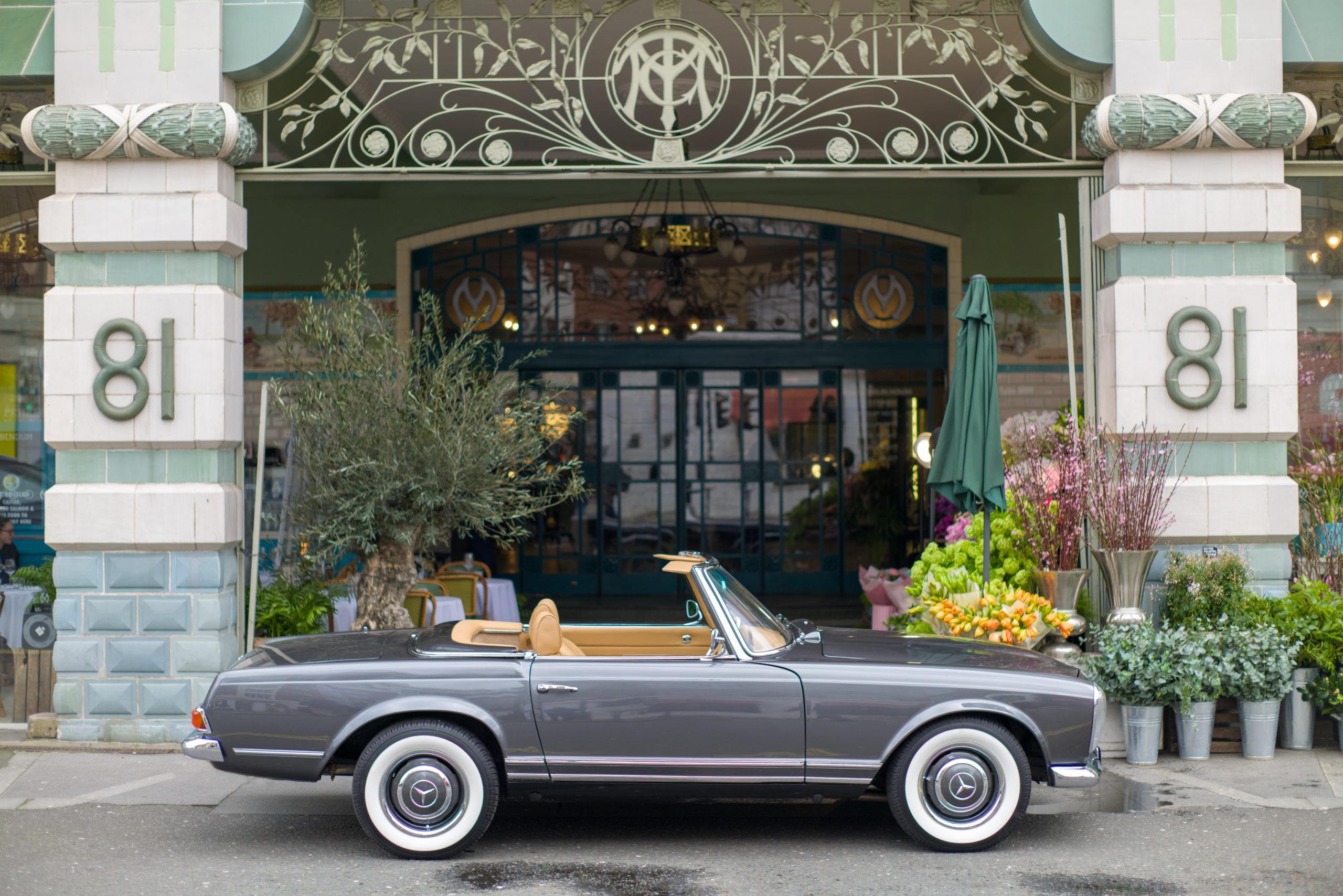 This ingenious process leaves the visual design of the classic car in keeping with its original era but entirely transforms the driving experience. Using OEM-grade 3 phase AC motors alongside a custom single speed gearbox where appropriate, the performance and efficiency of the vehicle is drastically improved. The 1967 Mercedes Pagoda for example, has had 1.8 seconds shaved off its 0-60mph acceleration time, thanks to the switch to fully electric power. Of course, the classic car also runs in a much more sustainable way, long gone are the emissions from a vintage engine which probably wasn't designed with the environment in mind. Not only will you be doing your bit for the planet, zero emissions and a fully serviced interior means that you will no longer have to worry about your MOT.
The engineering team at ionic have many years of experience in racing and electrical engineering, making sure that the transformation process is done efficiently and safely, allowing you to get the most from your refurbished iconic car without the need to worry. The whole process is entirely reversible, and you will have the original engine neatly presented to you in a Perspex box so you don't need to consider whether it will affect the value. If you ever change your mind or want to sell your classic car, the engine can be restored, taking it back to its original form. As technology is constantly improving, ionic will also give owners the chance to upgrade the mechanics in the future, allowing you to experience an even more enhanced driving performance which rivals modern electric vehicles.
A Beautifully Restored Classic Interior and Exterior with Sustainable Credentials
When first released, each of these classic cars would have been stunning. Luxury cars of the moment painstakingly designed to suit the prestige tastes of customers of the decade. Some of these classic cars are now over 50 years old and of course, will have started to show their age no matter how well they've been cared for. No need to worry, ionic cars have got this covered too. Like us and probably a lot of classic car fans, they believe that the interior and exterior design should be kept as close to the original period as possible. This makes for a beautiful, tasteful luxury car which makes you feel like you've stepped back in time and watched it roll out of the factory in the year of its release.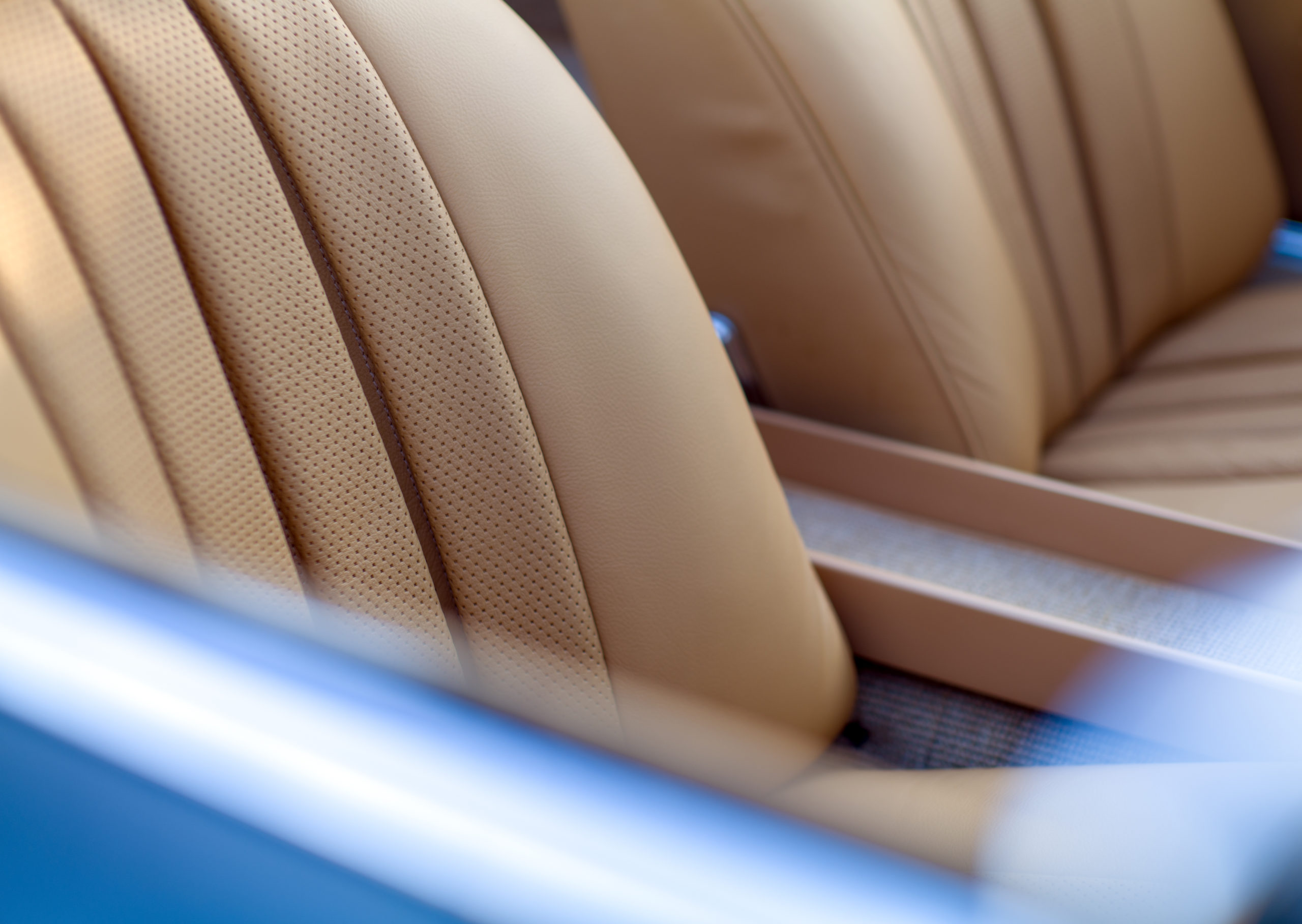 The bodywork is lovingly restored, and the interior is custom designed, revamped using high quality sustainable materials in keeping with the initial look. Subtle ionic branding is added, never taking from the original beauty. Replacing the dials and components, each is carefully designed to be more modern and fresher yet always keep the previous décor in mind. And, as with any luxury car, every little detail is considered, using expert craftmanship and hand-finishing to complete the look to an incredibly high standard.
The result? A stunning luxury classic car which sparks the same levels of excitement and enjoyment as before, yet also offers the unique feeling of driving a brand-new car. There really is nothing else like it, an electric ionic classic car ensures you have a completely unique driving experience you can't get from driving anything else.
Which Electric Classic Cars are Available and How Can I Get One?
Ionic cars will be producing a limited run of some of the most desirable vintage cars ever made, offering you the unique opportunity to enjoy the feeling of driving a classic car with modern performance capabilities. The beautiful 1968 Mercedes 280SL Pagoda was the first car to receive the special treatment and has since been taking to the streets of central London to celebrate International Women's Day whilst demonstrating its capability to the public in the process. A very limited number of ionic electric Mercedes Pagodas will be made, each available to buy to add to your own luxury car fleet.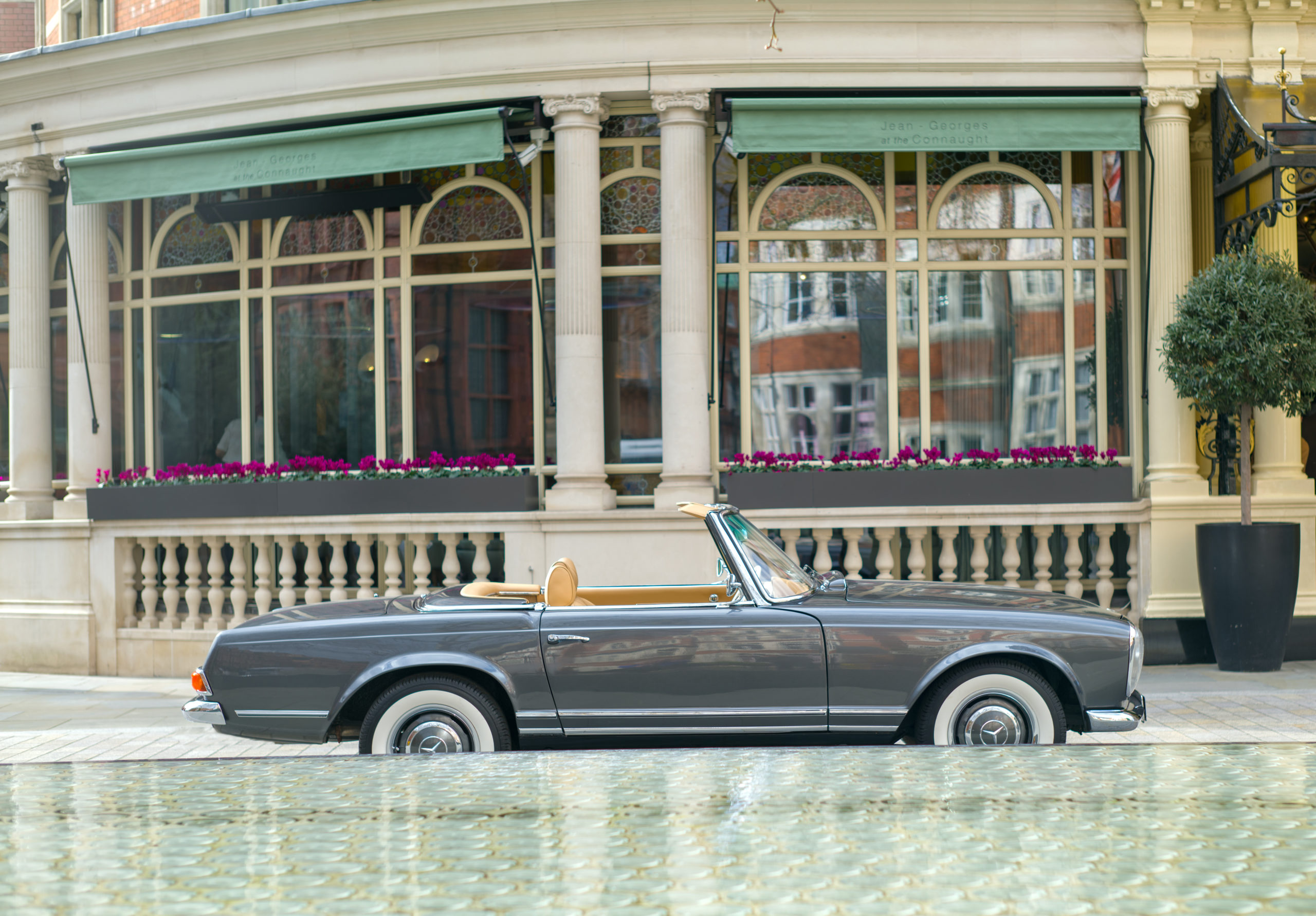 Also, currently in the workshop is the 1993 Porsche 964 Targa, a beautiful icon of the 90s which is perfect for couples to enjoy in the summer months. Again, this will be produced as a limited series and we're expecting lots more popular vintage models to follow. If you are interested in finding out more about the electric Mercedes Pagoda or Porsche 964 Targa or would like the opportunity to hire an electric classic car, please get in touch with our expert team.
Mercedes 280SL 'Pagoda' 1968: Classic Convertible with Epic Power
Originally introduced in 1967, there were just under 24,000 Mercedes 280SL Pagodas produced and sold. One of the most stunning luxury sportscars to be released that year, this new generation Mercedes 280SL featured upgrades which included more modern safety features such as seatbelts and headlight changes, making it an excellent starting point for ionic to work from. Beautifully restored, this convertible classic looks fresh and modern whilst retaining its original styling. Every element has been carefully considered and redesigned to a truly luxurious standard for a ride which is perfect for enjoying the summer sun.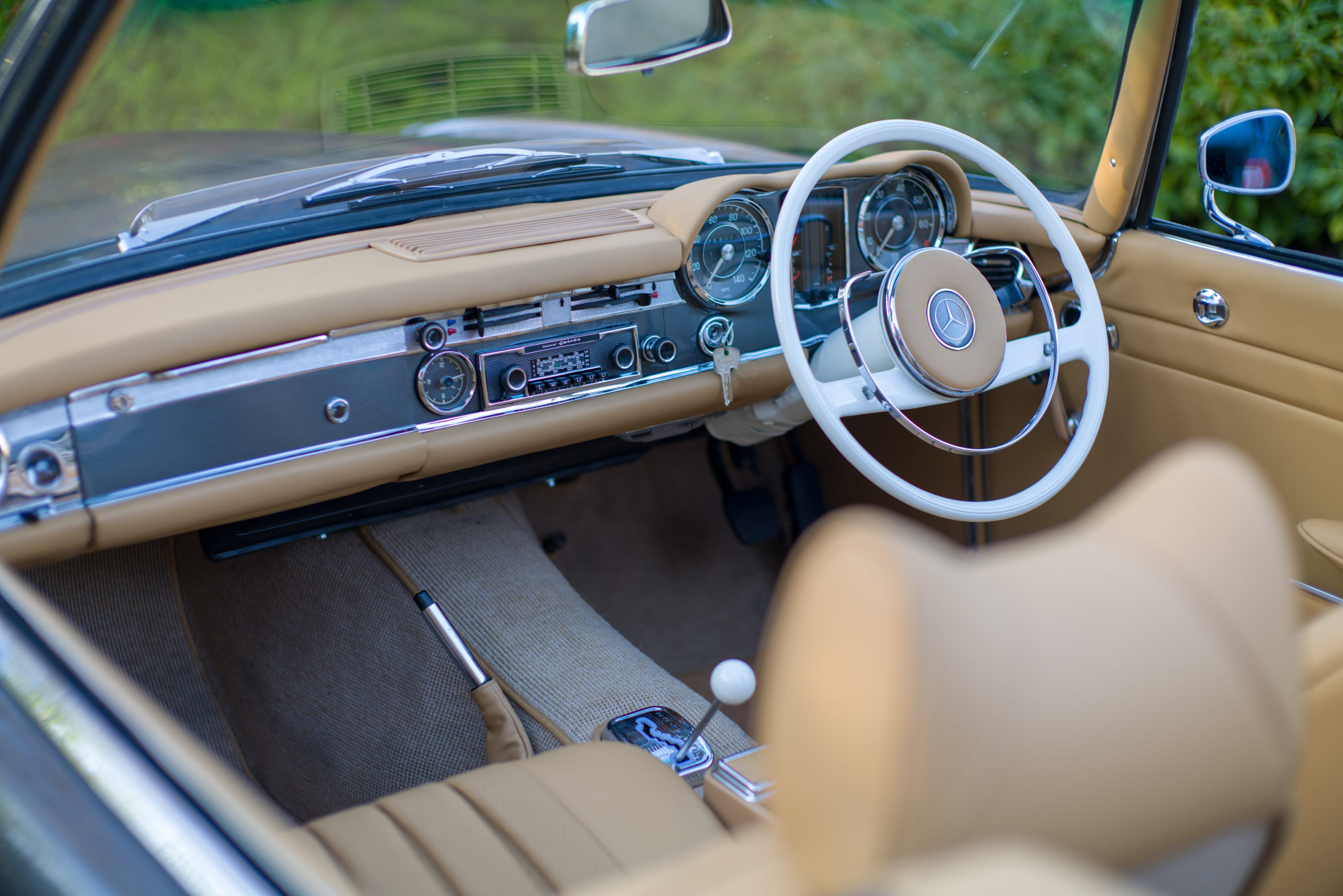 Looking at the difference in performance statistics, we can quickly see the impact that the new battery pack has made. The new ionic Mercedes 280SL Pagoda now accelerates from 0-60mph in 7.0 seconds, 1.8 seconds faster than in its traditionally powered original form. Expert engineers have kept the total weight and weight distribution as similar as possible, helping to preserve the handling and brake power. The horsepower has also made a steep increase, up from 168 BHP to 180 BHP for a much-needed power injection.
Of course, another added benefit is that the emission levels have disappeared. Originally estimated to have produced 4,559 kg C02 per annum, the new electric battery pack now produces none at all. With this, the running costs have also drastically reduced by around 92%. Instead of paying out for pricey fuel, the new electric 1968 Mercedes Pagoda has a range of over 160 miles in a single charge. When you do need to top up, you can simply plug it in overnight or use one of the many electric car charging points or supercharges dotted across the UK, allowing you the freedom to drive how and where you like without any worries.
Porsche '964' Targa 1993: Traditional Styling Meets Future Engineering
The beautiful 1993 Porsche 964 was the final classic Porsche to feature the traditional Targa roof, which didn't appear on any further models until it was revived in 2011. There were less than 5,000 of this variant made and sold, making it one of the rarer Porsche vintage cars. It also featured many styling updates compared to its predecessors, including more integrated bumpers which make it an easy recognisable luxury car, easily sparking nostalgia in any driver.
Still in the ionic workshop, the improved performance statistics and carefully refurbished interior are yet to be revealed, though we have no doubt that they'll be just as impressive as the improvement made in the completed Mercedes. If you would like to find out more about the electric 1993 Porsche 964 Targa, the 1968 Mercedes 280SL Pagoda or ionic cars in general, please get in touch with our team to register your interest. Meanwhile, we'll be keeping a close eye on the ever-growing list of classic cars to receive the high-tech treatment and seeing where we can make room in our own luxury car hire fleet for a beautiful, unique electric car of the past.
To keep up to date with all things Ionic Cars – ioniccars.com  
If interested in hiring a modern electric car, please view our selection of electric car hire options on our Luxury electric car hire page