TOP 5 NEW HIRE CARS FOR 2021
2021 is officially the year to make up for lost time, to go on the trips that we couldn't last year, to attend the events that were cancelled and to explore the great outdoors with our loved ones free from restrictions. Despite everything, 2020 was an incredibly exciting year for the luxury hire car industry and our fleet expanded so we can offer you the chance to make those moments even more special. This guide looks at our top 5 new hire cars for 2021, ready to be booked now to ensure you have an incredible year.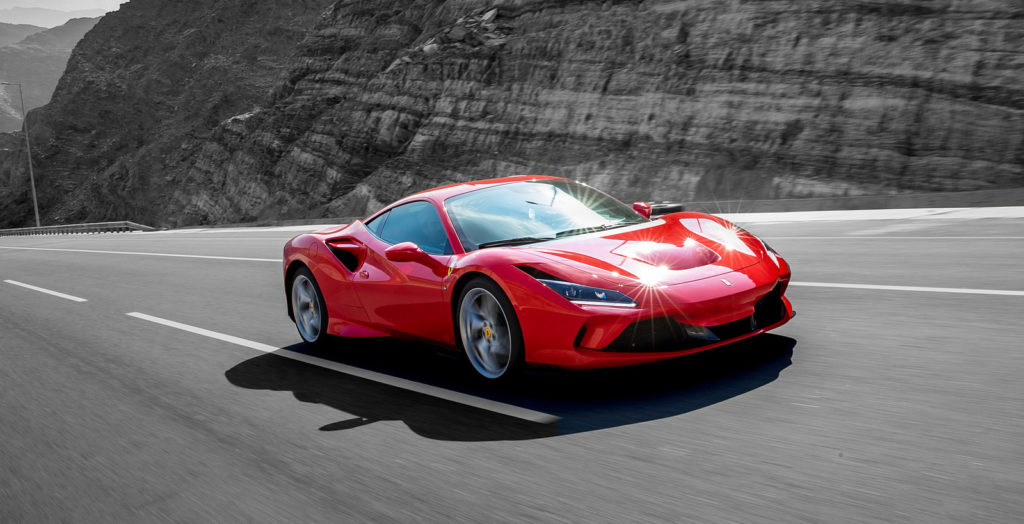 The Ferrari F8 Tributo hire car is one for the thrill seekers. It was first revealed at the 2019 Geneva Motor Show and went on sale last year, replacing the Ferrari 488 and taking the crown as the most powerful Ferrari made to date. With its V8 Turbo engine being hailed the best engine of the last 20 years, Ferrari wanted to create a supercar worthy to house such an incredible engineering achievement, giving the F8 Tributo a modern design update and highly desirable features to match in terms of superiority.
The improved aerodynamic design and lightweight materials work alongside the formidable engine to ensure high speeds and a thrilling driving experience. Hire a Ferrari F8 Tributo and you can expect an incredible top speed of 211mph and a 0-100mph acceleration time of 9.5 seconds. The rear-engine two-seater supercar is visually stunning with the signature curves, low body, and long nose that make it instantly recognisable as a Ferrari. A rear window ensures the V8 Turbo engine takes pride of place in the design, whilst making sure you make an impression wherever you drive.
Inside, the driver and passenger can enjoy a new cockpit-style interior, inspired by Ferrari's involvement in motorsports. A new generation steering wheel and more advanced automated driving systems improves handling and grip, ensuring you have an exciting driving experience whether on the track or road. The pinnacle of Ferrari releases over the last decade, the Ferrari F8 Tributo is the perfect new 2021 hire car for individuals and couples with a need for speed and appreciation for luxurious Italian design.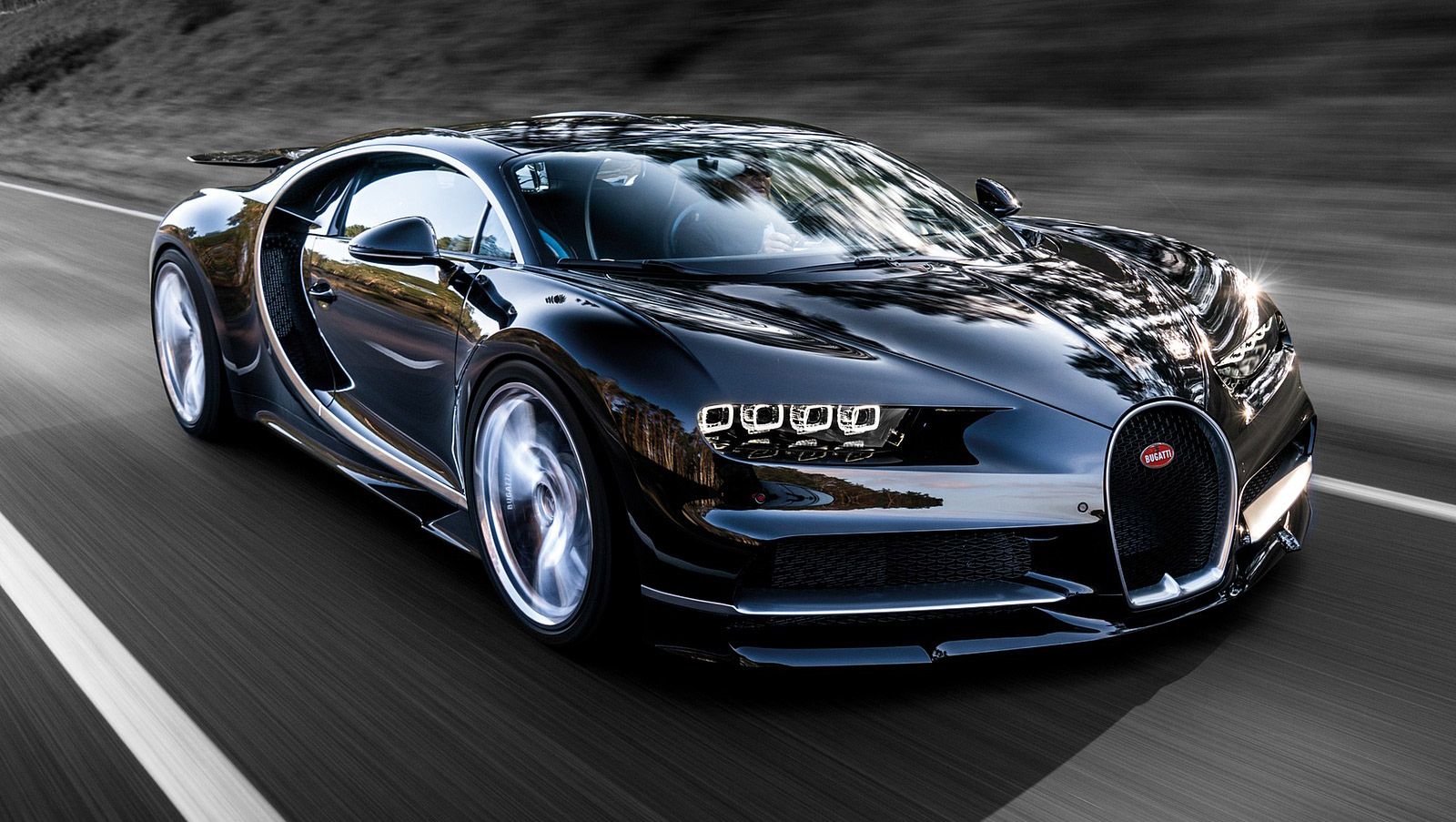 Though it was first revealed in 2016, last year the Bugatti Chiron officially entered the second half of its production run, having sold and delivered 250 luxury supercars, with a further 250 to go. One of the fastest cars in the world, Bugatti claim the Bugatti Chiron hire car can reach a top speed of 261mph and accelerate from 0-62mph in just 2.3 seconds. And if that's not fast enough for you, some modified models have even been able to break the 300mph barrier, smashing world records as they fly by with thanks to its quad-turbocharged 8-litre W16 engine.
It's the fastest and most powerful production car in Bugatti's history, combining ground-breaking engineering with the use of lightweight materials for speed and to create the ultimate driving experience. With a price tag of over £2.5 million, this luxury supercar is one of the most exclusive to hire for any occasion, whether that's a luxury getaway or arrival at a red-carpet event. Signature C curves and outlandish exterior styling ensure you will impress, whilst luxury leathers and precious metals help to create an ultra-luxurious interior for a superior driving experience.
The Bugatti Chiron hire car also comes with a skyview option, allowing you to become immersed in your surroundings as you drive one of the most expensive and luxurious cars in the world. Every element has been carefully considered and designed to improve performance, whilst the interior has been thoughtfully built using traditional techniques for the ultimate in luxury supercar hire.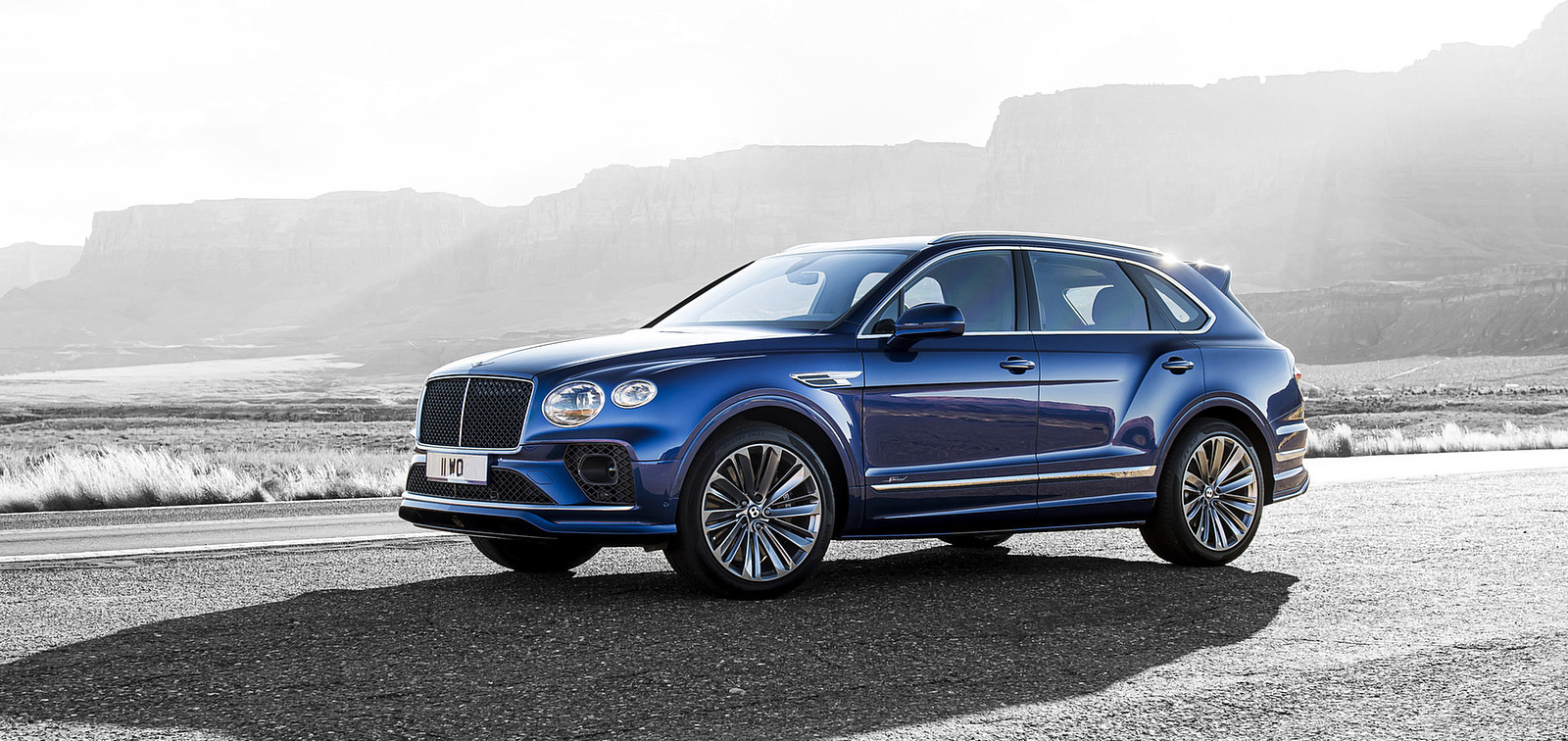 New for 2020, the Bentley Bentayga has received various updates to modernise its looks and capabilities, bringing it up to date with the rest of the luxury British marque's line-up. Every panel has been rebuilt and the front keeps its signature Bentley design for an intimidating road presence whilst the rear has been made neater and less bulky. Whilst the exterior design has been improved, the 2020 Bentley Bentayga hire car keeps its powerful V8 engine, which allows for top speeds of up to 180mph and a 0-60mph acceleration time of 4.5 seconds, which is incredible considering its size and comfort offering.
Inside is where the Bentley Bentayga design really shines, creating a cabin space which oozes British luxury. Seating between four-seven people, each can enjoy beautiful high-quality materials which have been hand-crafted to create a space which is really special. Rear-seat passengers can enjoy more legroom than in its predecessor and updates to the software allows for more control on the environment and driving experience than ever before.
A new 10.9-inch touchscreen display is nestled into the centre console, allowing for easy access to the interior settings and wireless phone charging now comes as standard, beautifully blending luxury design with the requirements of modern life. Storage space is at a premium, allowing for plenty of luggage or equipment to be stored without affecting comfort. The versatile 2020 Bentley Bentayga hire car is ideal for family trips, business travel or everyday driving, offering the best in terms of practicality and given that Bentley finishing touch.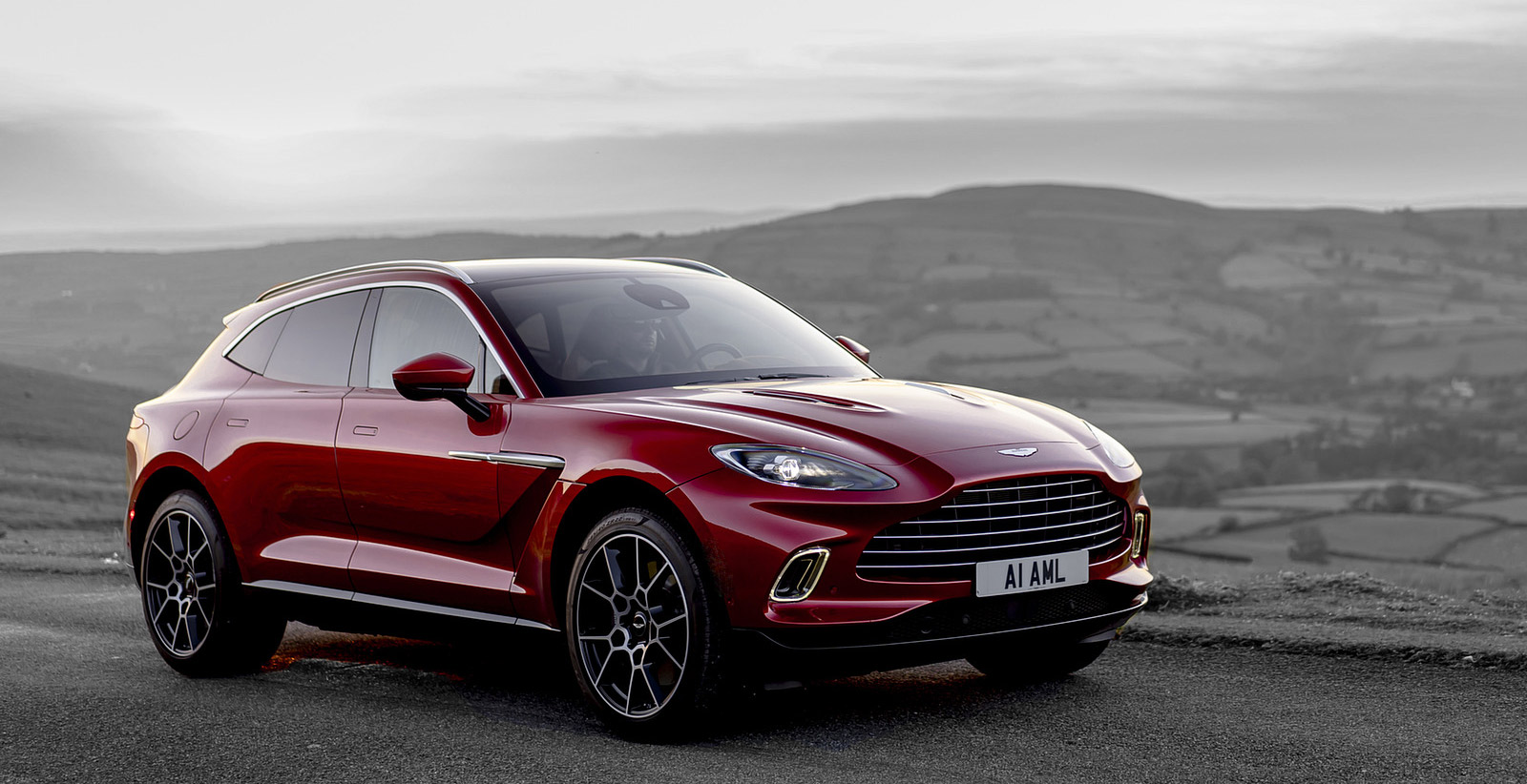 The Aston Martin DBX is the marque's first ever prestige SUV in its rich history which spans over a century. UK deliveries began in the summer of 2020, which means you can now hire an Aston Martin DBX for the year ahead. Effortlessly blending the beauty and luxury that you would come to expect from Aston Martin with the space and practicality that you would not, the new Aston Martin DBX hire car is an excellent choice for those looking to travel with family or friends.
Unlike some other luxury SUV hire cars, the Aston Martin DBX successfully keeps the signature features and proportions of the marque's previous models. Inside, up to five occupants can enjoy a sumptuously comfortable space built using high quality materials and oozing classic British design. Leg and head room are at a premium whilst the panoramic roof offers an immersive driving experience, ideal if you're heading on a cross-country trip.
World-leading engineering ensures you retain the driving experience of an Aston Martin sports car but with the added ability to easily go off-road, effectively meaning you can travel anywhere. Lightweight aluminium materials are combined with all-wheel drive and variable torque distribution for easy handling, providing the versatility you need for any adventure. The powerful V8 engine provides a top speed of up to 181mph and a 0-62mph acceleration time of 4.5 seconds, offering speed and agility along with comfort and space for a practical luxury hire car, ideal for enjoying the sun this summer.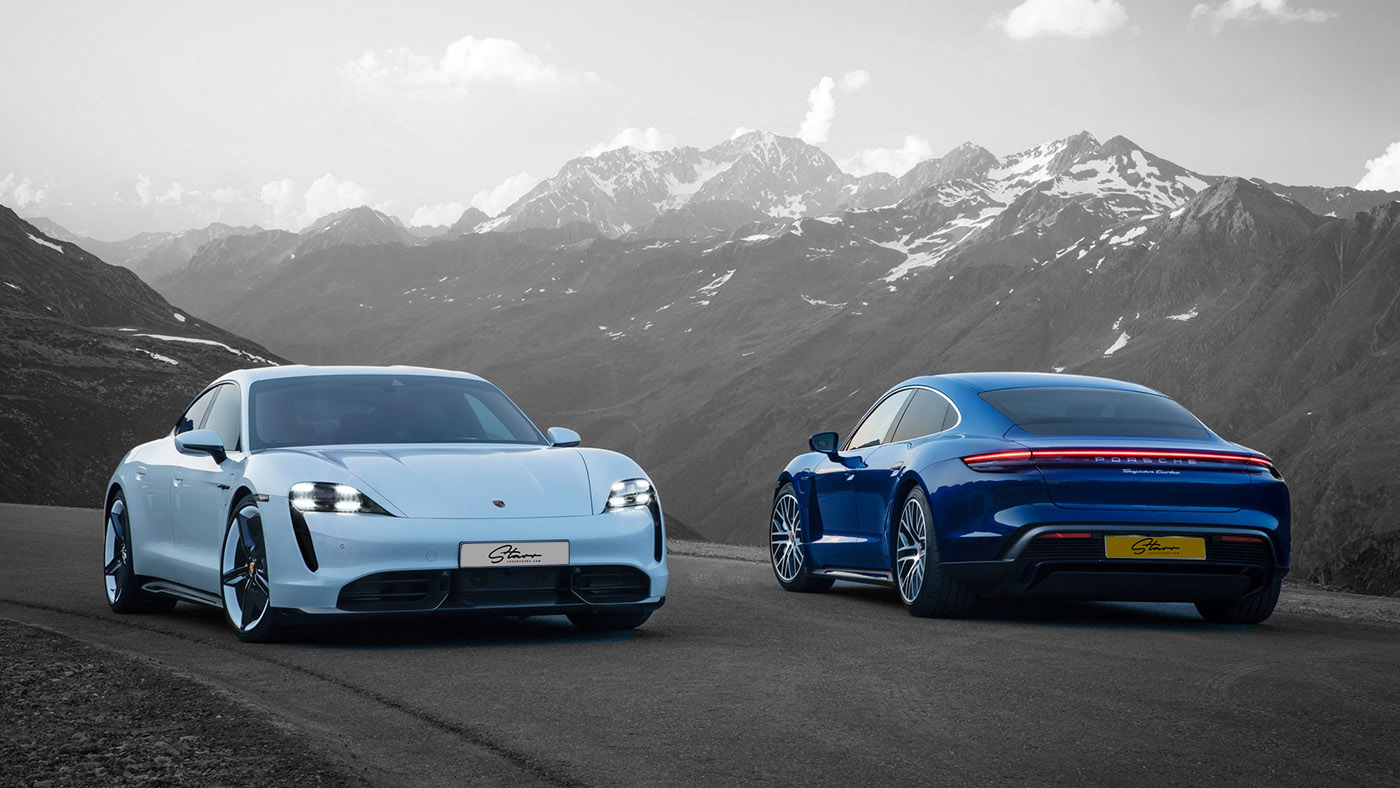 The 2020 Porsche Taycan Turbo S is the marque's first all-electric sports car, offering insight into the future of Porsche's engineering and design language. Three variants were created, and the Porsche Taycan Turbo S is the high-performance option, accelerating from 0-62mph in as little as 2.8 seconds, whilst providing a top speed of around 162mph. It also boasts the highest range, allowing you to drive up to 205 miles on a single charge, plenty for those looking to hire an electric sportscar for a weekend away, a luxury event or everyday driving.
Avid Porsche fans will love the exterior of the Taycan Turbo S, which features the signature curves and pure Porsche characteristics for an instantly recognisable luxury sportscar. Inside the driver has access to a new digital display which contains the controls and settings for an incredible driving experience without the need for physical switches. Charge information, navigation, and media settings are all easily accessible whilst the innovative Porsche Connect system allows you to alter your environment from your smart phone, setting the temperature or locating the nearest restaurant from outside the car.
As with many Porsche hire cars, the Porsche Taycan Turbo S has additional space for a further two-three passengers in the rear. Not only does this give you the freedom to travel as a small group, but it also provides plenty of space for luggage and belongings, suiting couples looking to hire a luxury sportscar for a weekend away. An all-weather vehicle which stands to impress in any setting, the Porsche Taycan Turbo S can instantly transform your next journey from a chore into a lifelong memory.
Each new hire car is ready and available to be booked for your next trip and can also be reserved in advance for summer outings and holidays. With plenty to choose from, we have something to suit individuals, couples, and families, helping to ensure that those precious moments are elevated and transformed into lifelong memories. Spacious, comfortable, and opulent interiors provide the perfect environment for your group to relax and unwind, whilst blistering speeds and unique driving experiences ensure any journey changes from a chore to an enjoyable experience. You can request a quote online or speak to our expert team for further information, ensuring you are one of the first to hire a new 2021 luxury car.