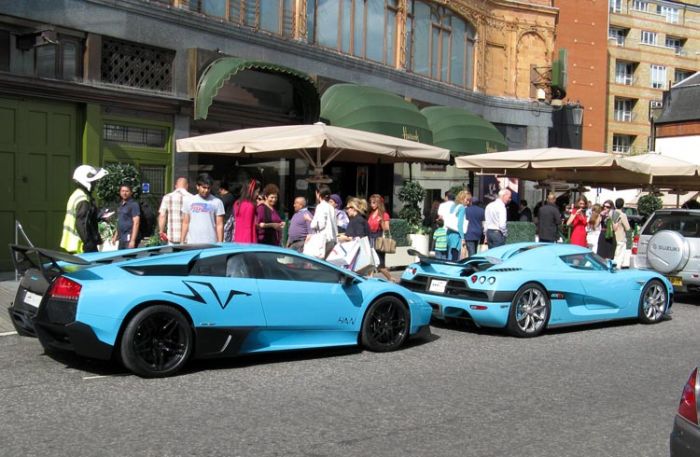 18 Dec

The Insider's Guide to London: Best Places to Pit Stop with a Supercar

London is one of the most diverse cities in the world, with bundles to offer by the way of fabulous food, luxury experiences and some of the finest premium stores in the world. Some are world-renowned, others so exclusive you may not have even heard of them. Right in the very centre sits areas such as Chelsea, Kensington and Knightsbridge, home to not only the rich and famous but also an abundance of high-performance supercars. If you're thinking of going on a luxury London trip with a rental supercar, take a look at some of the very best places to take a pit stop.
Pit Stop One: Hire a Supercar for a Luxury Shopping Trip
Why not start your London supercar experience with a spot of retail therapy? Amongst some of the most luxurious flagship stores sits the most famous department store in the world, Harrods, located in Knightsbridge and made up of seven floors of prestige brands and high-end goods. Harrods is a well-known hotspot for supercars and not a day goes by that you don't see famous faces parking up for a shopping break. Harrods are very used to accommodating for supercar drivers, offering a reservable valet service, which allows you to shop 'til you drop before returning to your McLaren 570GT rental, complete with a substantial amount of space for your new purchases.
Pit Stop Two: The Best Views of London from your Supercar Hire
If you want to thoroughly enjoy your supercar rental whilst taking in best skyline in the UK, head North to Primrose Hill. Not only will you get to enjoy 30 minutes of cruising in your luxury hire supercar (roof up or down, the choice is yours), once you arrive you can expect to see London's eclectic mix of breath-taking new architecture amongst rich, historical landmarks. For the speediest journey to and from Primrose Hill, Starr Luxury Cars offer a wide selection of luxury supercars, from marques such as Koenigsegg and Bugatti, famous for producing some of the fastest supercars in the world.
Pit Stop Three: Drive a Rental Supercar to Enjoy Exclusive Private Dining
Regardless how you'd like to spend your time in London with your chosen hire supercar, the area is home to some of the finest food and bars which simply can't be missed. A short drive away in Paddington sits The Hyde Bar which offers the best quality food, premium drinks and an optional private dining experience. Or if you or guests would prefer, they also specialise in wine and whisky, offering some of the finest refreshments to be found in the UK. Simply pull up in your luxury hire supercar which will not look out of place, before returning to it after a fresh and filling premium meal.
Pit Stop Four: Hire a Supercar Chauffeur for a Night Out in London
Of course, alongside some of the most famous landmarks and venues, London is home to some of the best nightlife in the world. Mahiki Kensington is a Polynesian-inspired restaurant and bar, which serves outstanding food during the evening before turning into one of the hottest night spots. Again, supercars are rife in Kensington, an ideal spot to show off your prestige ride. However, if you'd really like to let your hair down, you may like to consider booking one of our premium chauffeurs to make sure you get home or to one of London's extravagant hotels safely, either in your supercar or another luxury hire car of your choice.
Regardless of your preferences and what you wish to get out of the capital and your premium supercar hire, London really does offer something for everyone. Whether you have an entire itinerary planned out or would like some guidance, our expert team are knowledgeable about both the area and the cars we have available, allowing you to make the perfect choice. Stay warm and see the sights, drive from one side of London to the other or simply pull up to a few of the best venues to experience a day of luxe, all whilst enjoying the thrilling experience of a luxury supercar and the jaw dropping stares you'll receive when you pass by.