The Top 5 Best Places to Go Glamping in the UK
You would be forgiven for thinking of the UK as cold, busy, and fast-paced, packed full of skyscrapers and traffic. But whilst this may be the case in some areas, the UK is also home to charming rolling hills, luxury accommodation, and areas of immense natural beauty, perfect for a UK getaway in the summer sun. With the UK's roadmap out of lockdown now revealed, we can assume that we won't be travelling abroad any time soon, but thankfully UK getaways will be allowed this summer. In this article we look at the 5 best places to go glamping in the UK, alongside some of the most luxurious ways to travel, ensuring you have an unforgettable trip.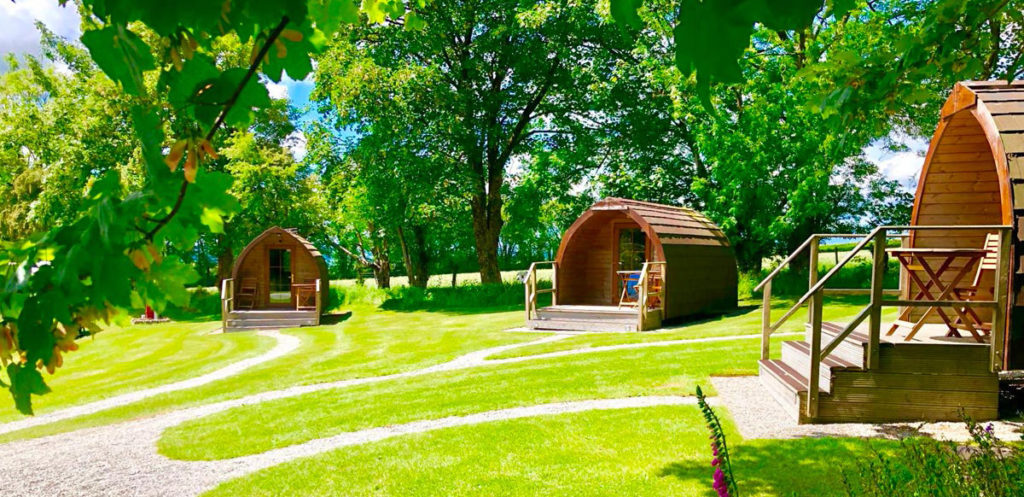 Tucked away on the South West coast sits Devon, one of the most popular holiday destinations in the UK. Known for its idyllic villages and glorious coastline, there is plenty to explore. From Dartmoor National Park to the village of Clovelly and even its own theme parks, Devon has something to suit couples, families, or groups of friends. As well as offering luxury accommodation including 5-star hotels, Devon's countryside also offers several glamping opportunities. 
Sunridge in South Hams offers several luxury glamping options, including an ecopod, a luxury lodge, or glamping cubes with beautifully luxurious interiors and all the modern conveniences you could ever need. You and your group can relax on the private fishing lake during the day before retiring to an exclusive hot tub at night, enjoying a peaceful glamping experience, surrounded by the streams of the Yealm Valley.
For our fellow driving enthusiasts, Devon is also home to some of the best routes in the UK, allowing you to take in the sights of the beaches, moorlands, and cliffs as you make your way to your chosen glamping site. To elevate your UK glamping experience, we recommend the Range Rover Vogue, an exclusive SUV with ample space for luggage, unbeatable comfort, and the power to get you through mud and harsh terrains should you need it.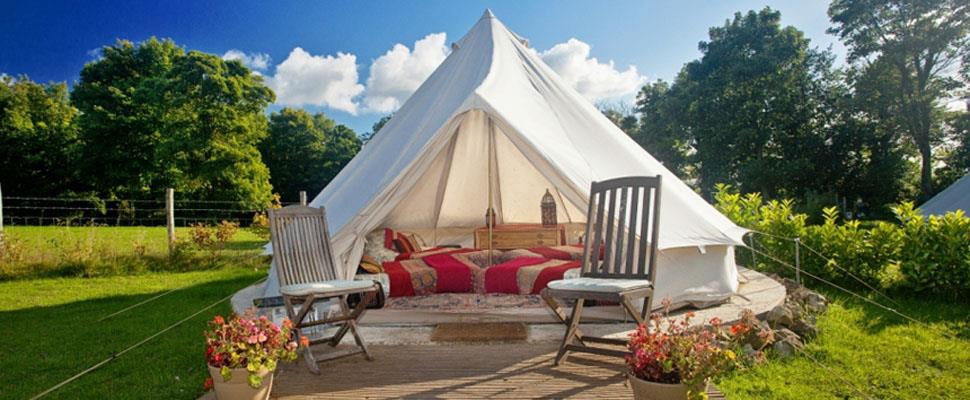 Fondly known as the Garden of England and yet just an hour away from the capital, Kent is one of the best places to visit for a UK glamping trip. As well as beautiful greenery and peaceful spots of natural beauty, Kent is also home to some unique camping sites, ensuring you experience something new as you enjoy luxurious surroundings and the local area.
Amongst the standard luxury yurts and pods, Port Lympne Animal Reserve offers the rare opportunity to sleep beneath the stars whilst surrounded by the park's lions, zebra, and giraffes. With several luxury accommodation options and afterhours access to the reserve, this is an exciting option for young families or an excellent way to spend a romantic weekend with a loved one.
With up to seven seats and offering the perfect blend of practicality and luxury, we recommend the Audi Q7 to hire for a glamping trip. An optional panoramic roof allows you to immerse yourself in your surroundings from the earliest opportunity, whilst advanced technology and precise engineering means that you can be confident driving through any rough conditions or terrains.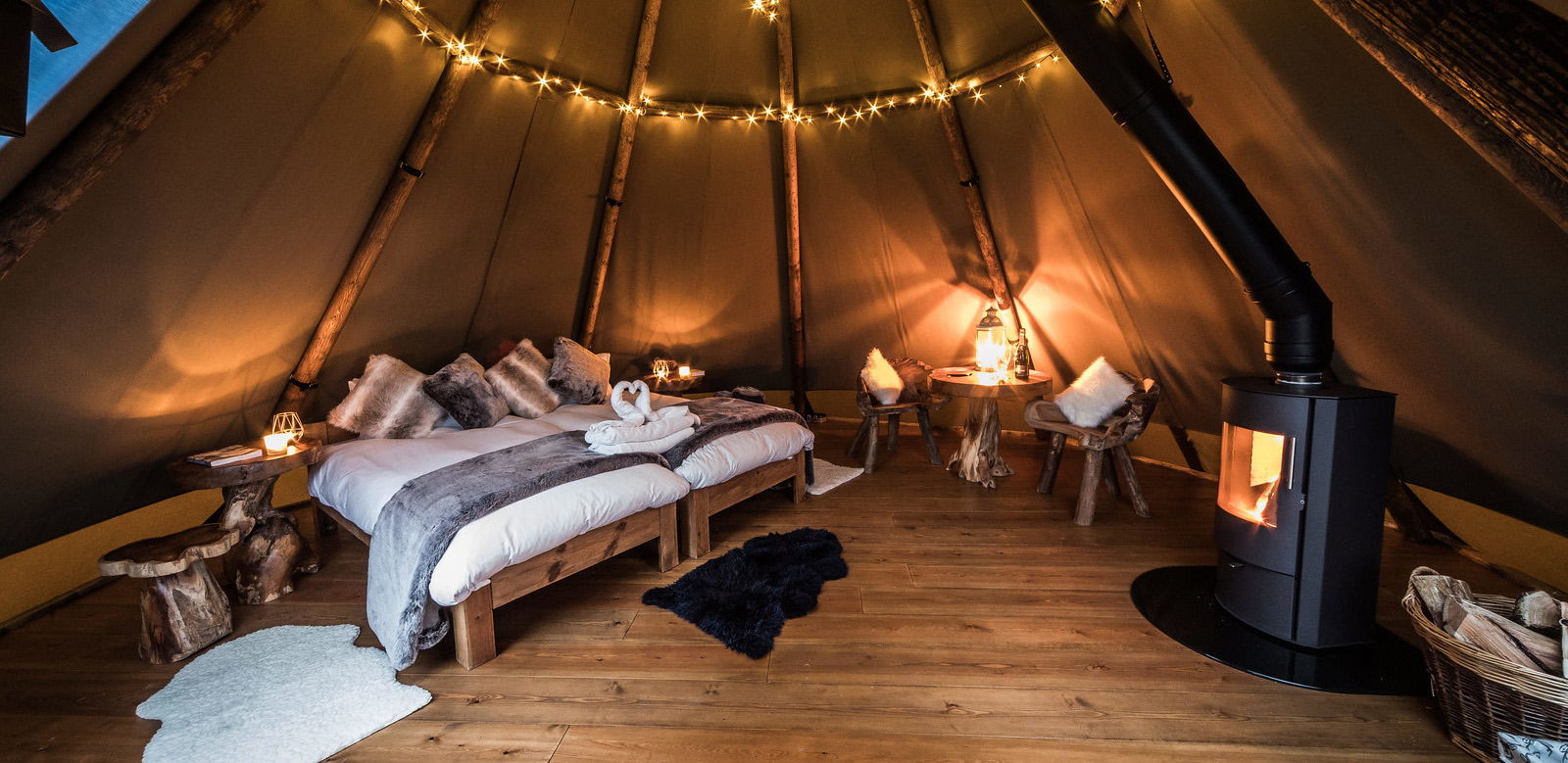 A serene area with plenty of hills and valleys to explore, the Peak District is one of the best places to go glamping in the UK. As well as offering fantastic routes for hiking or cycling, the Peak District is also home to unique British wildlife, ensuring explorers of all ages can see something new. And located in central England, residents of surrounding cities such as Manchester or Birmingham can escape the hustle and bustle within an hour.
From yurts sparkling with fairy lights to Grade II converted buildings, luxury accommodation in the Peak District is not difficult to find. Offering all the modern conveniences you need to enjoy your trip, glamping also offers an authentic camping experience complete with al fresco dining, star gazing and plenty to see, enough to keep guests of all ages occupied during a UK holiday.
Considering the rough terrains and hilly roads, the Land Rover Defender is a great luxury car to hire for a glamping trip in the Peak District. Not only does this executive SUV allow you to explore without limits, but its unique design also allows you to carry bikes, water sports equipment or additional luggage with ease, ensuring an amazing UK getaway.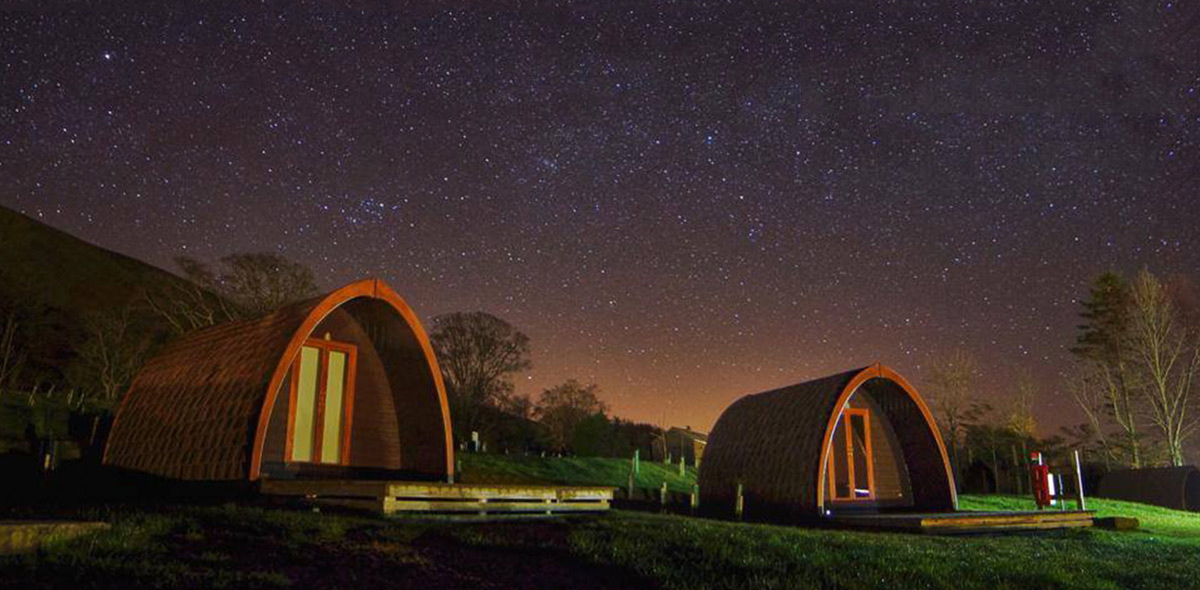 Lake District Glamping Sites
About four and a half hours away from London, the Lake District is one of the most unique and picturesque areas of the UK, an ideal spot for a getaway. Located in the North West of England, you can reach the central destination from almost any area in the Tesla Model X, an electric SUV with a range of around 340 miles. Beautifully stylish and packed full of modern technology along with plenty of space for a small group and belongings, this luxury hire car is sure to elevate your journey.
Upon arrival, you can expect to see lakes and lush valleys, as well as the opportunity to explore vast mountainous areas for exquisite views. And whilst there, adventurers of the group can experience many new water activities, including kayaking and surfing, before taking on one of hundreds of walking routes for incredible views of the natural area.
There are several accommodation options here, including luxury pods, yurts, and even a traditional gypsy bow top wagon, complete with shire horses, allowing you to explore the area with your belongings in tow. Many glamping sites have electric charging points for cars, allowing you to leave your Tesla Model X charging overnight, ready for full use again the following morning.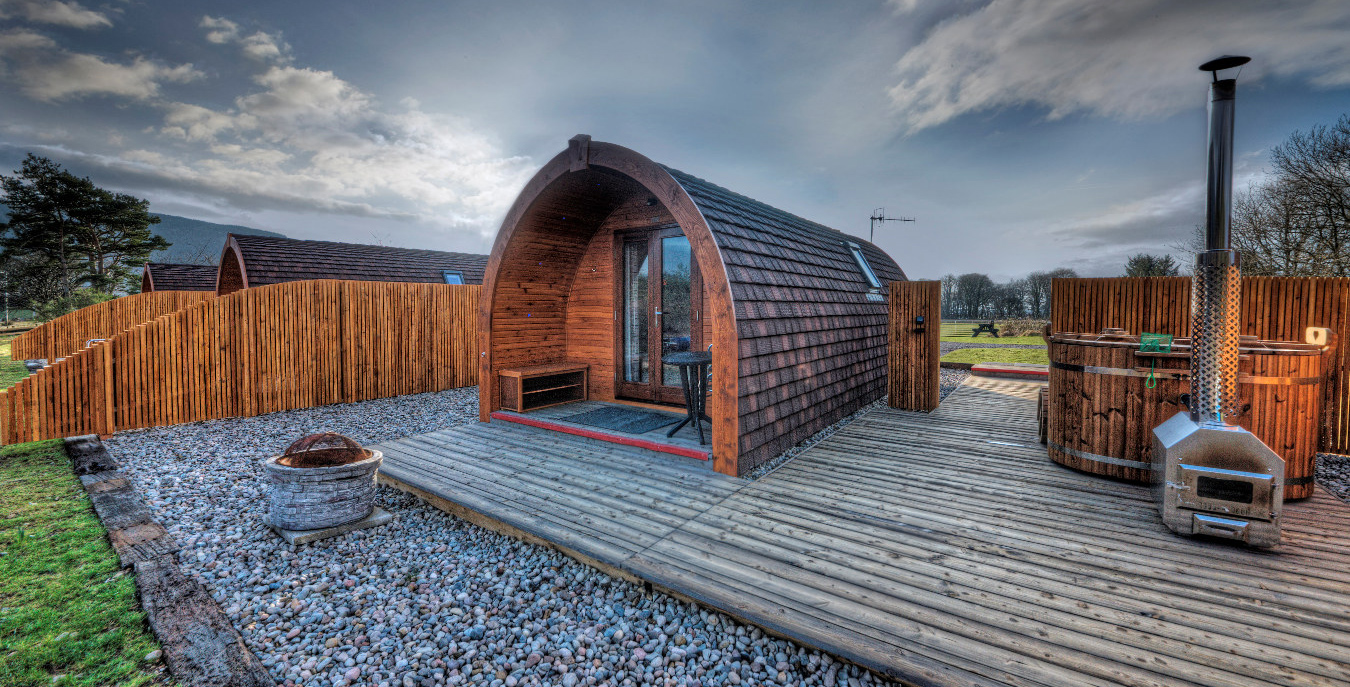 At the very tip of the UK, you can find some of the most picturesque views in the world. Scotland offers some of the best glamping destinations in the UK, surrounded by dramatic coastlines, unique wildlife, and serene locations. 
Enjoy your stay in a wooden eco pod before exploring the lake and surrounding areas of Loch Lomond, or for the more adventurous, take on the North Coast 500, an unforgettable driving route which covers the Scottish coast and offers plenty of places to stay along the way.
For a glamping trip to Scotland, we recommend the Land Rover Discovery, one of the best luxury SUVs designed to provide a superb driving experience, regardless of the terrains you come across. Whether you wish to explore the local mountainous or wooded areas, or simply make it to your glamping site to unwind, this versatile luxury 4×4 offers comfort, practicality and more than a touch of luxury.
The Best Luxury Cars to Hire for a UK Glamping Trip
If you are planning to book a UK glamping trip this year, we have several luxury SUVs available to elevate your experience further. Ensuring you enjoy decadent surroundings from the moment you leave, our luxury hire 4x4s provide the perfect environment for families or groups of friends to remain comfortable throughout, whilst simultaneously offering plenty of space for luggage and equipment.
Swapping your everyday car for a luxury hire SUV gives you complete peace of mind, regardless of the terrains or road conditions that you meet. Designed to give you total freedom to explore your surroundings, you can experience great handling and a vehicle that is easy to control, ensuring you reach your destination quickly and safely, having enjoyed beautiful views en route. Each can be booked for a weekend or week-long getaway, the perfect accompaniment to a UK glamping trip.