Scotland is one of the most beautiful places on earth, famed for its natural beauty and stunning scenery. With an eclectic mix of untouched natural areas, exclusive hotels and spas and luxury locally sourced food and drinks, Scotland offers something to suit every kind of traveller. Whether you're looking to hire a Range Rover in Scotland to stay on a private island or you'd rather explore the tricky terrains of the highlands, we have the perfect model to ensure you have an unforgettable trip. As well as a sweeping coastline, Scotland is home to the highest point in the UK where the tip of Ben Nevis sits at approximately 1,345 meters high. To fully explore everything that Scotland has to offer, everyday cars or luxury limousines simply won't cut it here, but a Range Rover hire car is the perfect blend between the two, offering advanced capability, substantial practicality and opulent comfort. Range Rover hire Scotland allows you to travel from the city to the rough roads with ease, tackling any obstacle which comes your way. We have an extensive fleet of luxury
Range Rovers to hire in Scotland
, including spacious models ideal for family trips or corporate use, compact SUVs for couples and the latest releases with the very best off-road capability. We cover all major cities in Scotland, allowing you to travel within the mainland or drive to the outskirts at your leisure. Select your perfect model to receive an online quote and we can deliver the Range Rover of your choice to any address in the UK, allowing you to begin your adventure.
Hire a Range Rover in Scotland to Explore the Biggest Mountains in the UK
From the world-famous Ben Nevis to the Moorfoot and Lammermuir ranges, Scotland is packed full of mountainous areas and hilly, untouched land, perfect for those who like to explore. Our Range Rover hire Scotland fleet is brilliant for getting you around these areas, allowing you the freedom to hike if you wish whilst having a comfortable and luxurious space to return to once you've finished. And just because you like to go off road, it does not mean you have to stay in anything less than five-star luxury. Scotland is home to lots of prestigious accommodation even in the sparsest areas, including the legendary Inverlochy Castle, which is just a short drive from Ben Nevis. The Scottish Highlands are another fantastic place to explore. Covered with expansive forest areas, mountain trails and stunning national parks, you can set off in your chosen Range Rover in the hope to see some of the local wildlife including red deer, grouse and the golden eagle. To explore the epic Scottish terrain, we recommend hiring a luxury
Land Rover Discovery
or new 2020 Land Rover Defender, providing the best off-road capability from the luxury marque. The latest Land Rover models come complete with a whole host of the best modern technology and advanced engineering techniques, which make off-roading a breeze.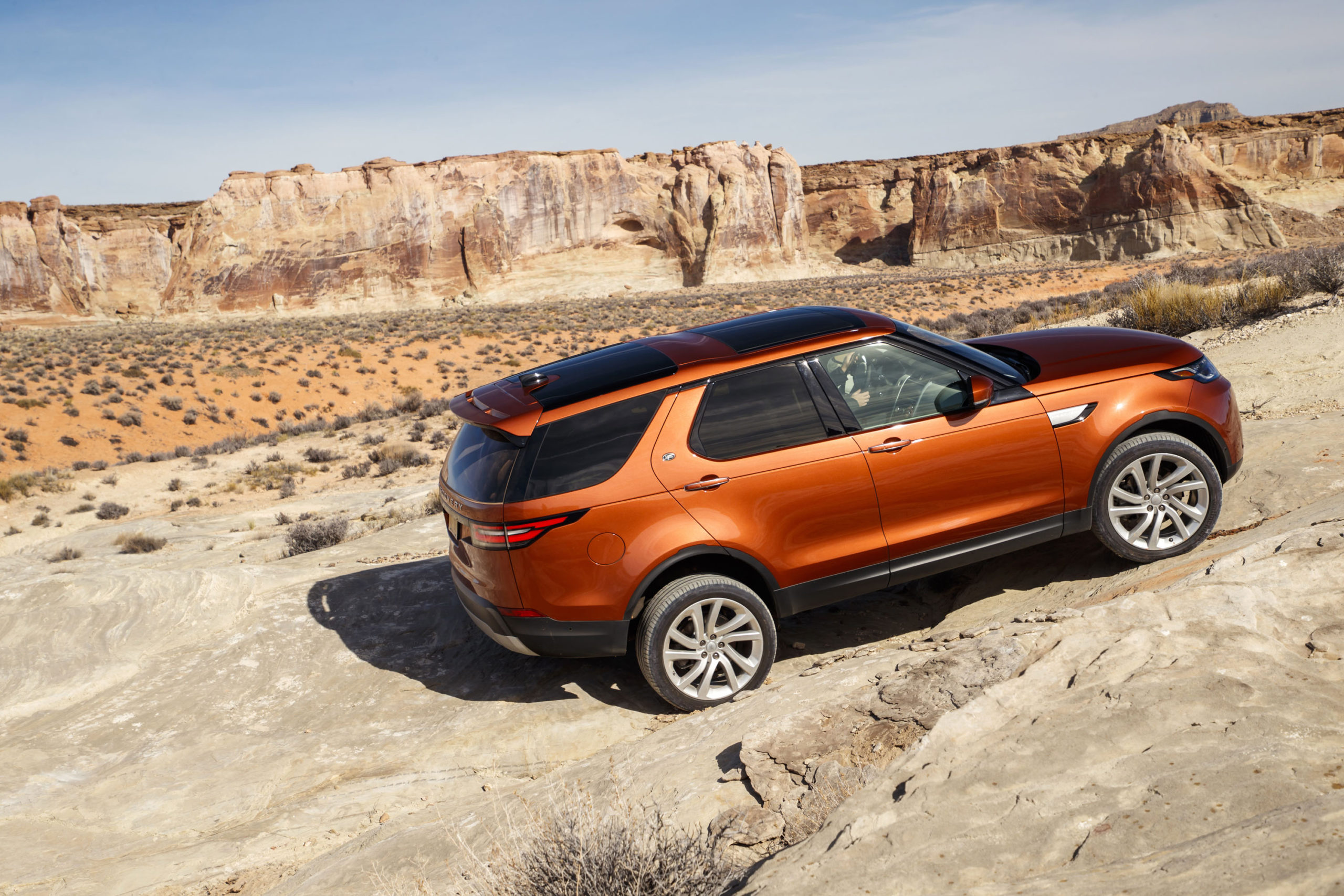 Relax in the cabin, surrounded by the finest quality materials and select between specific driving modes to get around with ease, whether you're dealing with a muddy track or winter snow. Featuring an innovative Terrain Response system, your luxury SUV hire car will adjust to the ground beneath it, improving handling and the new Land Rover Defender features technology which will send power to the wheels with most grip, improving wheel slip and allowing you to drive wherever your adventures take you. Hire a Range Rover in Edinburgh and you won't even need to leave the city to appreciate the natural elevation. Arthur's Seat is a small ancient volcano ideal for beginners and you can reach the top in just 30 minutes to get the very best views of the capital city. For short city trips, we recommend the
Range Rover Evoque
hire car, one of our most popular 4x4s which offers a comfortable and relaxing drive whilst keeping you travelling in first-class surroundings. If you hire a Range Rover Evoque in Scotland, you could also take the opportunity to go on an epic road trip, taking in the stunning sights which are guaranteed on the North Coast 500. Covering six regions of the Scottish Highlands, you can discover historical sites and breath-taking landscapes across seven-ten days whilst remaining relaxed and comfortable.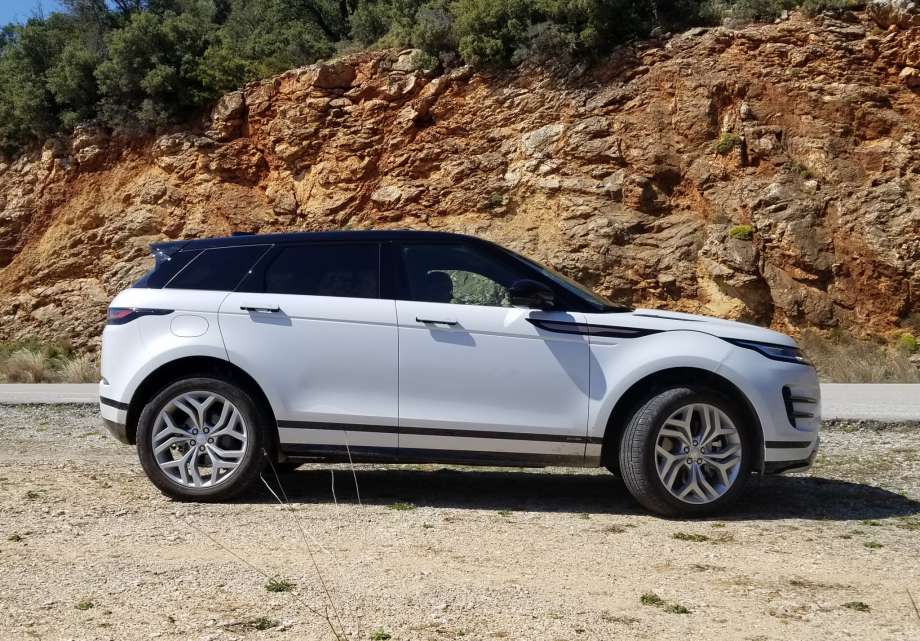 The versatile Range Rover Evoque hire car increases the enjoyment of your journey with a refined interior and advanced driver systems. Tackle the ascent and descent of steep hills with ease and enjoy the view from an elevated driving position, with a clean and classic design which ensures you have access to all the information and settings you need without ever taking away from the beautiful outside world.
Range Rover Hire Scotland: Travel to the Best Private Islands and Five Star Hotels
Areas of both central and rural Scotland offer beautiful a whole host of locations where you can enjoy a romantic weekend getaway. With hundreds of five-star hotels, castles and manor houses to choose from, it's easy to find the perfect accommodation for your trip.
Fonab Castle and Spa
is a five-star hotel which has been affectionately restored to embrace its historic past whilst incorporating a luxurious modern twist. An hour and a half north of Edinburgh on a route that features several electric car charging points and Tesla superchargers, we recommend the
Range Rover P400e
for a stylish trip to a luxury Scottish hotel.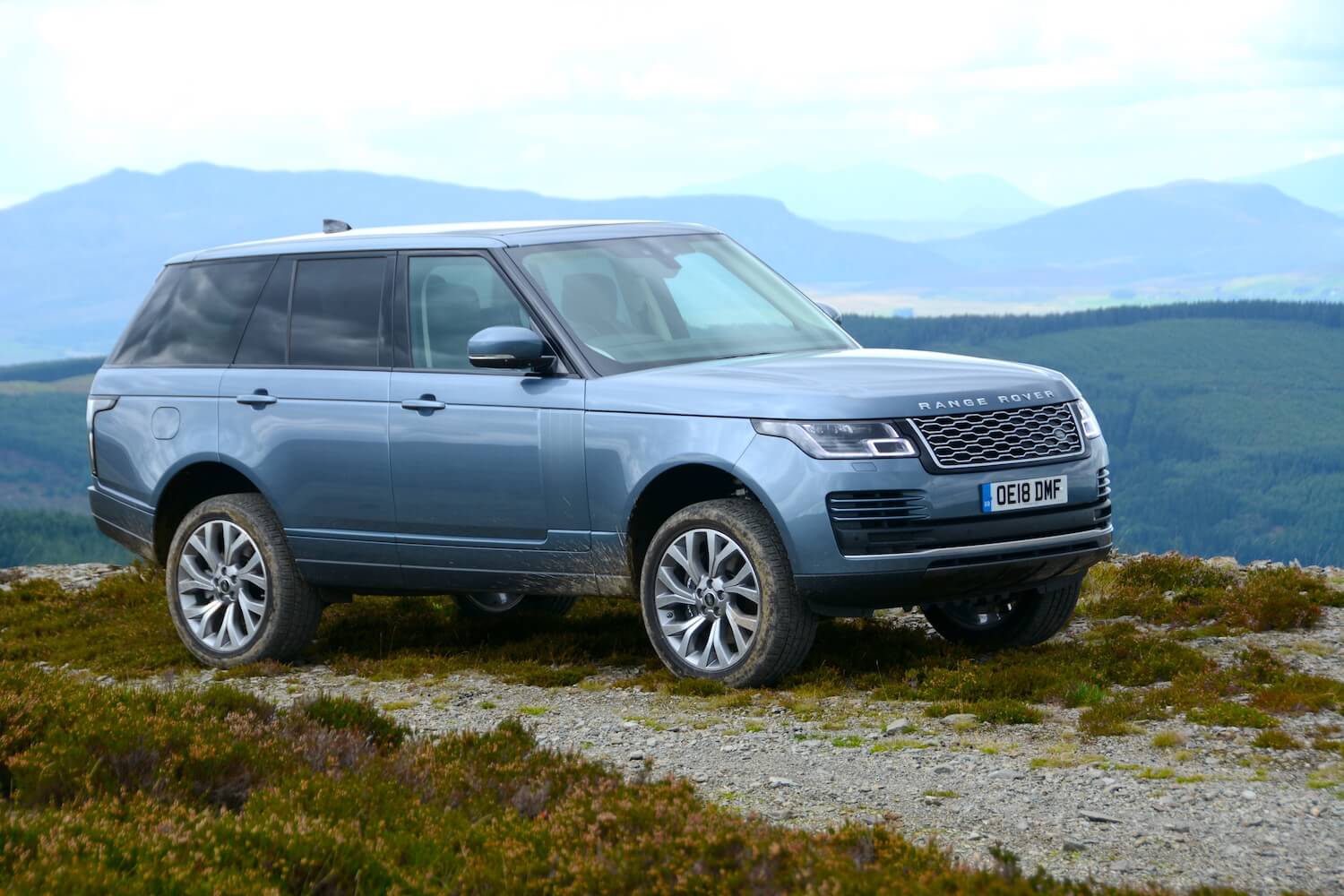 The prestige marque's first hybrid model, if you hire a Range Rover P400e in Scotland you can make short trips of up to 31 miles on electricity alone, saving on the cost of fuel whilst dramatically reducing your carbon footprint. This luxury SUV hire car also offers the same popular combination of dynamic good looks, sumptuous comfort and outstanding practicality as fuel powered models, ensuring you can make your trip quickly and easily. With all wheel drive and over 1500 litres of storage space, the P400e is one of the best models from our Range Rover hire Scotland offering, perfect for couples, families or businesses who favour more eco-friendly options. Or if you'd prefer to stay somewhere a little more unique, Eagle Brae is a five-star location with a difference, hidden away in the
Scottish Highlands
. With a self-catering experience in a log cabin, this venue offers couples or families complete privacy and freedom with the added benefit of all the modern conveniences you would expect from a first-class venue. If you're planning to travel with a large group or have a vast number of belongings to transport, our
long wheelbase Range Rover
is a fantastic option.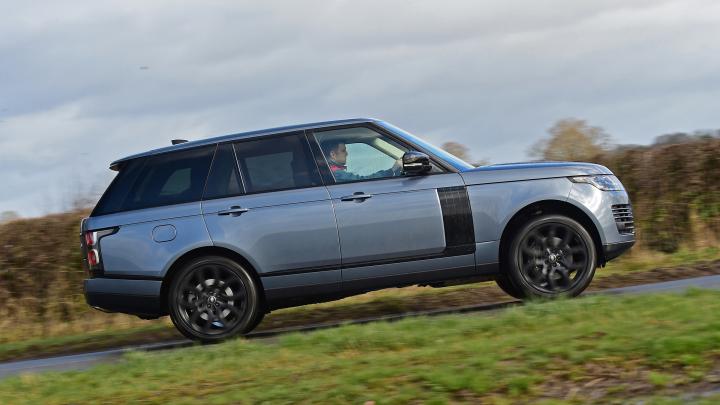 Hire a long wheelbase Range Rover in Scotland and you can experience one of the most spacious, prestigious journeys yet. 186mm longer than the standard Range Rover Vogue, the Range Rover long wheelbase gives you additional head and legroom, ensuring your passengers are kept comfortable, even on the longest of journeys. Heated seats, digital screens and ambient lighting offer both the driver and passengers a luxurious space to unwind whilst the driver can utilise multiple driving systems for a safe, secure and smooth journey. For the ultimate luxury experience, visitors can explore even more remote areas of the scenic country with our Range Rover hire Scotland selection. The Isle of Eriska Hotel, Spa and Island can be found on the West coast of Scotland and is set in 350 acres of private land, only accessible by bridge. Offering fine dining, exclusive suites with private hot tubs and a five-star spa, this is the perfect place to unwind after a long day of exploring. Simply take your chosen Range Rover model across the bridge to the greatest private experience and move directly from one five-star space to another. Whatever luxury accommodation ticks your boxes, a beautiful Range Rover hire car will ensure that you get there in supreme style.
Explore Amazing Shopping Districts in Style
Second only to London, Scotland is home to one of the best shopping districts in the UK, which includes the oldest House of Fraser. The Style Mile in Glasgow is a well-known shopping district made up of three vibrant streets, packed with luxury brands and department stores. Not only can you indulge in goods from your favourite designers, you can also find high quality bespoke pieces and vintage goods, suiting every kind of shopper's taste. Hire a Range Rover in Glasgow and you can explore the country's best shopping centre with ease, indulging in as much shopping as you can manage before returning your bags to the car to continue.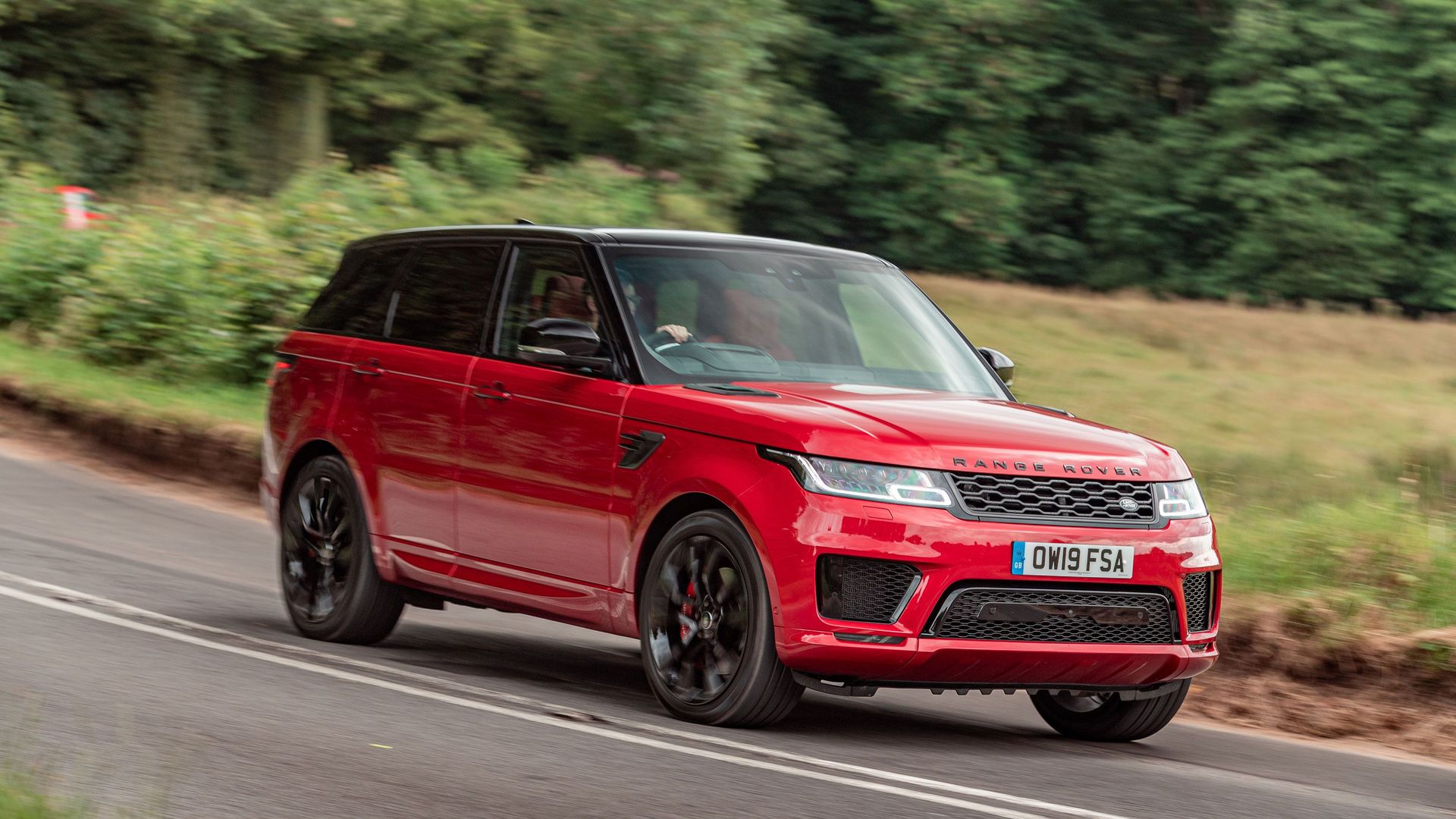 Arrive in true style in the
Range Rover Sport
, which features one of the most luxurious and distinctive silhouettes ever designed by the luxury marque. With an extra dynamic, muscular exterior and an ultra-prestigious interior, hire the Range Rover Sport in Scotland for an impressive arrival at every store you choose to visit. Featuring an innovative driver display and a storage space of over 1,100 litres, whilst still having enough room for four occupants, the Range Rover Sport is an excellent car to hire for a luxury shopping trip in Scotland. Accelerating from 0-60mph in just 4.3 seconds and with a top speed of 125mph, the Range Rover Sport also offers an exhilarating driving experience, the perfect mode of transport to accompany a luxury trip. For those who prefer a distinctive country style, The House of Bruar in Perthshire is the perfect luxury shopping centre. Packed full of refined rural and casual clothing, shoppers can find unique tweed suits, cashmere sweaters and lambswool cardigans, the majority of which have been locally sourced and exclusively produced. You may also indulge in designer clothing for the outdoors, with brands including Barbour, Musto and Aigle, perfect for protecting yourself against the elements whilst exploring with your chosen Range Rover. The House of Bruar also features items for sporting and fishing as well as a restaurant which serves gourmet sandwiches and locally sourced Perthshire lamb.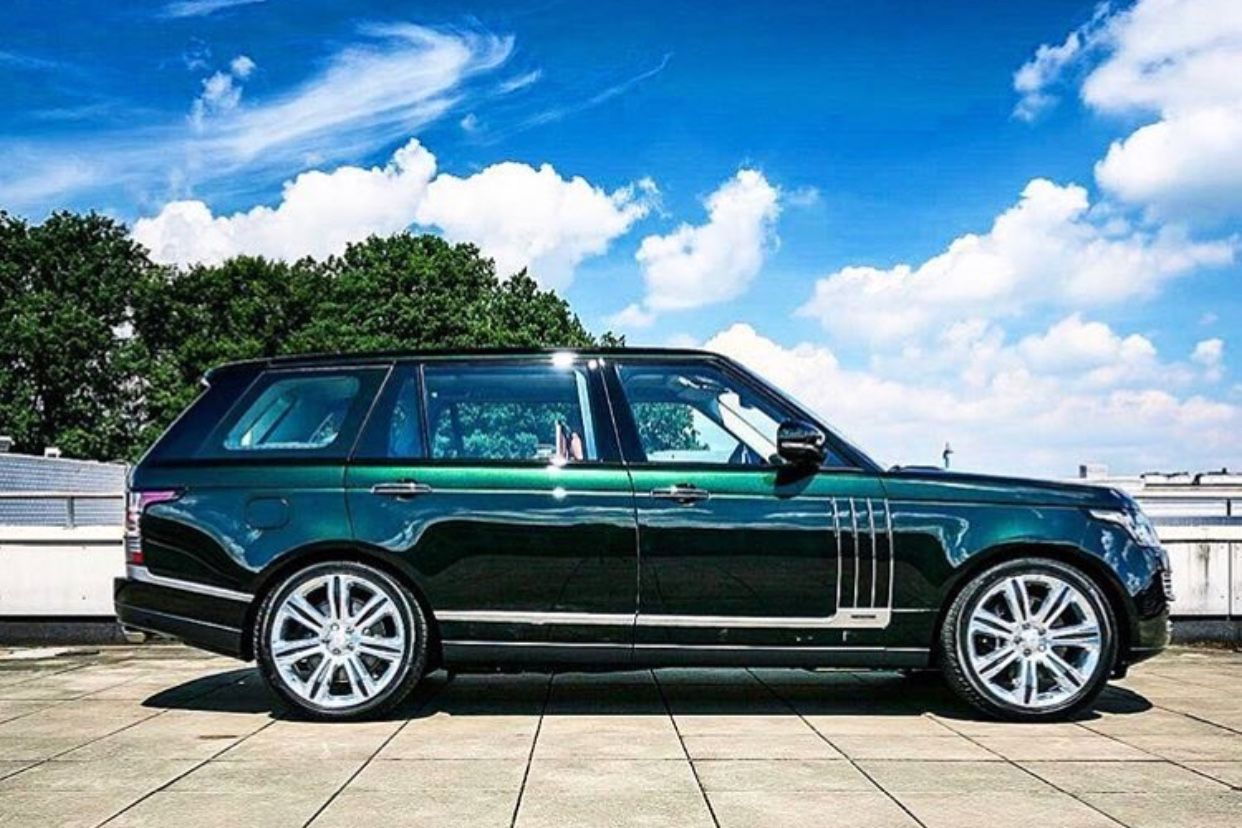 As the House of Bruar is situated on the outskirts of the Cairngorms National Park, you may also like to hire a
Range Rover Vogue
for a prestigious shopping experience. If you choose to hire the Range Rover Vogue in Scotland, it won't be long until you realise why it's one of our most popular models. An entry level Range Rover, the Vogue is competitively priced yet still features the impressive power and refinement you would come to expect from a luxury SUV. Available with either a 3.0 or a 4.4-litre engine, the Range Rover Vogue delivers phenomenal performance and is coupled with a luxury interior which prioritises the comfort of passengers above everything else. Some of the finest materials in the world have been lovingly put together for an impressive cabin space which includes a heated steering wheel, Xenon lights and a TV. Effortlessly comfortable with a refined interior and over 1,500 litres of storage space, you will be free to shop until you drop before returning to your own personal luxury environment.
Car hire in Scotland and Sample Fine Local Delicacies: Whisky, Oysters and Fresh Seafood
Surrounded by stunning coastlines which lead into the Atlantic Ocean and North Sea, Scotland is a one of the best places in the world where you can sample fresh seafood. Locally sourced crab, langoustine and lobster are just a small selection of the treats which you can find, freshly pulled from the water and prepared to a la carte perfection. And it's not just seafood which Scotland is famous for, with our Range Rover professional chauffeur service available across the UK, you are also free to indulge in the finest quality whisky and gin, distilled to perfection right on your doorstep. To the West of Scotland, you will find the Loch Fyne Oyster Bar where you can eat fresh seafood which has been pulled from the sea just minutes away. Located near Loch Lomond and the Trossachs, Scotland's second biggest national park, the menu features simple, classic cuisine which showcases fresh seafood as the star ingredient. Hire the
Range Rover Velar
in Scotland and travel between the best restaurants in the country with ease, enjoying a spacious and luxurious environment as well as excellent driving performance.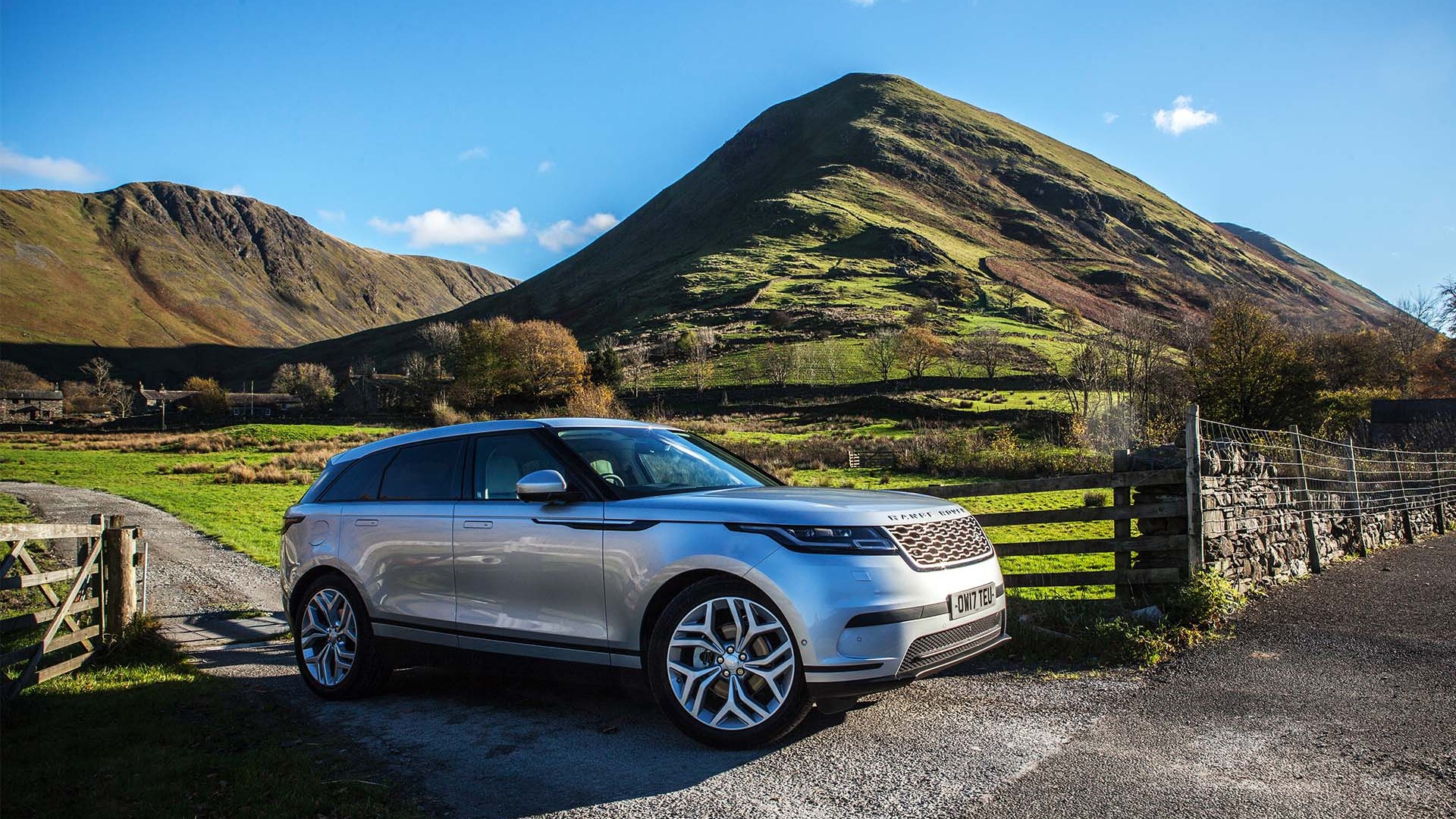 The Range Rover Velar has one of the most distinctive exterior designs, which will ensure you make a head turning arrival. With a clean and elegant interior design, passengers will arrive feeling relaxed whilst the driver can access all functionality with no distraction. Pair that with a powerful V6 engine which has been reconfigured to reduce carbon emissions and advanced technology which sends torque to the wheels which need it most and you have everything you need to travel across any Scottish terrain quickly and smoothly, sampling the finest that Scottish chefs have to offer. Perhaps you're more interested in the beverages which the region is famous for. The Whisky Co. is a unique Scottish company which offers a bespoke experience, allowing you to create your own exclusive whisky. Whether you're a novice or a whisky connoisseur, you can create your own tailored trip to world famous distilleries for tours, brewing and the all-important tasting. Our
Range Rover Sport SVR
is one of the most expensive models ever made and takes the high standards of quality and performance to a whole new level. Available for either self-drive hire in Scotland or with one of our highly qualified chauffeurs, you can now travel to your luxury whisky experience in sheer class. The Range Rover Sport SVR is the fastest Range Rover yet, with a top speed of 176mph and an ability to accelerate from 0-60mph in just 4.3 seconds. The exhilarating driving experience is perfectly matched with a high-class interior, featuring performance seating made from exclusive Windsor leather and all the latest technology at your fingertips. If you choose to hire a Range Rover Sport SVR in Scotland, you can also rest assured that you are driving one of the safest models ever made, with modern high-tech safety systems, perfect for families, couples and corporate use.
Range Rover Hire Scotland for an Unforgettable Golf Trip
Thanks to its luscious greenery and vast open spaces, Scotland is an excellent destination for a luxury golf trip. From Turnberry all the way up to Loch Lomond, there are ample five-star golf hotels and world-renowned courses for you to choose from. The five-star Gleneagles Hotel is home to the King's and Queen's golf courses, a professional quality venue which played host to the Ryder Cup in 2014. With four courses and a total of 63 holes, this course is ideal for players of all experience. In between rounds, you can enjoy traditional fine dining with a silver service, unwind in the luxury spa or even go off-roading.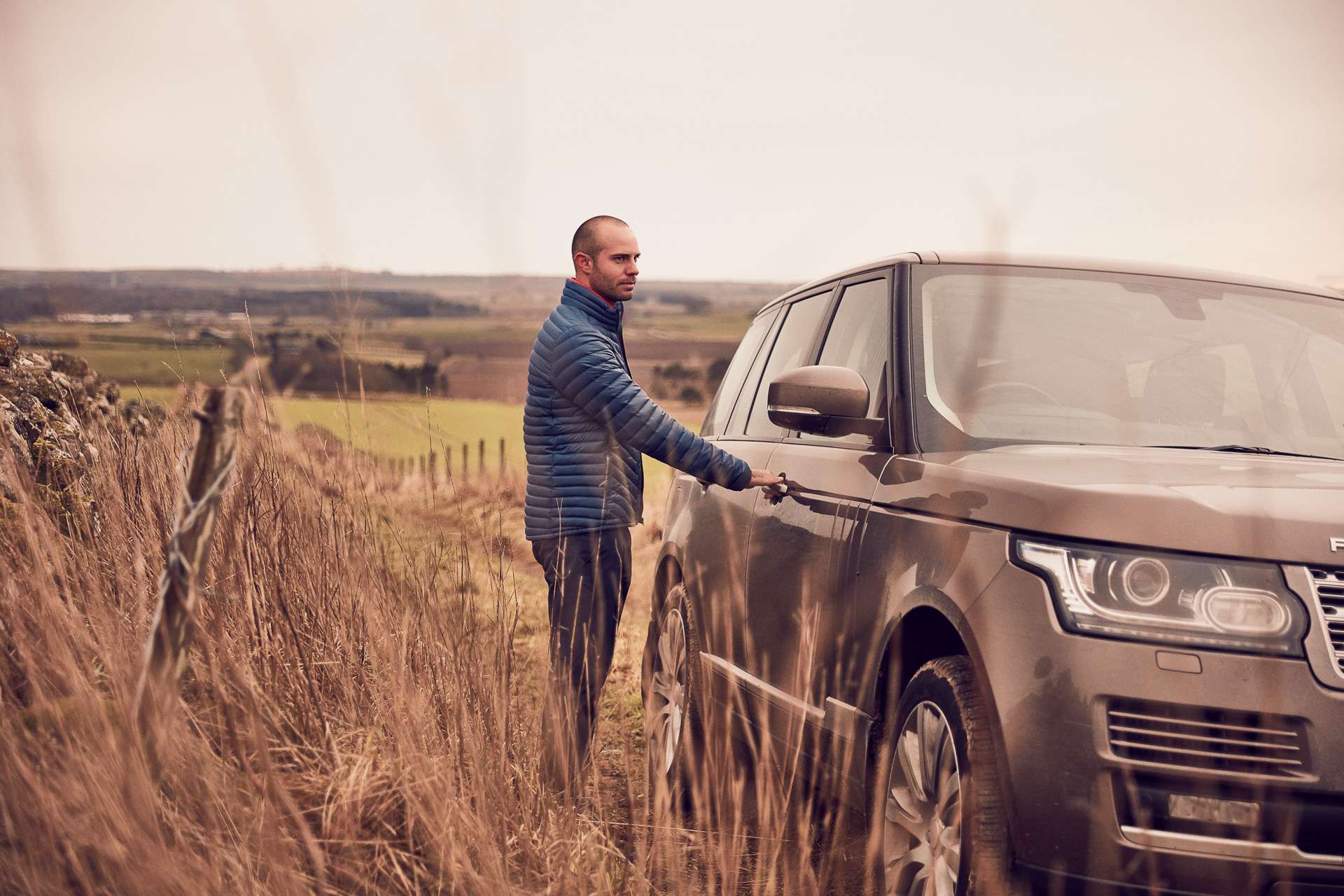 Our Range Rover hire Scotland fleet offers the ideal selection of vehicles for golfing, owing to the ample space and weight abilities. Whether you're travelling alone or looking to hire an SUV in Scotland for a group of friends to go golfing together, a Range Rover is an excellent choice. For those travelling as a larger group with golf bags, clubs and equipment we recommend the long wheelbase Range Rover. Depending on how you choose to configure the seats, the
Range Rover LWB
hire car can offer up to 1,900 litres of storage space, whilst still guaranteeing that your passengers are kept in premium comfort. St Andrews Links on the east coast of Scotland is where the game of golf was first played over 600 years ago. With seven courses, you can play on the historic Old Course, known lovingly as The Home of Golf, or test your skills on six newer greens. Once your session is over, enjoy some refreshment in one of the famous clubhouses, taking in stunning views over St Andrew's Bay. Whilst newer Range Rover models offer a classic mode of transport, for those looking for something a little more unique we have the original
Land Rover Defender
for hire in Scotland. With 70 years of production, this luxury Land Rover has become an icon, rich in British heritage. The model features the original body design and comes in a range of lengths and configurations so you can still benefit from a large storage space.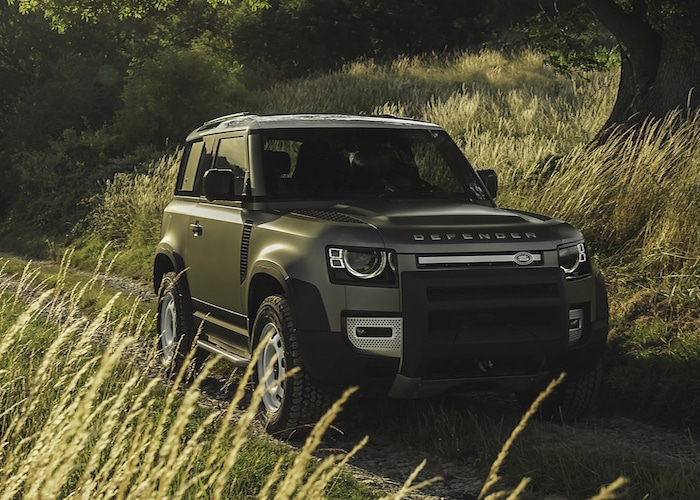 The original Land Rover Defender's off-road capability is amazing, with an ability to reverse up a 45° hill easily or drive through water of up to half a meter. Having now ceased production in this form, the luxury SUV hire car is rarer and often sought after, ensuring that you have the capability to tackle any terrain and weather condition whilst also guaranteeing a head turning entrance. It is the most unique Land Rover available today, the perfect choice for a luxury birthday trip, anniversary or gift for a loved one, offering an unbeatable taste of the past whilst still being capable enough to take on Scotland's tricky terrains. We hold the largest fleet of luxury cars to hire in Scotland, giving you the freedom to pair the perfect model to your trip. You can
find out more about our extensive selection
online or get in contact with our expert team who can give further information on any of our models. Our Range Rover hire Scotland selection doesn't just offer visitors a prestigious mode of transport with advanced capability and superb practicality, you can also hire a Range Rover in Scotland if you are a resident looking for something a little different. Perhaps you are looking to hire a Range Rover for an event, occasion, long-term everyday use or corporate practice. Whether you are travelling in Edinburgh or Glasgow or exploring further afield, your chosen Range Rover can be delivered directly to you. From the most spacious to the fastest, we have the best Range Rover hire in Scotland offering. With an ability to travel almost anywhere and a luxurious space to keep you comfortable even on the roughest terrains, hire a Range Rover in Scotland and let the adventure begin.