Whether you're a self-confessed supercar fanatic or you just appreciate the finer things in life, our supercar hire London service will provide you with a fantastic mode of transport to get you around the country. With each model offering stunning good looks, outstanding performance and a phenomenal roar, there really is no better way to travel around London and the UK. And the UK is full of places to fully appreciate the performance of your chosen supercar. From challenging country roads, made up of long straights and tight bends to picturesque open roads leading to the most beautiful cities and towns, there are many places in and around London where you can enjoy your supercar to the maximum.
Hire a supercar in London and you will have thousands of beauty spots right at your fingertips. Whether you are short on time and simply want to drive for a couple of hours, or you want to get away for a long weekend, our supercars will provide an enjoyable driving experience you won't want to end. As well as a satisfying journey, you and your passenger will remain in luxury surroundings, benefitting from high tech driving and safety systems and fine quality materials. Once you reach your destination, you will have the bonus of making an impressive arrival, turning heads in one of the most beautiful supercars in the world.
Stay in the City: The Best Places to Drive a Supercar in London
London is one of the most vibrant and diverse cities in the world. Regardless of whether you are a resident or a visitor, the capital is home to thousands of luxury stores, award-winning restaurants and first-class nightlife. And there is no better way to explore than with supercar hire London, providing an impressive mode of transport with highly desirable performance and amazing capability. Sit behind the wheel of any modern supercar and you will get an instant feeling of power and excitement, start the ignition and the roar of the engine will only enhance that more. Offering a completely unique driving experience, you can hire a supercar in London and see the sights, visit top attractions or travel between luxury accommodation quickly and comfortably, feeling the adrenaline that a top supercar can provoke.
If you know anything about exotic hire cars, you will have probably heard of supercar season, the time of year where the streets of London are filled with some of the rarest and most expensive cars in the world. Between the months of June and August, there really is nothing better than taking to the city streets in a supercar, experiencing a thrilling drive and enjoying the British weather, especially in a Roadster or convertible. Our luxury supercars for self-drive hire include top models from Ferrari, Lamborghini and Aston Martin, offering you the excitement of driving a prestige sportscar whilst keeping heads turning wherever you go.
If you are looking for supercar hire London, there are plenty of places where you can experience the joy of driving an expensive supercar. Tour the city centre, ticking the city's famous landmarks off your list before heading into the high-class areas of Knightsbridge and Mayfair for a meal or refreshments, gathering admiration from passers-by. Central London is renowned for supercars with many five-star establishments providing valet services so you can be sure your car will stay safe as you dine or explore. However, London is also well known for its traffic, and the busiest place in the country is not always the best should you want to experience the thrilling drive that your supercar can offer. If you want to hire a supercar in London to feel the adrenaline and true power of the model, you only need to venture a few miles afield to find open roads, testing turns and beautiful scenery, allowing you to experience the real drive that your model was built for.
Day Trip: Head West to Bath and Explore with Supercar Hire London
Two hours and 30 minutes West of London sits the beautiful, historic city of Bath. One of the most scenic destinations on our list, Bath is brilliant for a day trip from London, allowing you to drive along motorways and A roads through the beautiful British countryside. As a romantic, cultural city we recommend you hire a Bentley Continental GTC 2020 for the drive, a stunning convertible with room for up to four occupants, allowing you to travel as a couple, family or small group of friends.
The Bentley Continental GTC hire car has been built by hand and every element is made from the finest materials possible. In good weather, you and your passengers can feel totally immersed in your surroundings, with the roof folding away neatly to reveal an impressive silhouette. If the weather is not so good, you can rest assured that you will be kept warm and comfortable, beneath four layers of insulated material that leave you in a quiet, relaxing cabin space. If you are looking at our supercar hire London range for a model that can be driven all year round, this prestigious model is an excellent choice.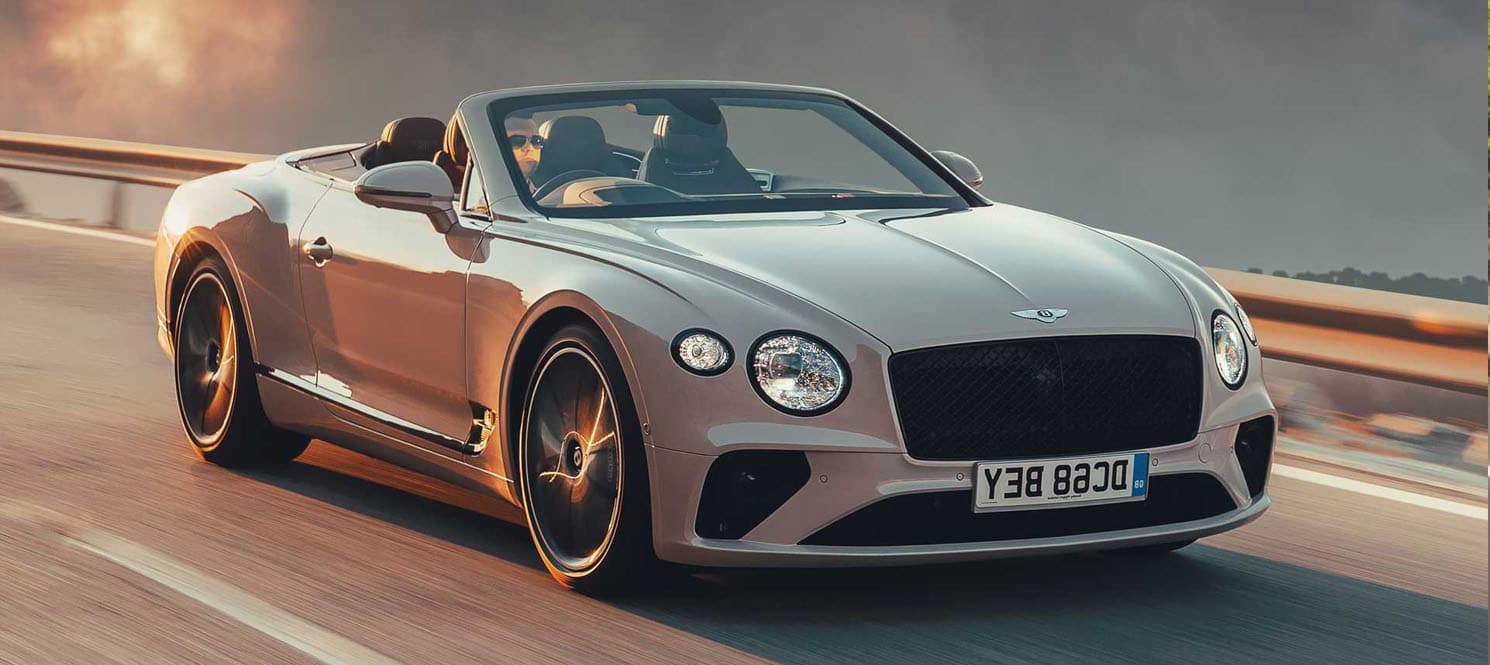 Not only is this luxury grand tourer elegant and effortlessly beautiful, it also offers impressive performance. With a top speed of 207mph and a 6.0 litre 12-cylinder engine, this luxury hire car will tackle any UK road with ease. Optimise your journey by selecting from four driving modes which allow you to prioritise smoothness and comfort or a sporty, dynamic drive. Bentley are famous for creating sumptuously comfortable, classic vehicles with minimal noise and turbulence. The result is a relaxing journey which allows you to enjoy your surroundings without interruption. Once you arrive, take a tour of the historic baths, enjoy the architecture or simply soak up the sun before returning to the stunning Bentley Continental GTC. Whatever you choose to do in the city, we guarantee that the journey will be one of the most enjoyable elements of your day.
Sightseeing Tour: Cruise Around the Peak District Circuit for a Scenic Driving Experience
Hire a Ferrari Portofino in London for the perfect combination of elegance and performance. The Portofino is one of the most beautiful models Ferrari has ever made and, unlike some other luxury supercars, comfort is also at a premium. To fully appreciate all the perks it has to offer, you may like to get away by driving three hours North of London to reach the stunning Peak District. Voted as one of the best places to drive a supercar in the UK, you can take on the Peak District circuit, 12 miles of spectacular natural scenery guaranteed to delight. And the Peak District is full of luxury cottages and five-star hotels, perfect for you to relax and unwind after a day of driving.
The Ferrari Portofino hire car is simply stunning, both inside and out. Each area of the body has been optimised for aerodynamics, resulting in a luxurious, sporty feel. Inside, this continues with dynamic styling built for performance, alongside plenty of space for up to four occupants. Considering this luxury hire supercar has a hardtop retractable roof and enough space for up to three cabin bags, performance is also at a premium. The versatile Ferrari Portofino hire car was designed to make every occasion more exciting, be that during everyday driving or UK road trips. The latter, however, lets you fully appreciate just how powerful and capable the Portofino actually is.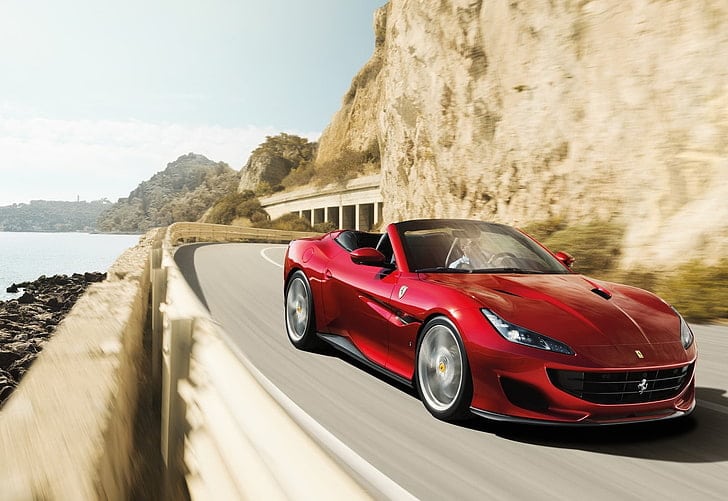 Select the Ferrari Portofino from our supercar hire London range and head to the Peak District for wide open roads, tight bends and challenging descents, all in idyllic surroundings. Upon start up, the soundtrack from the award-winning engine will make your heart skip a beat and that adrenaline rush will stay with you throughout the entire drive. Sprinting from 0-62mph in just 3.5 seconds, this powerful supercar is ideal for tackling the rugged countryside and sharp bends. If the weather permits, you can switch from coupé to convertible in just 14 seconds and enhance your enjoyment with the fresh air and greenery of the UK midlands. The perfect combination of beauty, comfort and performance makes the Ferrari Portofino an ideal choice for a dynamic and exhilarating sightseeing tour.
Romantic Weekend: Hire a Supercar in London and Drive to the Cotswolds
Luxury supercars are not always just built for speed. One of the most prestigious ways to travel, a luxury supercar can provide the perfect setting for a romantic trip, allowing you to start enjoying the moment together from the second you pull away. The Aston Martin DB11 Volante hire car is an excellent choice for a romantic getaway, combining classic British style with a powerful engine and outstanding performance. For the ultimate romantic UK trip, take your Aston Martin DB11 Volante hire car two hours West of London to reach the Cotswolds.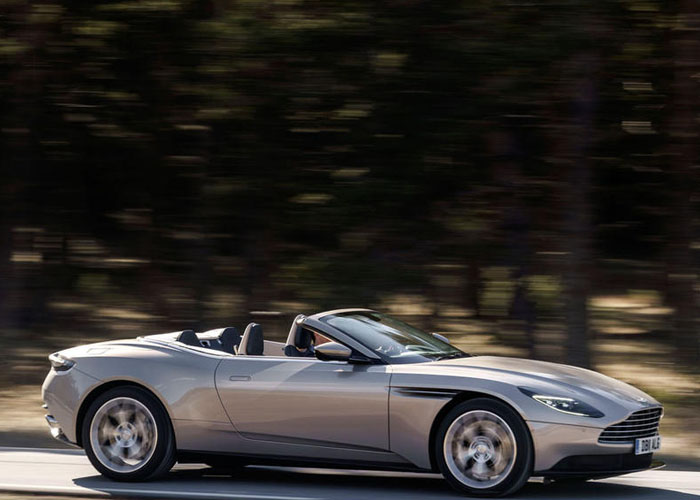 Once you arrive, there is a three-hour driving route which lets you both make the most of your supercar hire London model, whilst enjoying breath-taking scenery. A unique combination of hidden woodlands and quaint little villages makes for great viewing pleasure whilst a mixture of open straight roads and tight corners let you put the DB11 Volante through its paces. But do not worry because this stunning supercar can handle it. With a powerful engine and three driving modes to select from, you can take on the circuit with ease, experiencing a phenomenal drive enhanced by the roar of the engine. And in finer weather, you can choose to have the roof fold away for the ultimate drop-top driving experience.
Breathe in the fresh air and feel the wind rush through your hair as you accelerate from 0-62mph in just 4 seconds, a truly exhilarating drive which instils a sense of total freedom. Inside, you benefit from a standard of quality that we have come to expect from Aston Martin, high quality materials lovingly put together to form an elegant and comfortable space. Luggage space is at a premium here with enough room for two golf bags whilst occupants have added head and legroom both at the front and rear of the cabin. An unbeatable combination of luxury surroundings and immense capability make the Aston Martin DB11 Volante the ideal car for couples from our supercar hire London range.
Ultimate Driving Test: The Best Route to Test Your Skills with Supercar Hire London
If you're interested in experiencing the sheer power and speed that your chosen supercar can provide, there are several roads and circuits up and down the UK which will allow you to really put your driving skills to the test. The Midlands Tick is two hours 30 minutes North from London, on the outskirts of Nottingham, and has been voted one of the best places to drive a supercar in the UK. To experience the latest in supercar engineering and technology, we recommend the Lamborghini Huracán Performante Spyder hire car. With a top speed of 201mph, this model is the highest performing Huracán yet, made from aluminium and carbon fibre to secure a phenomenal weight reduction.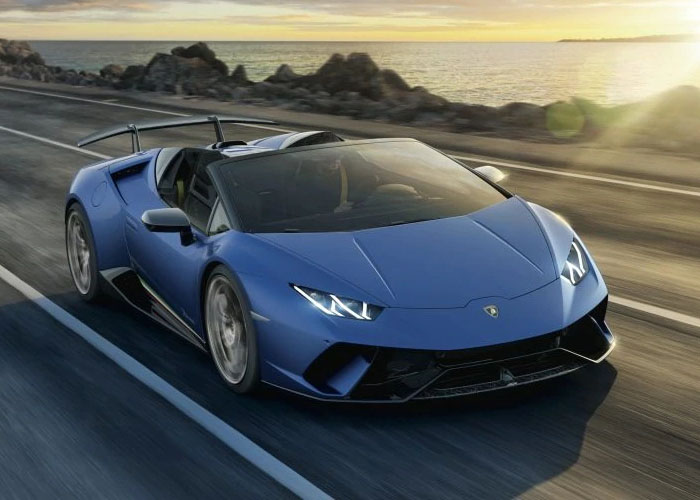 Beautiful Italian styling gives the Lamborghini Huracán Performante Spyder hire car character, each element finished with the utmost care and dedication. The result is a dynamic and muscular exterior with all the signature characteristics of a Lamborghini. Select from several driving modes to optimise your experience and head up to the Midlands to take on 50 miles of long, straight roads and tight twists. Not only will you experience the unmissable roar of the V10 640 HP engine and a new exhaust system, this stunning luxury hire supercar also allows you to become fully immersed in your surroundings, designed to be driven with the roof down, which enhances the sounds even further.
This driving route, in between Nottingham and Leicestershire, offers you and your passenger stunning views of untouched natural beauty, miles of open space and British countryside. Advanced engineering and a modern design make that journey even more enjoyable, with this luxury hire supercar featuring sharper dynamics and impressive grip. The sheer speed and power of this beautiful supercar makes any journey thrilling, one of the best supercars to hire in London for a UK road trip.
Natural Wonder: Hire a Supercar in London and Explore Cheddar Gorge
Our supercar hire London range includes top models from the world's most famous car marques, including the Ferrari 488 Spider hire car. A beautiful, powerful and dynamic supercar with amazing capability which makes driving along any route easy, the Ferrari 488 Spider hire car gives you the perfect excuse to go on a road trip. If you are looking to get away from London and experience one of England's most picturesque, natural wonders, we recommend taking a trip to Cheddar Gorge. Located three hours West of London in Somerset, you can drive through three miles of deep, sculpted cliffs and winding valleys, enhancing the roar of your spectacular Ferrari engine even further by producing a phenomenal echo that you simply cannot experience anywhere else.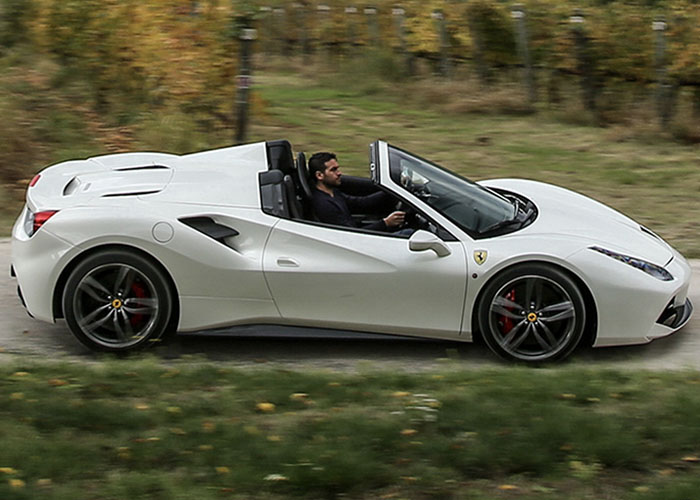 Considering the added roof mechanism increases the Ferrari 488's weight compared to the coupe, performance remains relatively unaffected. With a top speed of 203mph and the ability to accelerate from 0-60mph in just 3 seconds, you can benefit from both incredible performance and an immersive driving experience, perfect for taking in the sights of one of the UK's most beautiful areas. The muscular, sporty exterior has been combined with a sleek and modern interior built from the finest quality materials which offers a comfortable, premium space for the driver and passenger without ever taking away from your external surroundings.
Inspired by Formula 1, this stunning hire supercar will tackle the forces and terrains with ease, remaining dynamic and able to accelerate through any conditions. And crowned Britain's most scenic route, the drive through Cheddar Gorge offers breath-taking views without ever having to leave your car. Feel the rush of fresh air surround you and your Ferrari 488 Spider hire car as you weave in between the cliffs of the deepest gorge in England, combining both a brilliant drive with beautiful scenery for an exhilarating and unforgettable journey.
Visit Scotland: Take in the Best Scottish Scenery in a Supercar
For those who take as much pleasure in the journey as they do in the destination, Scotland is one of the best places in the UK to take your luxury supercar. Stretches of untouched greenery, rugged coastlines and sheer cliff faces make up the Scottish countryside, a vast contrast from the hustle and bustle of city life. Select the Lamborghini Aventador Roadster from our supercar hire London line-up and take on a ten-hour driving trip to the tip of Scotland, where you will find the North Coast 500. An infamous route for drivers and cyclists, the North Coast 500 stretches for 500 miles around Scotland's coastline, where you can experience the very best the country has to offer in terms of natural beauty.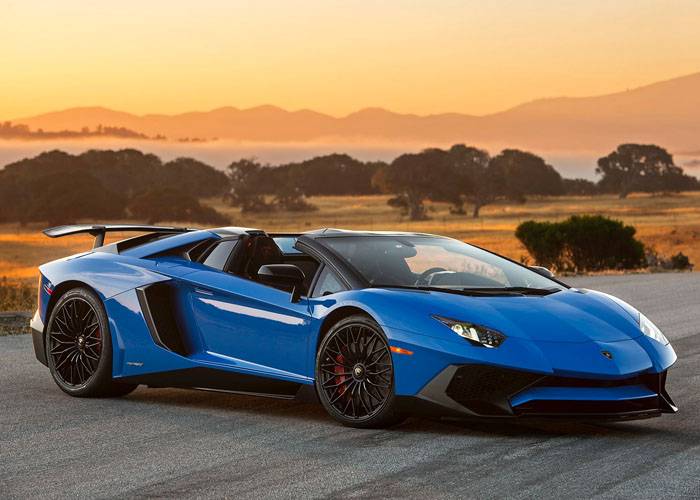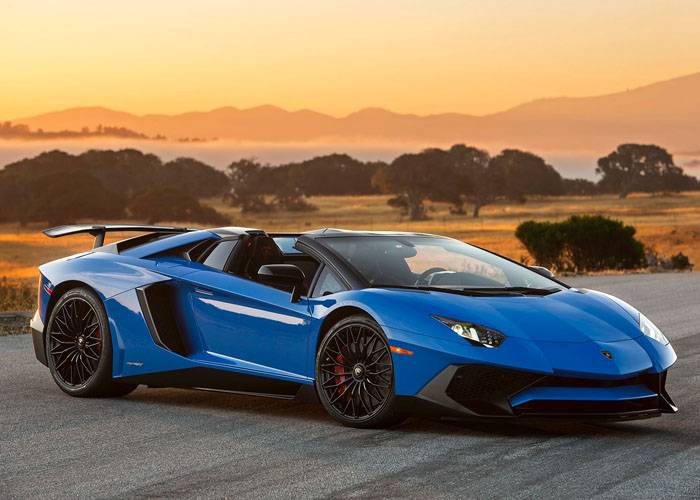 A remote and challenging area, the roads include thin stretches and winding curves, which will excite any supercar lover. And your Lamborghini Aventador Roadster hire car will tackle it well. With a top speed of 218mph, this two-seater convertible features the power and technology you need to effortlessly make your way around the country. A 6.5-litre V12 engine provides incredible levels of torque and gives you the ability to accelerate from 0-62mph in three seconds flat whilst the convertible element adds extra thrill, immersing you with your surroundings. Stylish and refined, the Lamborghini Aventador Roadster hire car is simply stunning, with both the exterior and interior inspired by aerospace, for a modern and advanced feel.
Heading to the top of Scotland allows you and a friend to push the Roadster to its limits, feeling an intense adrenaline rush which is enhanced by the sounds of the engine, the feel of the high quality materials beneath your skin and the sights of the beautiful coastline which surrounds you. This epic route allows that sensation to last, with the route taking between five and ten days to complete. Take the route at your own pace, stopping at areas of interest such as Inverness Castle and numerous heritage centres before staying overnight at a selection of the UK's best hotels and cottages. Whether you are interested in the history, the culture or purely the driving experience, our supercar hire London range provides the best way to travel around Scotland.
Supercar Hire London: Book a Supercar to Explore London and the UK
Choose a model from our supercar hire London selection and feel complete freedom as you travel anywhere around the UK. Whether you are looking to hire a supercar for event arrival, a special occasion or an epic road trip, there are hundreds of destinations around the country which allow you to escape the busy city roads and experience a thrilling drive. Take to the open roads, put down the roof and simply let the stunning scenery in, guaranteeing you have the best journey possible. Perfect for couples, families and small groups of friends in both the summer and winter months, driving a supercar will make even the most mundane of trips a lifelong memory.
Select from top car marques such as Lamborghini, Ferrari and Aston Martin and drive in sumptuous luxury, benefitting from modern engineering techniques and the latest technology. If you would like to hire a supercar in London or anywhere else in the UK, you can now get a quote online. You can choose to collect your model from us, or have it delivered to any address in the UK, giving you longer to drive wherever you wish to go. Our supercar hire London models are kept in excellent condition and we are always adding the latest releases to our fleet, so you can experience the feeling of driving a brand-new supercar every time you hire from us. Guaranteeing an emotive, adrenaline-filled journey, there really is no better way to explore the UK than with a luxury hire supercar.